While Michael Woods, DJ and founder of the label Diffused Music, delivered an energetically filled and unforgettable set while on board The Groove Cruise Los Angeles, we wanted to get out of the pool on deck 14, dodge around the champagne shower, and learn more about what's behind the non-stop smiles and enthusiasm. A little after a week from disembarkment from the ship we recollected our thoughts, reconnected with the talented producer and artist, and spent a little time decompressing, sharing stories, and digging a little deeper before a packed show at Create Nightclub in Hollywood, California.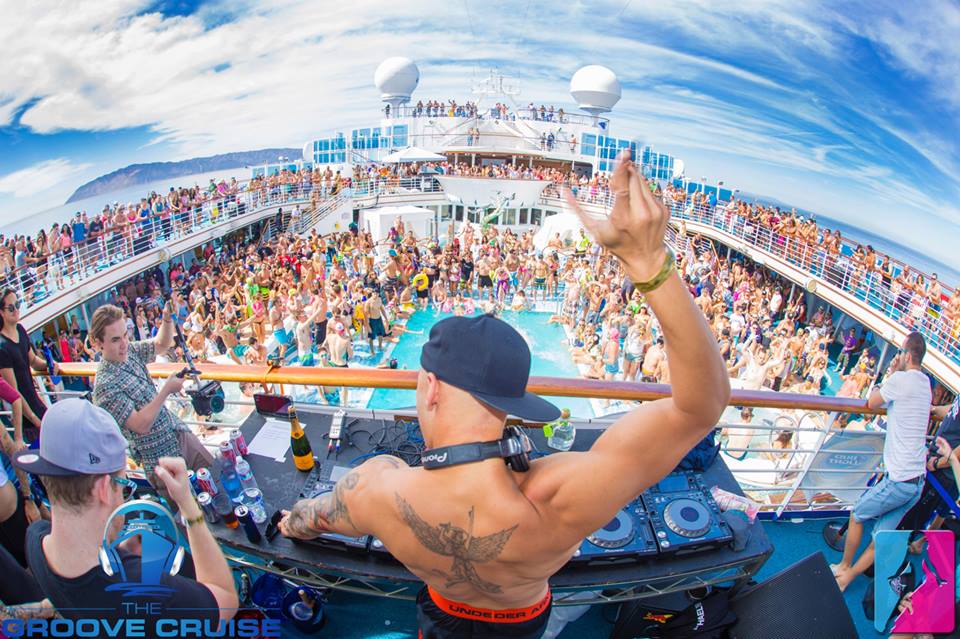 You've had a pretty crazy summer, can you tell us about some of your favorite highlights?
I was in Ibiza playing at Amnesia playing with Calvin Harris, that's always a good one, I was there twice this year, another show at Space. The Groove Cruise, of course…always a good one, I played the one in Los Angeles but did Miami last year as well, I was completely blown away by that….I was told it was a 3 day cruise and asked myself what it was all about…getting on the boat I was captivated by the energy on that thing, it was really cool and everyone was so nice…..and always the shows at Hakkasan Las Vegas where I have the residency.
After playing THE GROOVE CRUISE LOS ANGELES…what was your experience like? Is there anything you would like to tell someone who's considering Groove Cruise?
Yes…..GO! It's a once in a lifetime opportunity to meet people of the like minds and who love music…. and just want to get down and party. The thing is the energy is so cool and everyone is so friendly… that's the only way I can describe it…you're walking down the corridor and you pass people, and you get to say "hello" and "how's it going"…everyone's there for one reason and one reason only and that's just to enjoy good music and good people…you get to hang out with some of the artists and DJ's as well, the staff are brilliant…it's just a great atmosphere… so if you're considering going, absolutely get your behind on that boat!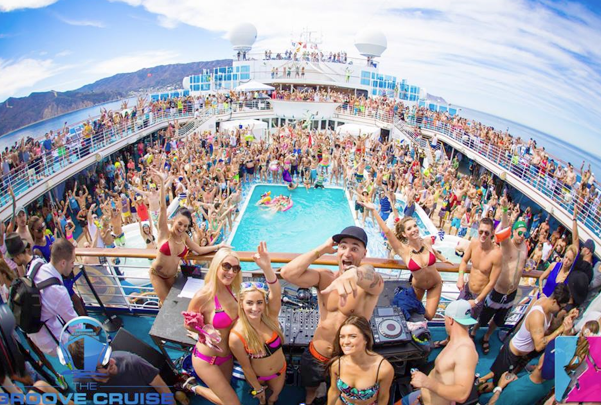 During your set you played one of your new release singles from this summer "In Your Arms," with Lauren Dyson. What was your experience like working with her, how did it come to be?
I was working on an instrumental at home….original material to play at my sets…so I started playing it out as an instrumental and the reaction was really big. I thought "let's try and move this to the next level"…I have an old friend in London name Darren Bennet, and he had a new up and coming artist Lauren Dyson… I said "lets see what she's got"… she wrote the vocals and sent it across to me and I said "wow this is actually really good"…and what you hear is the actual first take she did, on the record, and I was blown away by it. From then, we released the track and… I've actually never met her before…really producing via the internet …she's coming tonight [Create Nightclub 10/11/2014] and I'm going to meet her for the first time.
Speaking of collaborations, is there anyone you would like to work with that you haven't already?
I would like to very much do a collaboration with Calvin Harris…we've spoken about it before and I've released some music on his label Fly Eye Records…. but he's talking about doing a collab track on Fly Eye, so I'd like to get that sorted out. I'd really like to work with Ne-Yo, I've kind of worked with him in the past. We were working on a track for somebody else and I think he's really talented; he's got a great voice, so I'm looking forward to doing something with him as well…probably 2015…hopefully.
There's lots of events and festivals happening around the states these days. Any particular festivals that have stood out to you this year?
I love EDC Vegas, I've played it before, one of the best and one of the biggest in the world, it was crazy. Such a great atmosphere, everyone's there to get down. I played at Electric Zoo in New York a few years back and that was cool too.
Do you have a favorite city? What cities go really hard?
I love playing in Vegas, I don't know why it's just such a good atmosphere. One of my favorite cities is…recently I played…Seattle, and they go really hard, they rage. Los Angeles likes to have it, it's always good, as soon as you get into the DJ booth you can really feel the energy.
Well, it always looks like you're having just as much fun as the crowd…you bring a ton of energy to your sets, how do you like to prepare for a set before going on?
2 slices of peperoni pizza, 2 shots of tequila, and 10 push ups… works every time
There is a lot of people that would like to follow in your footsteps….Is there any advice you would like to offer to aspiring DJs/producers? Any few short words of wisdom?
You have to be really dedicated so you literally have to put your mind, body, and soul into it. When I first started I locked myself in the studio and didn't come out for 3 months. You have to craft and work in your own specific sound, there's nothing more important than that because if you're trying to copy other people or trying to sound like someone else it's not going to work. You have to concentrate on your own thing, sometimes 24 hours a day…sometimes longer than that…. You get out what you put in.
Armin van Buuren says "Don't be a prisoner of your own genre" .. What are your thoughts about that?
I like that. I like that because I don't want to be pigeon holed as one sound. I like all kinds of music, more techy stuff, house, whatever, I just love it all. I've got a new track coming out on Mau5trap Records actually next month called "Brain Went Ping," which is very different to what you've probably heard before, it's more of a tech kind of track… but I agree with that statement very much.  [Release date for "Brain Went Ping" around November 3rd]
What are your thoughts about Ibiza — can you describe any changes you've seen and why it's become the destination it has become?
I've been going there for the last 20 years …every year. I haven't seen much change …maybe only a little musically, there's a style that they have and they do like a lot more tech, not so much on the "EDM" side of stuff as here in the states… a lot of DJs kind of get their inspiration from there and think any DJ who has wanted to become a DJ has experienced that scene… that kind of thing… but its always very much been the same for me.
What shows do you have coming up for the rest of the year? Where can your fans catch you?
Escape from Wonderland Saturday November 1st, the last time I did that was 2 years ago and I had an absolute blast, I'm really looking forward to that one. The night before that I'm doing a Halloween party in Montreal, Canada at New City Gas….and Las Vegas with my residency at Hakkasan.
The world is going to end in 5 min…… what song do you play?
I do this every week actually…I do a little segment on my podcast Diffused Music called, a "last day on earth" tune…a song that you'd want to hear as if it was your last day on earth…and I think the most appropriate song, one of mine actually… "Last Day On Earth" …that'd be a pretty good one!
Lastly, Is there anything you'd like to say directly to your fans?
Thank you so much for the support! Without you I'd probably still be selling pens and paper at the stationary company so thanks for coming to all the shows, it's really good to see so many friendly faces out there every time I play … keep coming to the shows…thanks for playing and downloading the music!
If you get a chance to see a show, don't pass up the opportunity to share in the enthusiasm that Michael Woods not only brings to the production and passion of making his music… but, the fun you'll be having with everyone around you during the show. If you don't believe us, we DARE YOU to try and find an unhappy face during the show from The Groove Cruise, see the pics here captured by Migs Miguel / Veranmiky.
– Brett (Chaz)