The slow crunch of tires against splitting asphalt stole my attention as I glanced towards the front of my friend's driveway. "Yes," I whispered in relief, as the last two members of our long-awaited road trip arrived. We were headed to Moonrise Festival in Baltimore, by way of Charleston, to meet the second half of our festival family. I knew almost everyone, meeting my beloved friends just months earlier at Shaky Beats. Everyone, except one. He exited the car calmly, raking a hand through wisps of honey-colored hair. I tugged at the brim of my hat, unsure of what to make of the stranger. Our rave group was a strong one, each member cohesively melding together to form a solid bond.
This new stranger, despite greeting me with a warm, dimpled grin, was now threatening that bond. And above all, he wasn't wearing any shoes.
"Hey, I'm Archer" he waved. I glanced towards my friends, as they all returned the greeting. After a quick exchange, we piled into the single car, Archer taking a seat in the back next to me. Minutes turned into hours, and after several karaoke sessions, Red Bull pit stops, and endless Snapchat selfies, Archer had nestled his way into our group effortlessly. I was more than impressed by my own demeanor; now accepting the boy I once hesitantly greeted in a mere matter of hours. The two days that followed seemed to melt together in a furious blur, all leading up to the long-awaited festival morning. 10 AM was a flurry of glittered cheeks and half-filled glasses of orange juice and vodka. The entire group had reunited again in Baltimore, with new faces finding their home among us.
Archer took a seat beside me once again as we climbed into a crowded in Uber. Donned in suspenders, he had tied his shoulder length hair into a neat bun. I was excited to spend the day exploring the boundaries of the open race track encasing hordes of fans, and now I had a new friend to venture with. But moments after entering our foreign playground, Archer disappeared from sight. I wavered, but continued my day with excitement, venturing from one packed stage to another. With my arms piled high with colored kandi jewels, I traded memories with others as I skipped through the center of Pimlico Race Course. Despite my euphoria, my eyes kept watch for a mess of dirty blonde hair and black suspenders, aching to make memories with the boy I'd met just days earlier.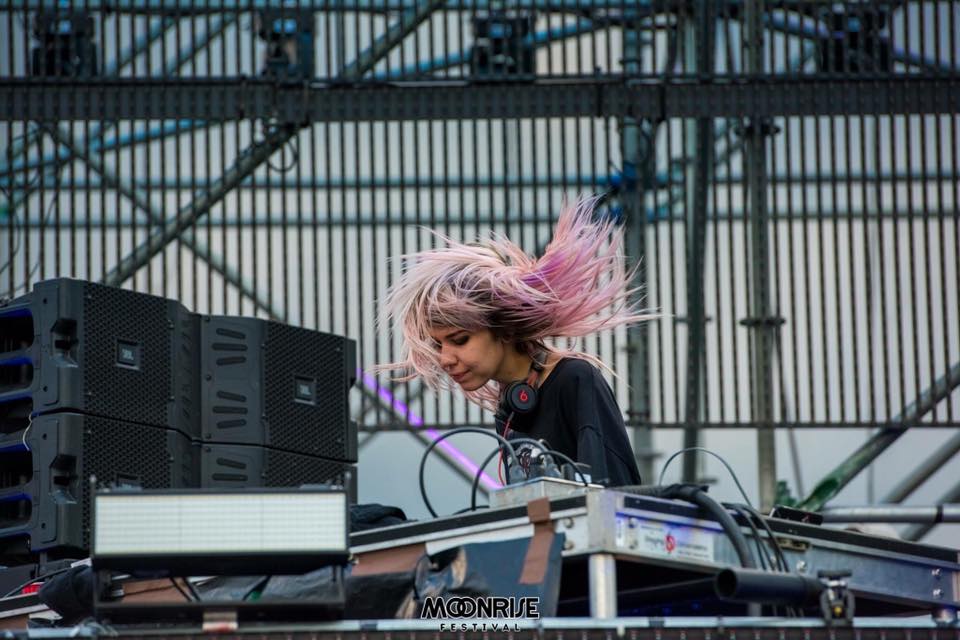 "It's time for Mija!" my friends yelled gleefully over the electrifying bass. I felt my excitement rise again, eager to make my way towards one of my most revered DJs. Notes of drum n bass and house echoed through the crowd, with Mija taking charge of the stage that faced us. Screaming familiar lyrics, I felt my eyes water with glee as I began to cry. I was used to emotional moments at festivals, but now, as I stood in a lot of Mija, I felt blissful. I closed my eyes and felt a gentle touch on my shoulder.
"Hey!" Archer appeared, furrowing his brow in confusion. "Are you ok?"
"Yeah." I chuckled, relieved at the sight of his dimpled grin.
"I tried to find you."
"It's cool. Here, here now" I reassured him.
We turned to face Mija once again, stealing glances at each other throughout the set. The music sounded clear, absolute, with Archer by my side. We danced freely to the beat of quick snares and cymbals. His crystal blue eyes, once piercing, warmed at the edges, melting into his irises. He tossed his hair with each pulsing beat, and I followed his gaze, intertwining each note with the memories I made beside him. In three days, he had become my closest ally, capable of changing the way I digested each ringing note from the bellowing speakers. I was falling in love, letting the music fill my soul alongside the boy I had now made my best friend.
Photos courtesy of aLIVE Coverage