Decadence Colorado has long had a reputation for being one of the best New Year's Eve festivals in the country and its 2022 edition did not disappoint. 
This year we were transported to Decadence's Digital City in a maze of lights and sounds. We felt like we were bouncing around inside a microchip all weekend long. Attendees danced their way into the new year at the Colorado Convention Center and welcomed 2023 as only the "bass capital" Denver could.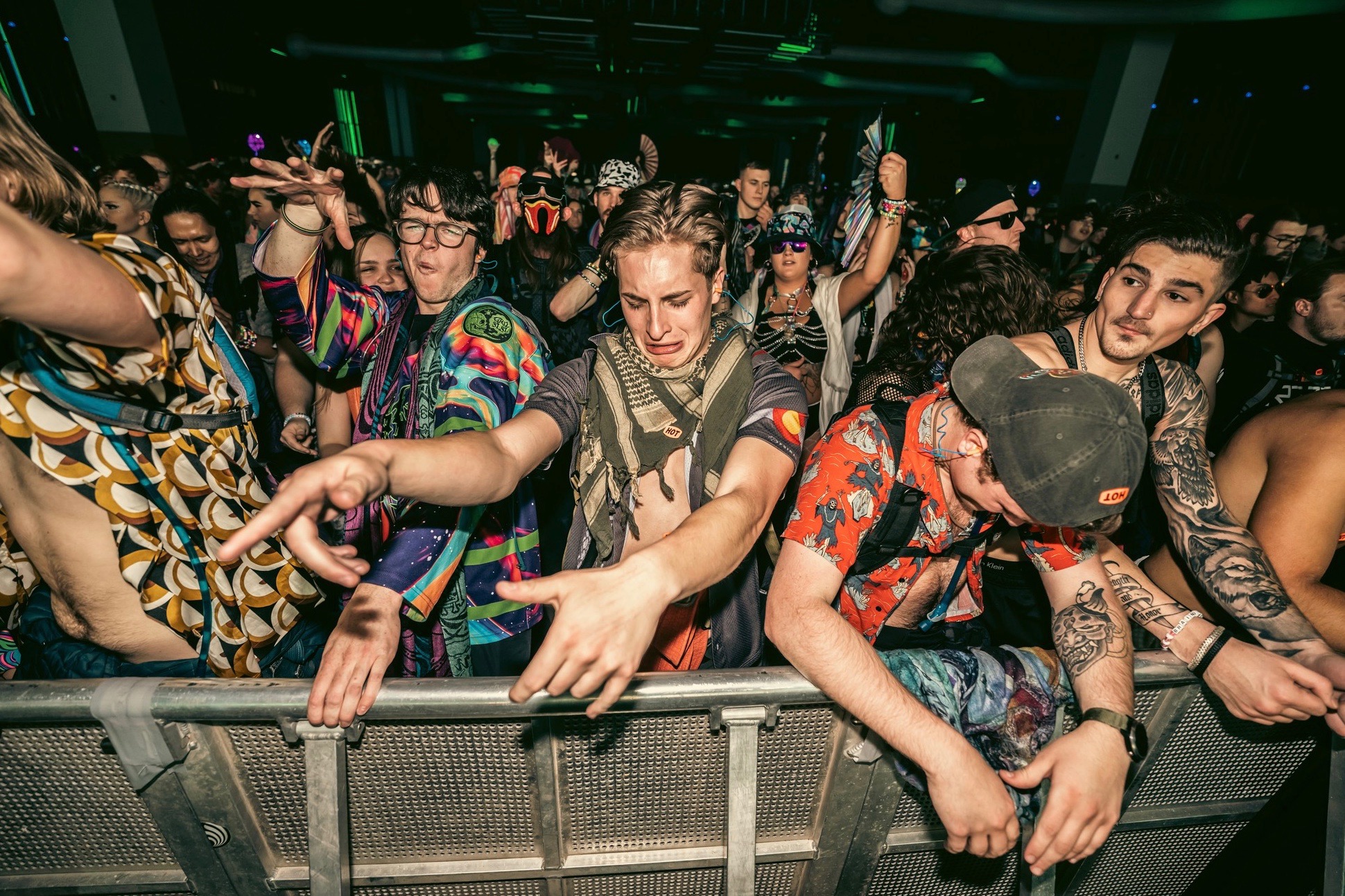 Vibes: B+
After Southwest Airlines announced flight cancellations across the country that greatly impacted New Year's travel, we heard that many fans would not be able to make it and were concerned that it might affect attendance. In spite of this, the venue felt full, but not overcrowded and we met some beautiful people along the way.
There is a lot of pride in the Denver EDM community and it shows. We were welcomed like family by lots of locals who showed great enthusiasm for their scene. On both days we experienced a bit of pushing toward the front of the stages, but as the sets rolled on we felt that we had plenty of space to dance and move, and felt safe and respected. 
Day two brought a slightly different crowd, as many holiday festivals do, and led to some additional pushing and concerns over guest health and safety. The crowd moved en masse between stages for the most popular sets on day two, leading to some minor difficulties with navigation.
We also saw a few people who may have "overdone it" and had to be carried out of the pit, but for the most part, people were conscientious of the safety and experience of their neighbors.
Production: B+
Indoor events present a unique set of production challenges for organizers and we felt that Decadence met these difficulties head-on. 
Despite the difficulties with sound echo that usually accompany indoor festivals, the sound at both stages was top notch. The venue was LOUD all weekend, but with stages separated in almost two different rooms, there was very minimal sound bleed once we arrived at each stage. 
While Decadence may not have the same raw amounts of lasers and visual stage production seen at other NYE events like Hijinx or Countdown, the visual elements at both stages were crafted and utilized impeccably. The dark indoor space allowed visual production to shine with unique, moving light sculptures mounted to the ceilings.  
The screens at each stage felt a bit awkwardly placed; either too low and difficult to see over the crowd standing on a completely level floor, or set too wide from the center of the stage and out of sight of many guests in the general admission spaces.
Though most of the visual production was carried by moving spots and strobes, when the lasers came out, they were done right, with lots of crazy movement and color that left us wowed. Even the silent disco had lasers!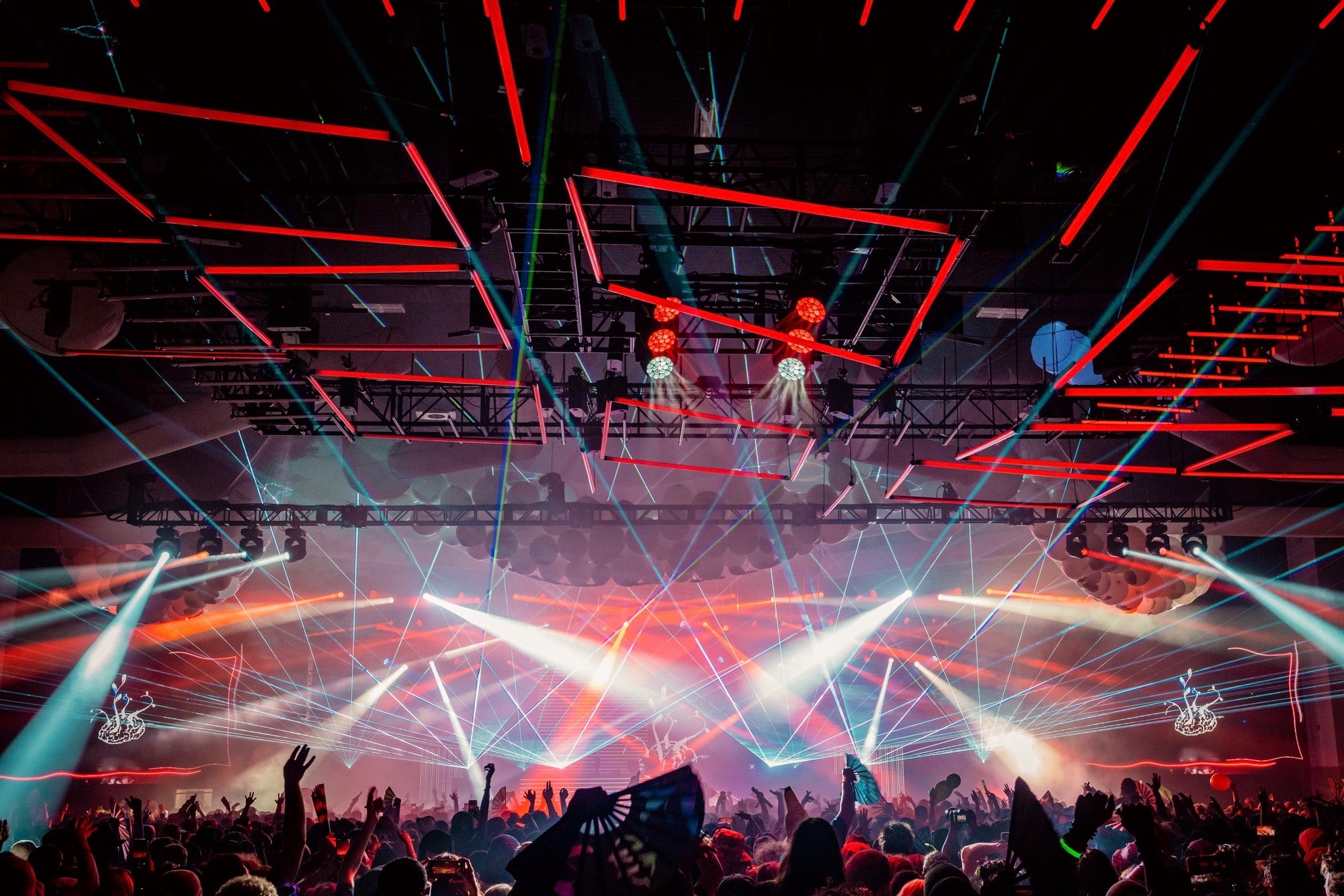 Music: B+
The lineup for Decadence Colorado was a stunner this year and some of the biggest names in dance music continued to show us why they are the best.
Day one featured highly anticipated sets from the legends Kaskade and Tiesto that created a great buzz early on in the night. Bass music fans were amped to see uniquely expansive sets from LSDREAM, CloZee, and GRiZ in quick succession to close out day one, while house heads got their groove on with Chris Lake.
On day two, Decadence attendees had their choice to ring in the New Year with either Ganja White Night or Dillon Francis. Ganja White Night once again cemented their status as the kings of wobble, playing their unreleased collaboration with Subtronics and announcing dates for Wobble Rocks II.
Do-it-all producer Dillon Francis made space for lots of trap and dubstep in a set that was hard-hitting, yet playful and fun.
Before the clock struck midnight, Zeds Dead performed their otherworldly Altered States set, Flume unleashed a tidal wave of bass and Porter Robinson's DJ set paid homage to some dance music classics.
Venue: B
The Colorado Convention Center was organized well and offered lots of space and clean facilities.  Aside from longer lines at the main gate during peak entry times, we had no issues getting into the venue.
Facilities like restrooms, water stations, food and drinks were easy to find. However, bar and restroom lines were incredibly long. After complaints from guests about the situation on day one, Decadence issued a statement saying that they were working to resolve the issue for day two. 
The wait at water stations was very navigable and all water stations were equipped with ice cold water. Water spillage on the concrete floor made for a slippery surface, but we saw workers helping to mop the area throughout the weekend.
VIP areas at Decadence were very spacious, featuring risers and lounge spaces, but were laid out on both sides of the crowd at each of the stages, pinching the GA areas and making the crowds more packed-in.
We were super excited to see that Decadence was accessible for people with a variety of disabilities! We saw people with wheelchairs and crutches grabbing a spot on the GA floor on both days and it was great to see that everyone's space was respected.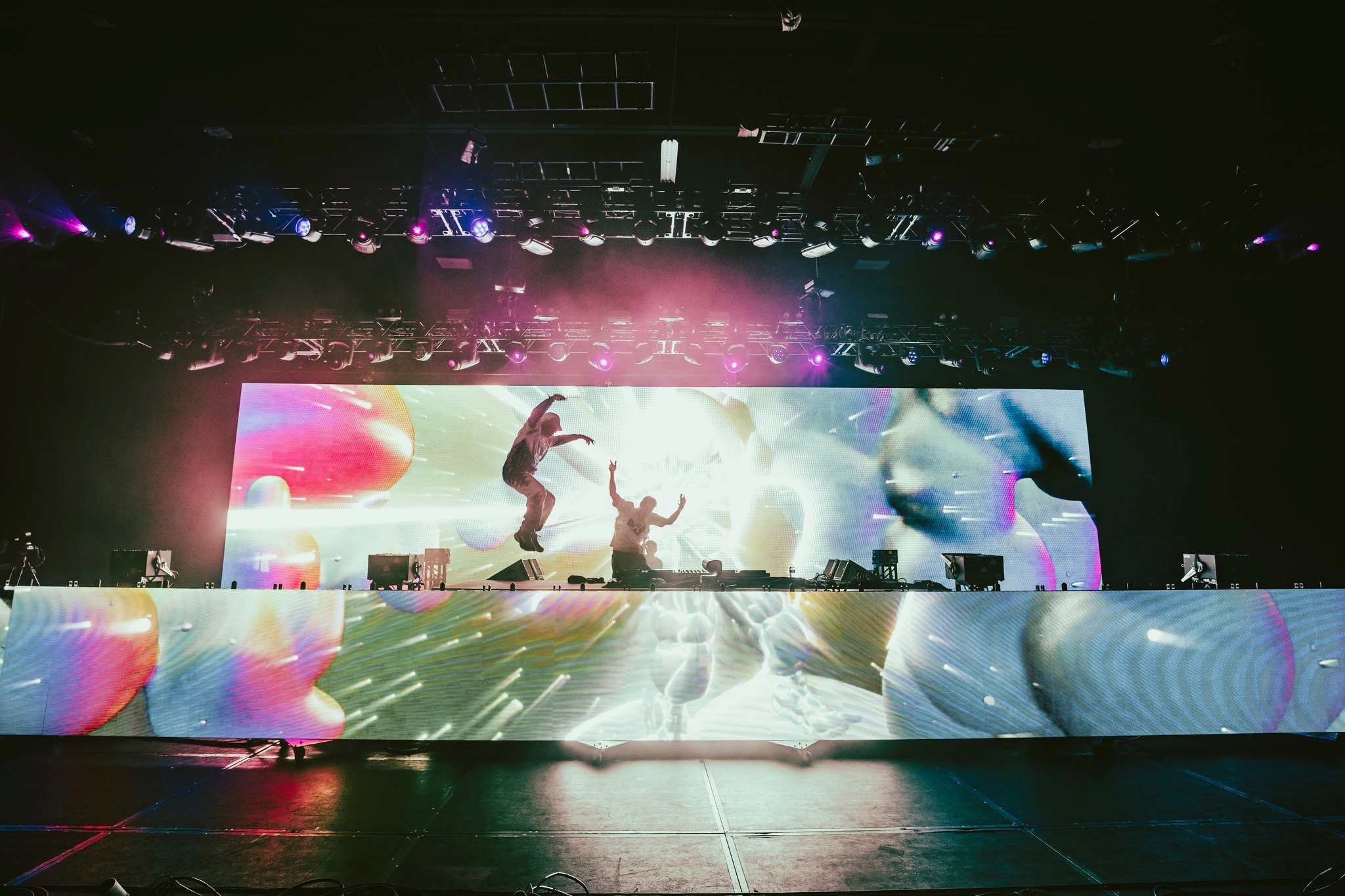 Overall: B+
As a first-time attendee of Decadence Colorado, I was thoroughly impressed at how well the event lived up to its high reputation. I can certainly see why it has become a New Year's tradition for ravers throughout the Western United States.
A well-orchestrated festival that books top-tier talent will always make waves, but Colorado's vibrant dance music community puts Decadence over the top.
It was truly a great taste of the scene in Denver. With an abundance of excitement and smiles, artists, organizers and fans alike made Decadence Colorado 2022 a New Year's celebration to remember.
All photos provided by Ashleigh Alexis Photography / Decadence NYE Colorado's Facebook.