Hulaween music and arts Festival over the years has become more than just a party but a home for many festival goers. People travel all over the country to join the magic that goes down on Halloween weekend.
Colorado-based bluegrass-influenced jam band The String Cheese Incident touched down in Florida back in 2013 creating a spooky multi-genre adult playground where you could get lost in the woods as you find yourself, create memories, and make connections with strangers that become family.
Hulaween 2022 didn't fall short in the magic category as we know many attendees left the Spirit of The Suwannee refreshed and inspired.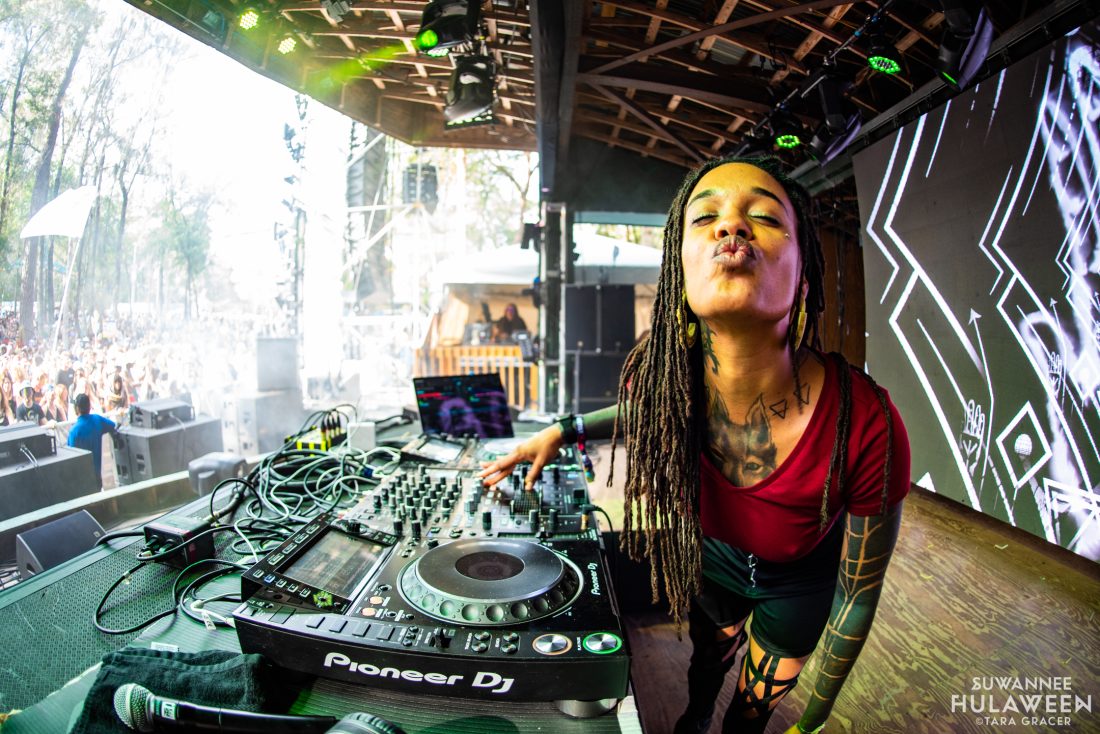 Vibes: A
 The energy at Suwannee Hulaween is just like a family reunion. Many of the attendees are dedicated returners who look forward to the weekend all year long. But don't worry, if it's your first time the vets welcome you with open arms, and will guide you through the alternate universe Hulaween creates every year.
Hulaween encourages family members to tap into their most creative selves especially when it comes to the Halloween costumes, allowing you to harness that alter ego you always desired to express.
We can't forget about the annual theme that sets the pace of everyone's energy throughout the weekend. One big Suwannee horror Disco Show, underneath the live oaks as all the ghouls and goblins got down to the twinkle of the thousands of disco balls that were everywhere. Everyone understood the assignment's genuine sense of family elevates the overall energy across the festival.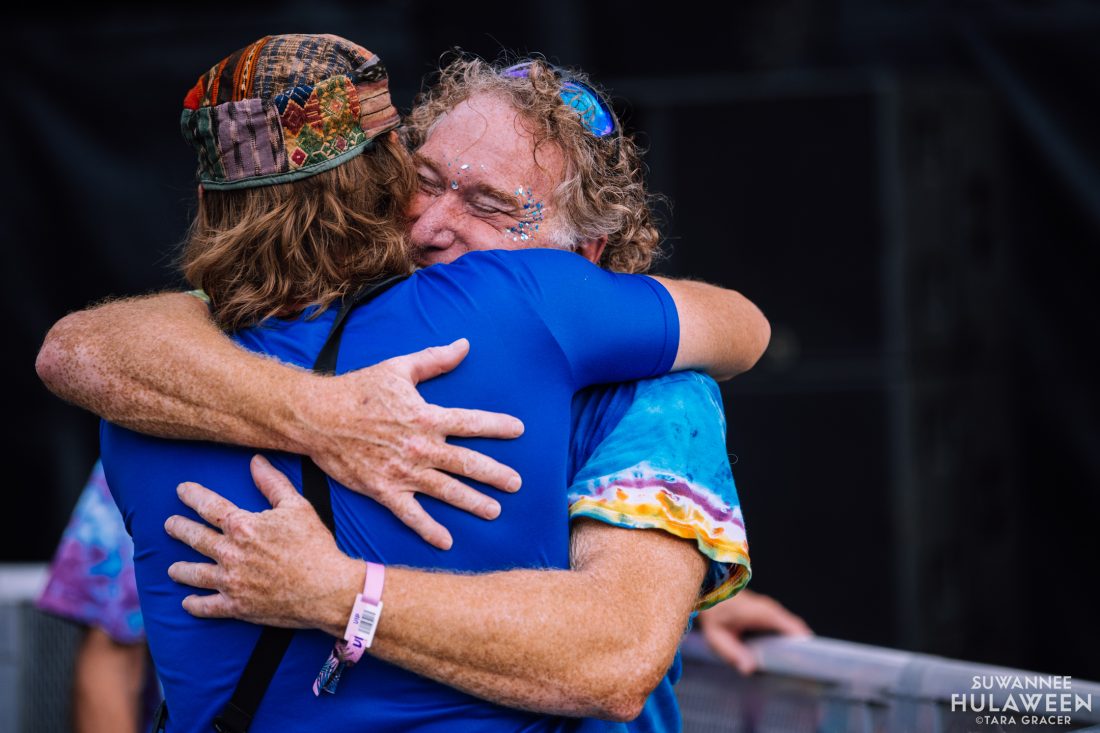 Production: B
The Suwannee stands tall with their legendary amphitheater, and magical meadow where the main stage and the Hallows stage reside. The stages all stand rather close to each other allowing convenience to stage hop and catch everyone on your schedule.
There was absolutely no sound bleeding, and no matter where you were standing you could feel the bass move through your body. Watching the lasers bounce off the trees throughout the amphitheater and Spirit Lake allows nature to enhance the music experience.
Although Hulaween can incorporate the natural elements of the park they still provide screens across all the stages that allow artists to explore their creative side and bring out enthralling visuals, making any show you see at Hulaween a unique experience.
Unfortunately, the amphitheater would get so crowded people would be standing on the street which takes away from viewing and hearing the artists as well as packing out Spirit Lake to the point where it made it hard to get to other things in the area.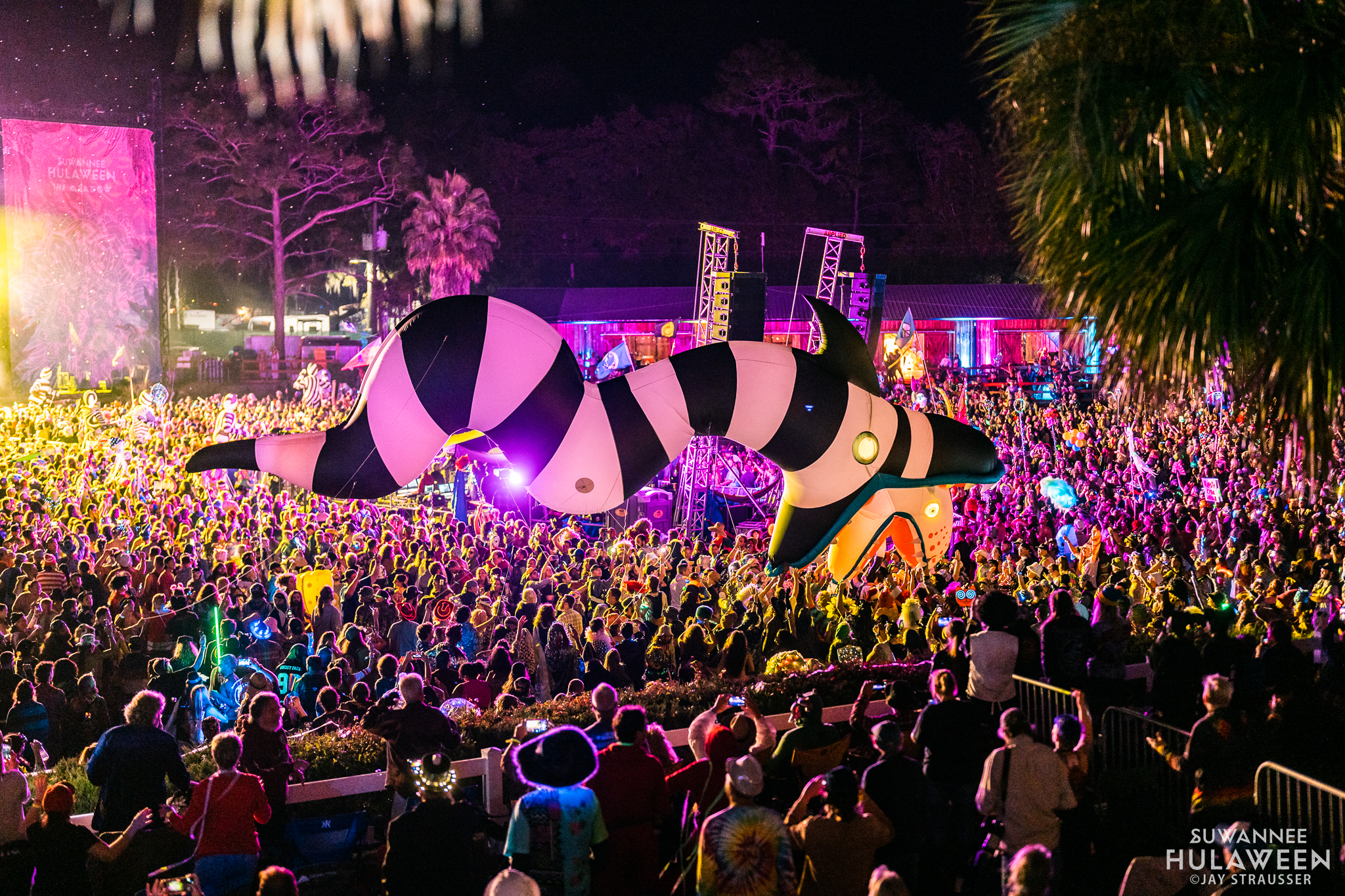 Music: B
Known for bringing musicians from all genres to Florida, Hulaween has really capitalized on find music for everyone. On top of bass music and house,  you can also dive into anything from bluegrass, to funk, to rap. There is a spot for any and all sounds.
Hulaween is also famous for having full stages set up throughout the campgrounds, where artists will stop in, throw down, and party with everyone.
Thursday was packed full of wubs with the Wakaan takeover at Spirit Lake. Not to mention Fisher closing the night out on the Main Stage, setting the pace for the rest of the weekend. Switching it up on Saturday when LP Giobbi joined the party with a Femme House takeover.
String Cheese Incident plays their famous theme set on Saturday night, the whole band was dressed up as Beetlejuice and they played sounds that hit home, like "Highway To Hell" and "I Will Survive," finishing it off with a giant Beetlejuice float that hovered throughout the crowd and a beautiful firework show.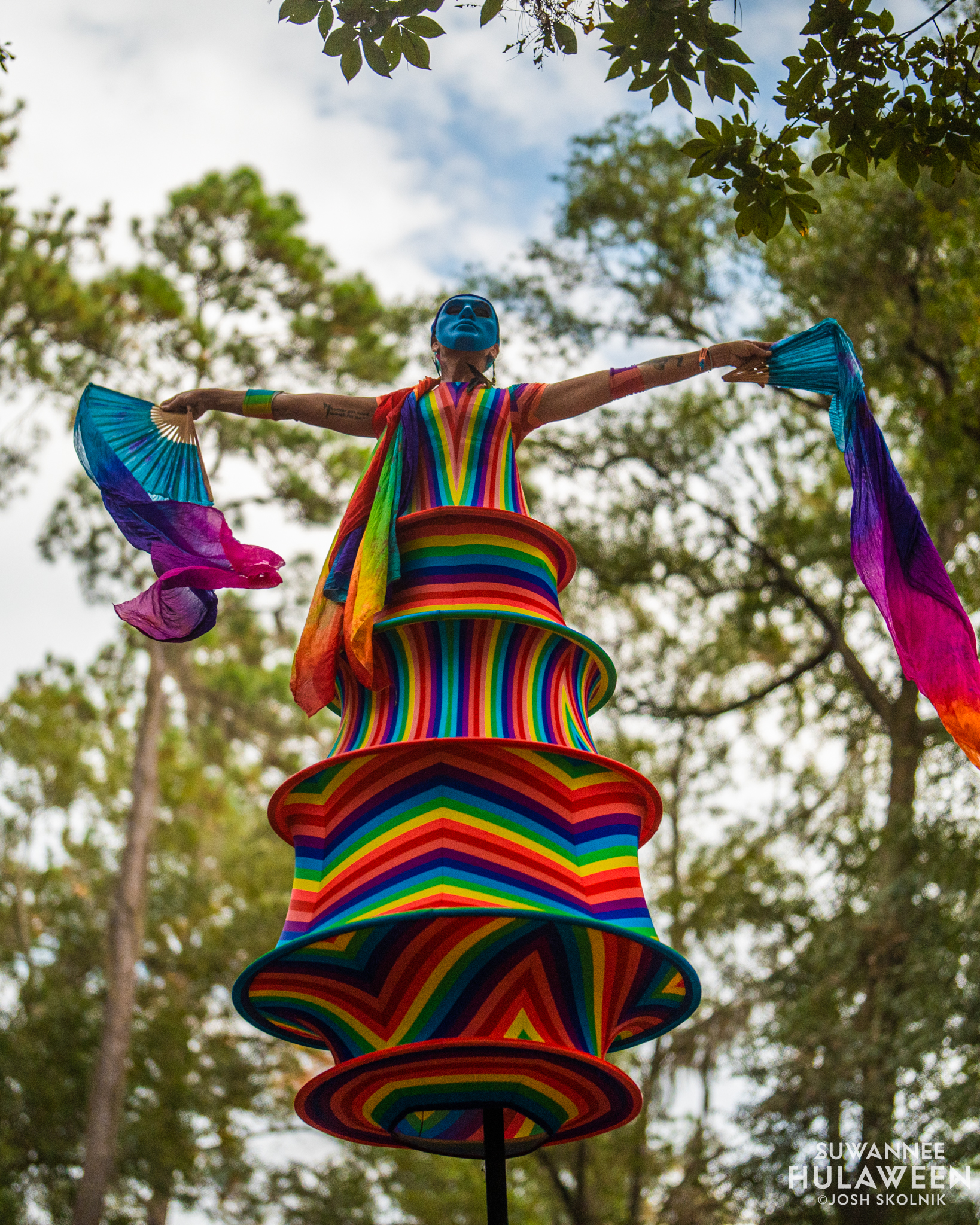 Venue: C
Hulaween is hosted on the magical 800-acre campground that sits right on Suwannee river providing plenty of Florida's beautiful woods to roam.
Hulaween is one of the only camping festivals left that allows you to pick your camping spot, which some could look at that as a pro and a con. People start arriving the weekend before to secure spots for the entire fest fam. It can get brutal defending your turf while waiting for the magic to start.
Hulaween offers five stages for attendees to bop around to as they enjoy all the multi-genre sounds you can find. The Hallows stage was considered the electronic stage and although the sound, lasers, and overall space was amazing it sits directly across from the main stage when one stage would finish the other stage would start. Leaving the flow of traffic to get a little chaotic.
Hulaween caps at 20k every year but there felt like there was double the amount of people as you would find yourself in herds of people which is not how Hulaween has been in previous years. With that being said though, we noticed they were frequently cleaning the porta potties because we never stepped foot in one that was out of toilet paper and actually usable.
The shower situation was not great, they tried to keep them as clean as possible but they were dirty throughout the whole weekend and there needed to be more of them.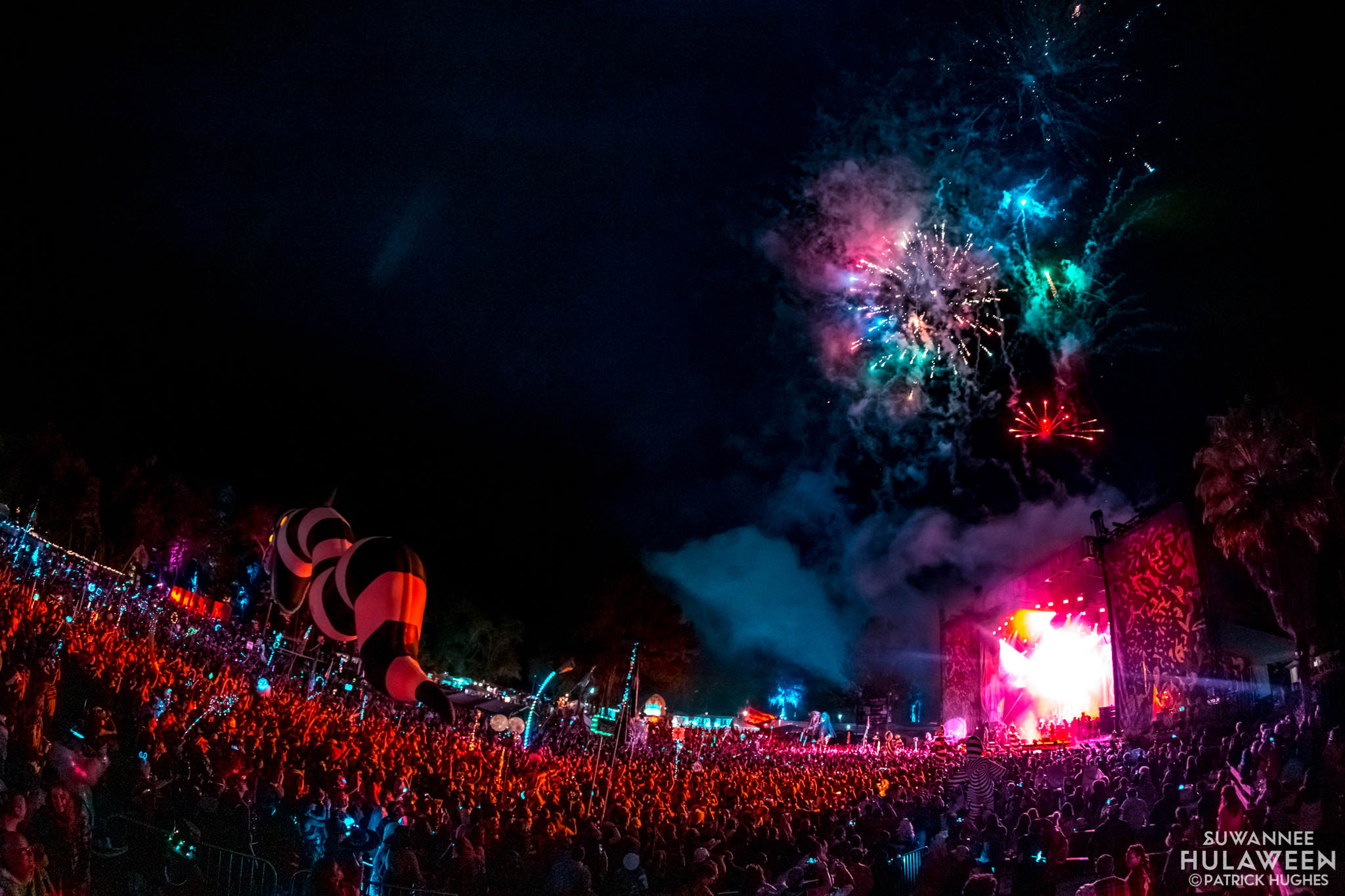 Overall: B-
 It is true what everyone says, Suwannee Hulaween is one of a kind. The perfect location nestled in a small river town in Florida gives people a safe haven to escape from their reality and enter a magical world where everyone can express who they really are.
Staying true to its multi-genre roots Hulaween are experts in catering to every music community. Bringing not just musical artists but actresses, actors, painters, sculpters, magicians, you name it. If it can be created you will find it at Hulaween.
The amount of people made it hard to truly embrace what the festival had to offer but Hulaween gave plenty of opportunities to get lost in your own magic. The disco was alive and well in the woods of the Suwannee. A true family reunion.