Leaning over with firmly gripped hands on the top deck railing, I squinted in deep thought and gazed into the endless pitch black of the night at the tips of waves sparkling from a full moon about to dip into the horizon signaling the near end of our last night. I had walked a ways away from my group, so alone in the moment, as we were gliding home on a wide open ocean with a warm sensual breeze all around, I knew this pensively blissful experience would be burnt into my mind forever. Nothing else mattered. It was perfect.  I was finally starting to wrap my head around what had happened the past few days. It was not a dream after all, that on the Groove Cruise Los Angeles for 3 days straight there was over 72 hours of non-stop 24 hour a day music. I had walked the halls, taken shots and had meaningful conversations with over 70 of the world's top and most influential DJ's and their management staff, conversations only rivaled by my now close 2,500 friends. I had talked to likeminded people who traveled from all over the world for this. I made friends I knew I would keep and talk to long after this was over. I realized I was uncontrollably molded and shaped by nothing like anything I'd experienced before, and as I took my hands off the railing and threw them in the air to say to myself "this might be the happiest I've ever been," I couldn't help but be bought back to reality by the incredible magnetic energy of what was going on behind me. This wasn't my first rodeo, nor my first time on Groove Cruise, but it seems like it every single time and to top that Groove Cruise Miami ups the anti with 96 straight hours of music.
There is really one of two reactions that happen only differentiated by veteran or virgin status; when you first step on the boat you either smile at what you know you're getting yourself into, or your eyes open wide and your jaw hits the floor. For the 11th edition of Groove Cruise Miami, Whet Travel has prepared another special trip that not a single person who has booked can wait for.  Let me paint the picture of what's about to go down.
Day 1 DAY THEME: REPRESENT! As we board the boat, show me where you came from! We've got California, Washington, the UK, Australia and just about everywhere else you can think of represented, and this is your time to show it off. This is also the last time most people will be wearing more than 3 articles of clothing. As we strip down around the pool for a forecasted clear skies and 80+ degree weather, we're going to let it all hang out around the pool. At 4pm the new them of SHINE THE F*CK UP takes over and we'll enjoy the afternoon and evening as we sail into the sunset with the sounds of Ferry Corsten, Oliver Heldens, George Acosta, Sharam, Dean Mason, Eric Morillo, Teenage Mutants, Syndey Blu, Luvelle Dupree, Doc Brown, Cato K, Louis D and Bam Bam Buddha, Keith Christopher, Louis Corrales, Patrick M, Ivano Bellini, Shannon Williams, Lujan and Luvelle Dupri. That covers us from 12pm til 10am….. did I mention its 24 hours a day around the clock?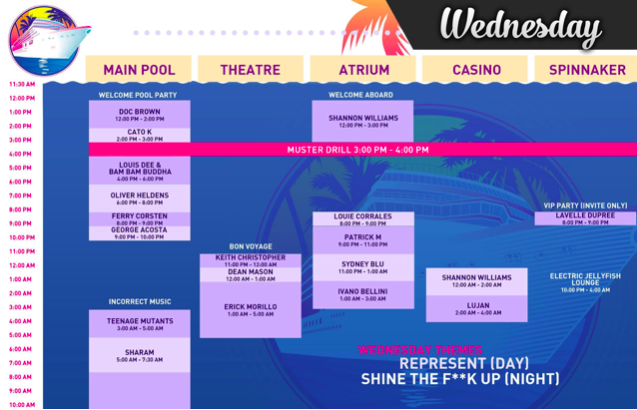 Expert tip: Bring it. Can't decide if you want that extra outfit? Yes. Barely room for that inflatable monkey? Find room. You'll want every piece of glittery jewelry, every funny hat, every fluffy thing you can find. Groove Cruisers participate in every single theme, so…..bring it. Weirder the better.
Put on your official Groove Cruise Blenders eyewear! Its not only going to be bright, but hides your eyes because you've been starring at that booty for over 5 minutes now dude!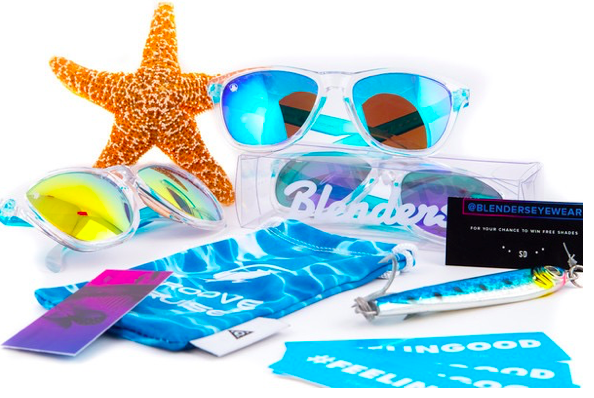 Day 2: We're going to go exploring!  You know the old question, what would you do if you were on a deserted island? This. You would do this. A boat shuttle will take us to our own white sand clear blue water beach in the Bahamas, Great Stirrup Cay. There, right where the sand meets the water we have New World Punx, Darude, Mix Masterson, and George Acosta until 4pm.  You can snorkel, jetski and get yourself into all sorts of trouble. After our beach party, we take the boats back to the Norwegian Pearl. Don't forget to grab an ice cream cone or 3 from one of the many eateries as part of the all inclusive food and dining experience. If you haven't had steak and lobster in a fine dining restaurant as a grown adult while wearing a tutu and a ninja cape you haven't lived.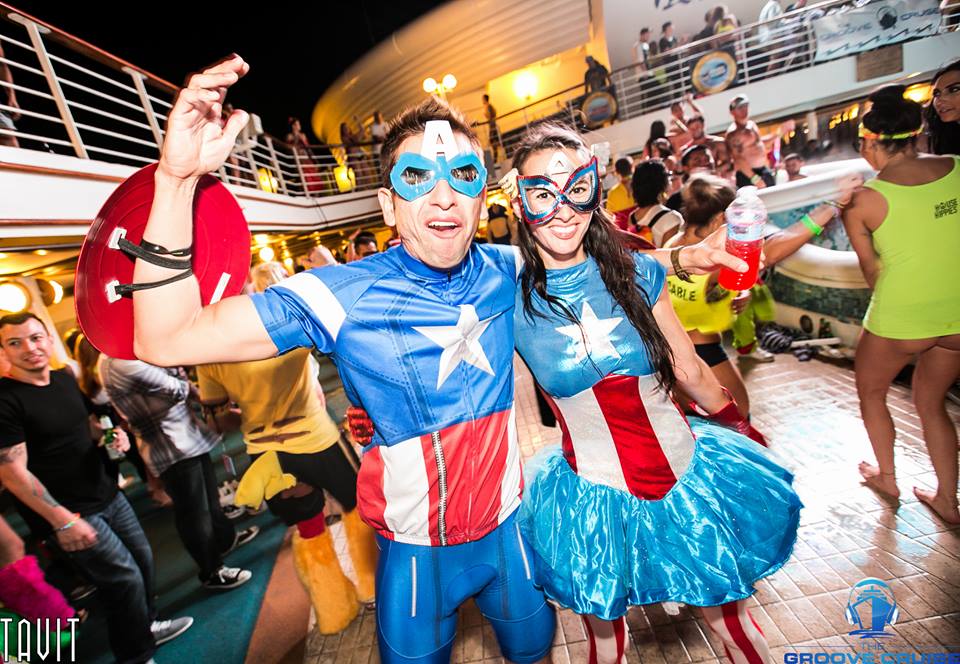 DAY 2 EVENING THEME: AROUND THE WORLD. Here's where the decisions get more difficult. With multiple stages, sleep just isn't an option. THERE IS NO SLEEPING ON THE GROOVE CRUISE!!!!!!!  The lineups go well into the night, just have a look at what's in store. Veteran expert tip: In the Spinnaker lounge a little secret known as the "chill lounge" or Electric Jellyfish lounge resides from 10pm-4am. Don't miss it. Explore to find a little getaway from all the madness and thank me for the tip, but find "Melissa" to thank her. By now you've made a few friends, gotten lost a few times, lost a couple things, and lost most of your group… its all part of the experience.
Day 3 THEME: ACCEPTABLE IN THE 80's. The neon is going to be intense and Friday is going to be solid all around. Trancehead heaven leads to Markis Schulz and Aly & Fila, Deep house is all around, or you can check out a special Meditation at Sea session on the sundeck led by world famous PLUR warrior Lady Casa & Kyle Head from 12-1pm. Ever thought about DJing? Darude and Scooter are leading a workship (excuse the pun) called How To DJ 101 with the basics from 2-3pm and more advanced techniques from 3-4pm. People would kick a puppy and French kiss their grandma for these types of opportunities.
Expert tip: Just when you say "I'm a little tired, maybe I should rest." Do not. There is nothing more magical (and I just got chills) than the Incorrect Music stage afterhours. People that have gone (still have the chills) will attest. Just do it… then find "Chaz" and give me a hug and tell me about it later. You're welcome.
Day 4 DAYTIME THEME: PUMP IT UP! Have we mentioned how imperative it is to bring inflatable toys, rafts, blow up dolls, animals and anything that holds air? Get them out! Release your blue beach balls and share them with the other captains as we head back to the beach during the day. As the afternoon and night approaches the NIGHTTIME THEME shifts to WHET CIRCUS. We're all a bunch of loose animals. The circus brings out the freaks, so let the freak flags fly. It's gotten a little weird by now anyways… the weirder the better. Haven't seen your friends in a while? It's all good, I saw them doing shots with a few of the DJs done playing. Don't forget they're walking around the ship just like everyone else.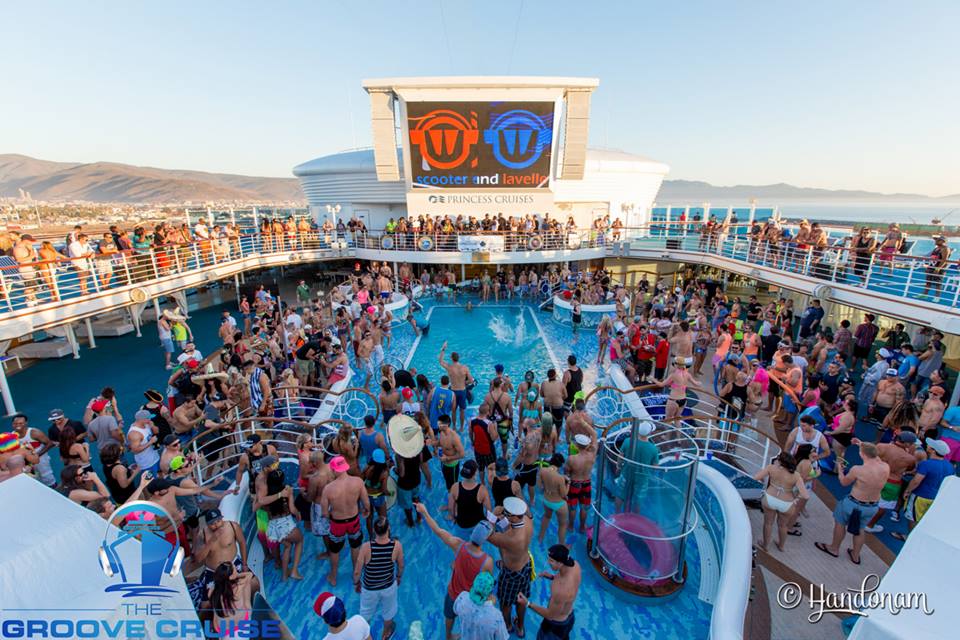 Warning: the last night is always the craziest. You've made friends with almost everyone on the ship by now. You've seen some things that can't be unseen, taken a couple incriminating pictures of strangers, and lost most of your clothes. You will love every second of it, I guarantee you.
As we end the weekend and pull into port early in the morning, you'll pack what's left of your dignity, and try to find those missed connections from when you passed out. The cruise ended, but you think it stops? You're nuts. It's just getting started. The next weeks and months you'll spend countless hours online tagging and untagging pictures. You'll have city meetups, fly around the country to see friends and GC DJ's, and have huge club gatherings and reunions. It's impossible to say goodbye, and most veterans wont. The good old Groove Cruise "arrivederci" (I might have just found my next tattoo) or "until we meet again" is the only thing muttered, because now that you've survived, you're family.
EDM MANIAC has a few surprises of our own, so if you see us please say hi!!! Can't wait to grow the family larger, see you soon captains!
-Brett (Chaz)