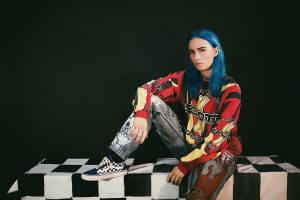 So recently, I've been finding a ton of new EDM artists whose music really goes hard. One of the cooler parts about this is that a good handful of the producers I've recently discovered are some badass bass babes. I love seein' ladies killin the game. One of those ladies is particular goes by the name of Godlands.
Hailing from Australia chick is turnin heads for her unique style in EDM and the fashion world. She's definitely the furthest thing from a cookie cutter kind in any way.
Godlands has this dope, beastly sound bringing together trap, hip-hop, grime, dubstep and even some more melodic shit into her tracks. Combining all of those styles can get overwhelming in a track, but her sound design is flawless. 
Her most recent single Pleasures embodies her abilities to mesh all those different elements into one impressive tune. A recent press release stated that this track, "will send shivers down your spine, as she channels her unique brand of energy and vigor." That is such a flawless description.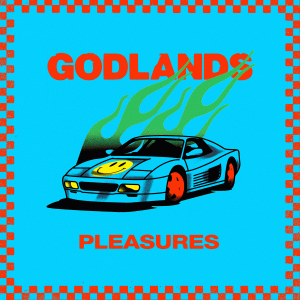 The song starts off with a super mellow beat before it picks up with a quick, echoing bass-driven drop. The track continues on with dope trap vibes, synth-infused breakdowns and even more deep basslines.
"Godlands fuses airy chords with a hip-hop drum beat, managing to complement her signature drops with faultless impact," the press release continued.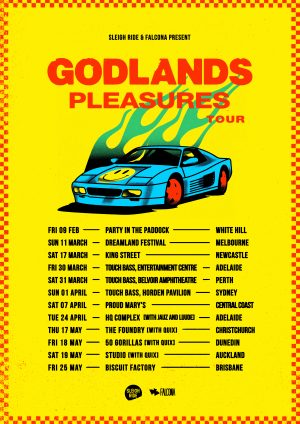 Alongside the release of this singe, Godlands also announced her debut tour across Australia. Not only will this tour give her a platform to continue to showcase her "cavalier vogue to her production, performance and aesthetic," but she'll also be performing alongside a couple big names in the industry such as Excision, Jauz, Getter and QUIX.
Hopefully, she makes her way to the states soon so I can see what she can do for myself. In the meantime, all my dear Aussie headbangers should check this chick out. Tour-goers are told to "prepare for high-octane beats, unrivaled energy." Sounds like one hell of a time to me. Grab your tix yall! 
Keep an eye on what Godlands has comin' for us during the rest of the year, I see big things in her future.