The music festival of the Summer has once again come and gone. HARD Summer is most notorious for it's unexpected yet fascinating b2b sets as well as that scorching hot sun we all know and love. The 12th HARD Summer will go down in the books as 170,000 guests came to gather at the Fontana Speedway on August 3rd & 4th. 
Although the heat may seem like a grand obstacle for attendees, its how we all recognize this festival. Not only that, concert-goers were treated like royalty as they had the choice of 102 misting fans, 2 water cannons, a plethora of free water refill stations, and over 2,500 feet of misting line running through the Shady Lane structure to give guests great relief. To top things off, guests couldn't fret about the hot asphalt and dust as there was a spread of a turf like cover blanketing 1.2MM square feet of the ground.
Credit: Drew Ressler
Now, enough of that. As House music has grown at a massive rate over the past year or so, it was so fantastic to see an entire tent simply devoted to House. The Pink tent was crowded throughout the entire weekend and the DJ's were just having a ball. In my opinion, Kyle Watson nailed his performance. Although he's an up-and-comer, he's gained some incredible traction on Soundcloud for his dirty house sounds. In a year's time, he'll be just as big as Chris Lake & Fisher. Day 1 had some other incredibly unique performances such as Diesel, AKA Shaq. If you've never seen him before, I guarantee you'll be very surprised to find out that his style of music is filled with Dupset, Riddim, and Hard Style. Who woulda thunk? To close out the night, HARD Summer would be the only festival to bring out none other than Kid Cudi to the stage. Over the many years, his voice remains as pure and authentic as ever before. You can count on him to bring out the nostalgia in you. 
Do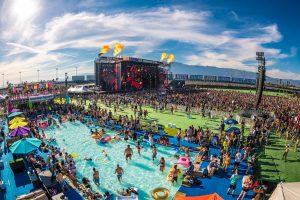 Credit: Doug Van Sant
As there were countless of surprise guests and just good vibes all around, Day 2 did nothing less than bring the heat. The Pink tent once again brought their A-game as they featured AMOK which includes house prodigy Will Clarke + Sian. In addition, we couldn't be more grateful that HARD Summer truly understands the desires to have Hip-Hop & EDM all in one Festival. But boy, do they understand. The Purple tent was stacked all night with hip-hop legends like MadeinTYO, JPEGMAFIA, producer Kenny Beats, and "crank that" phenomenon Soulja Boy. As a last-minute decision, Rick Ross was added to the lineup. His tracks can't be beaten. Last but not least, JUICE WRLD was hands down a highlight of the weekend as he brought his melancholy voice we all love and crave. 
J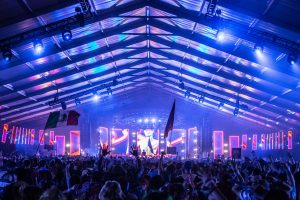 Credit: Jonathan April
Next, for my favorite part of the evening. I believe that the b2b sets deserve their own paragraph as they are the main reason I continue to join Fontana for Hard Summer. As most of the b2b sets were Headlining acts, it made it quite impossible to choose a stage. Although that's the case, any option would've been superb. The b2b sets that specifically stood out to me were DJ Snake b2b Malaa and ZHU b2b Tchami. Although one might not be able to pinpoint how those mixes would actually sound, it becomes perfect once it's actually playing in front of you. ZHU x Tchami transported you to an underground rave in let's say, Germany. They had such spooky and sultry sounds while incorporating House into the mix. Not to be ignored, the other b2b sets that dominated the stages were Flux Pavillion b2b Netsky, Excision, b2b NGHTMRE, and Anti Up (Chris Lake & Chris Lorenzo). 
Credit: Gina Joy
HARD Summer 2019 proved to show us that they are nothing but committed to giving us the weekend we all deserve. I can't wait for HARD 2020 as you know they just might have some tricks up their sleeves.