As a Lost Lands OG, I have been counting down the minutes until the 2018 event since the second I left Legend Valley last year. My fellow headbangers seem to have the same idea; everyone has been sharing their hopes for next year's event and there have been a ton of great ideas circulating.
So, I thought I would compile and share my hopes for Lost Lands 2018 too. So *drumroll* here it is guys!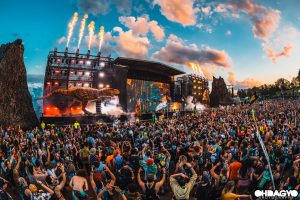 Note: There are a SHIT TON more artists I hope to see make their Lost Lands Debut and artists I hope come back (like, all of last year's lineup lol) but that list is like 10 miles long. So I thought I would boil it down to ten each of my faves and not state the obvious (like Excision, Dion Timmer or Datsik returning. Like duh, it wouldn't even be Lost Lands without them!)
10 artists I hope to see make their Lost Lands debut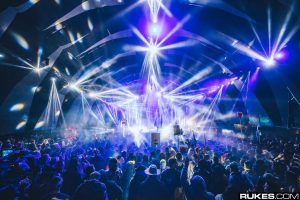 10 artists I hope come back for Lost Lands 2018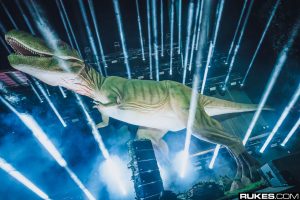 5 things I'm stoked to see/ would love to see
Another Excision Detox set


X's detox set was probably one of my favorite sets of all time, no joke. It was this amazing mix of his old school shit and some of the more chill songs from other artists. He explained his logic about it in a Facebook group:




"

Over the years of scouring the earth for the best bass music I could find, every once in a while I would come across a gem that was extremely dope, but too slow/chill to fit the high energy/heavy vibe of an Excision set. In 2012 I created a folder on my desktop where I would collect these tracks and play them whenever I was in chill mode…




Guys like Champagne Drip and G Jones, are good examples as they are completely different yet a lot of their tracks fit the same heavy yet slower paced bass vibe that to me is perfect for a Sunday afternoon in the sun."

Movie time?


I saw this idea proposed in a Lost Lands Facebook group: Set aside an area of the venue to show prehistoric movies like Jurassic Park, Dinosaur, the Flintstones and the Land Before Time Series. I actually think this would be a really cool idea, especially for the headbangers who need to take a break for a hot second. I've heard nothing about whether or not the Lost Lands team is actually considering it, but I hope they do!

Soundcamps in the GA area


After making a bunch of new friends with my Lost Lands fam from all over the world, I absolutely cannot wait to meet up with them all for the party after the party on the GA campgrounds. A couple of them are DJs themselves so I'm stoked to see them play. Also, I have a feeling we'll be joined by a few of the Lost Lands lineup DJs some nights too. God, why is September so far away?

Thursday Pre-Party


So I added on the Thursday Early Entry pass this year after kicking myself in the head last year for missing it. Not only do pass holders get dibs on the best camping spots BUT they're gonna be opening a stage in the venue for a whole five hours Thursday night with "surprise appearances and insane B2B sets." So I get four days of bass and a good campsite?! *excited screeching*

Dinos and more dinos!


I loved the way they did the stage production, visuals and real life sized dinosaurs last year all around the venue. I'm hoping that all of that returns, plus a ton more. It made for a great atmosphere, dope photo opps and earth-shattering performances. Also, everyone's outfits and costumes were on point! Lost Lands Fam, let's bring that shit back again next year!
I know either way, Lost Lands is gonna be dope AF. Excision and his team did an unbelievable job last year and I can only imagine what they're plotting this year. I mean it's like Disneyland for headbangers how could it not be amazing?
We're officially under the 200-day mark for this festival guys, who else is as stoked as I am?! I would love to hear what everyone else hopes to see and is excited for! Message me and lemme know 🙂
Feature photo courtesy of Rukes.com