Women are honored during Women's History Month, and this particular woman has made significant strides in the music industry. LP Giobbi is an activist, being the positive role model that women need. In 2018, LP Giobbi entered the music scene. Barriers immediately started breaking with her persuasive beats. 
The Femme House Takeover Tour:
The 'Femme House Takeover Tour' includes free in-person workshops for women aspiring to be in the music industry. The beginner level workshop in Tempe, AZ, was taught by: mini bear. During these workshops, the basics of MIDI and Audio Sounds. As a result, the EDM community significantly changed. Women are empowering other women to shine.
Zoom workshops are offered throughout the year if someone cannot make it to the in-person workshops. In addition, the Femme House Foundation aims to raise $40,000 while on tour. So far, the foundation has raised $32,906; the money benefits the Femme House Foundation BIPOC Scholarship.
Performance:
LP Giobbi is a powerhouse within the EDM community! When she performs, she radiates excitement and fierceness. She brought her talents alongside; Bellamore and Bklava to Shady Park in Tempe, AZ. These three DJs commanded the stage while captivating the audience with their sick beats and stunning vocals. Their performances exceeded all expectations. 
The audience was immersed in LP Giobbi's beats throughout the show. Hearts pound as souls become full. The audience danced, smiling, enjoying the moment. The crowd became one as her house beats synchronized with her piano keys. Crowds mesmerized by LP Giobbi's beaming smile on stage. LP Giobbi puts her heart and soul into each performance, radiating throughout Shady Park. 
Crowds mesmerized by her beaming smile on stage. You became who you wanted to be without judgment. LP Giobbi amplifies how strong you are. You do not want to miss this opportunity of seeing this powerhouse.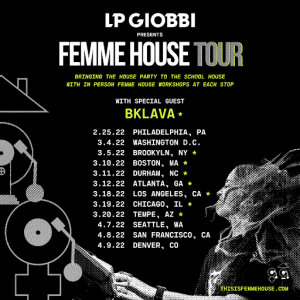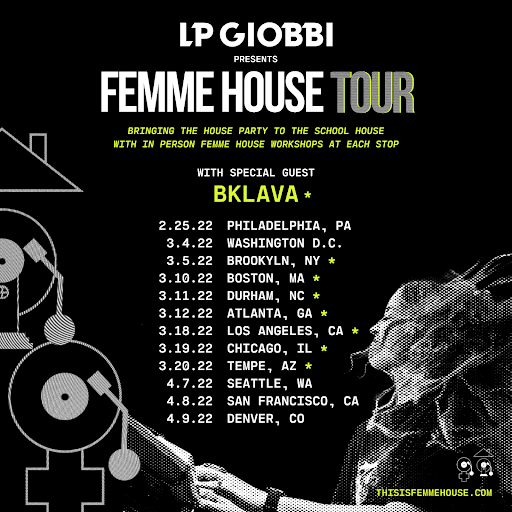 Click here to learn more about the 'Femme House Takeover Tour.' 
*Images via Echostage and LP Giobbi.