Corey Strickland, professionally known as Sketch Muzic, is a DJ and electronic DJ producer from Alabama currently living in Hawaii. The Sketch Muzic project started in 2017, and he has been creating melodic and uplifting music ever since. With some big shows already under his belt and a bright future ahead of him, we chatted with Sketch Muzic to understand more about his story and what projects he has coming up this year. 
In this interview, Corey shares with us all the above and gets down to who and what inspires him to create music. Check out our interview with Corey below!
EDM Maniac: Thanks so much for speaking with us today! I'm so excited to meet you and talk about your journey. Talk a little bit about what you've got going on for 2023. Tell us how did you get into producing music and what kind inspired this? Was there anything in Hawaii or was it was there a specific moment?
Sketch Muzic: Actually, been kind of producing since I was probably 18. I'm in my 30s now. But I didn't really take it seriously or think it could be something serious until about five years ago. Almost six years ago, I saw Seven Lions, and I was like, that's, that's the kind of music I want to make. And started just learning more and more about like, the final stages of production, mixing and mastering and things like that. It all kind of led to where we are right now.
EDM Maniac: I did read that Seven Lions inspires you. So, what is it about him that made you want to really dive into this, and like, what makes his sound something inspiring to you?
Sketch Muzic: I feel like when I hear his music it just seems like just a chorus of angels, almost religious, coming out of the speakers. That's what I get from it, it's not super heavy even though he does have some heavy tracks. He's got a side project. Abraxis, which is a little bit more up-tempo, a little deeper, darker sounds – but just the music that he produces, it's beautiful. It really feels like it wraps the soul in a big just bass hug.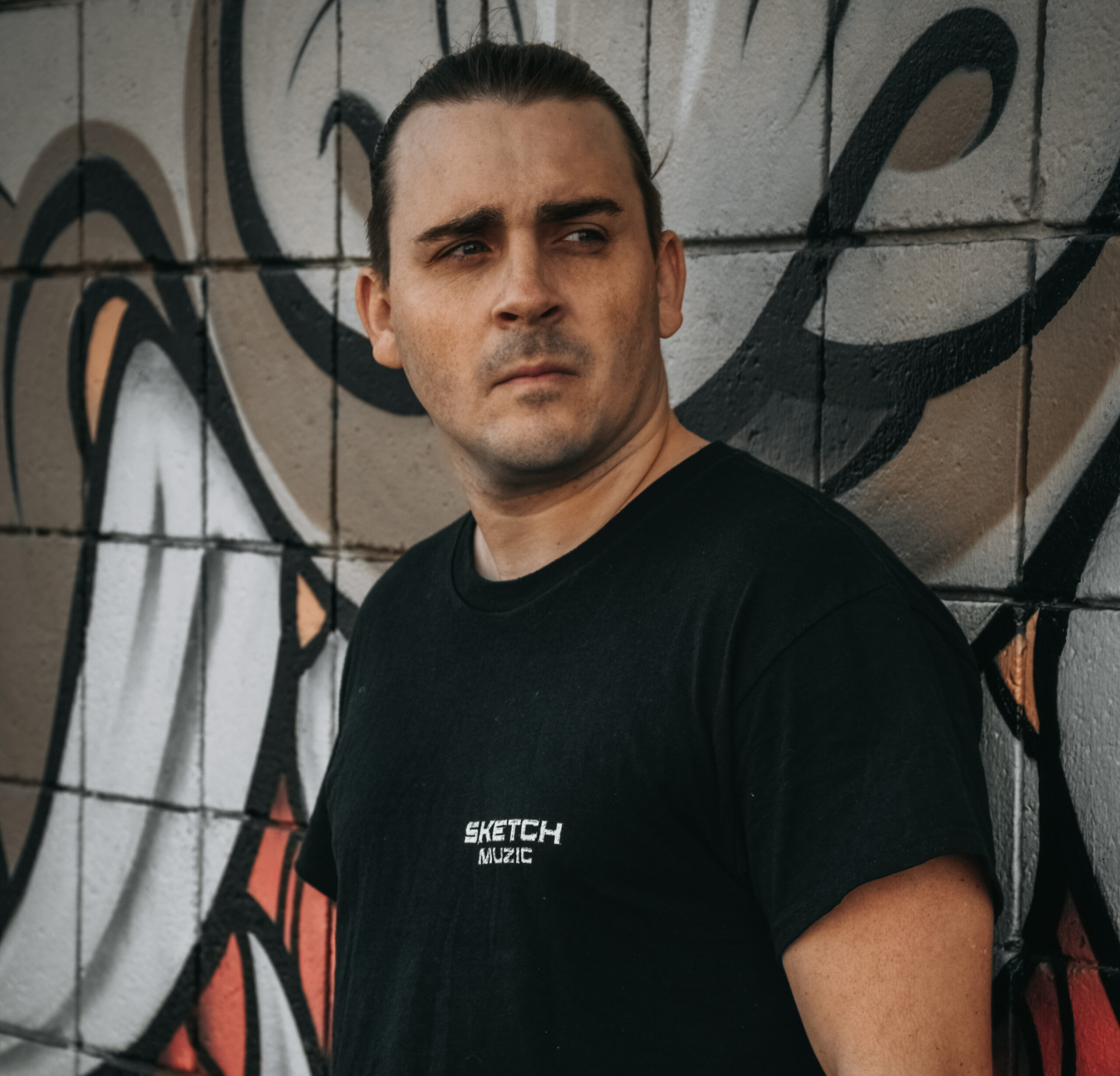 EDM Maniac: Are there any artists that really stand out to you right now?
Sketch Muzic: Right now, sound design-wise, I'm a huge fan of the whole Ophelia label. AU5, of course, is huge. Actually, did a show with NURKO as a direct support night earlier this year. I'll tell you also somebody I was really impressed with was AMIDY. I knew what he was saying in the tracks but then actually saw him live for the first time a few months ago. I was captivated by the way he performs.
EDM Maniac: Let's say someone is reading this interview, and they're looking for advice to create a big track, what would you say they should be cognizant of? What are some things that they can kind of keep in the back of their head to get to that point?
Sketch Muzic: When you're writing and listening to the chords you're putting in, when you hear that, and you're like, oh, that's, that's good. That's one thing. But when you hear that, and you are captivated by the sound that you just created, that's what's going to convey to the audience, the audience wants to feel, that's why we listen to music. It helps us remember maybe a good time in life, or maybe we associate the track or song with a sad time in life, but that's why we love music so much because music makes us feel. If you're making a track and you start listening to it as it progresses from just a work in progress up to the kind of "getting ready to start mastering, and the hair stands up on your skin. That's what I try to go for when I'm making music. I love the sounds that I'm creating to give a genuine can't find the words for subconscious reaction.
EDM Maniac: What are some other things that a new producer can try to do to stand out from everyone else?
Sketch Muzic:  I see new artists come up, and it's like, they don't really focus on the branding side. That's the biggest thing- branding, formulating a plan, and moving forward with it. And sticking to that plan. My grandmother always says, "if you fail to plan you plan to fail" and that's always that's stuck. So, I mean, that's, that's really the biggest thing is seeing new artists come out, and they don't really know the direction they want to go. They just want to produce music, put out music, and play shows. And that's going to get you somewhere, but it's not going to get you as far as you may think.
EDM Maniac  Yeah, that's a great tip. And I feel like it's often overlooked. Because it all really comes down to marketing and how you present yourself right now, and how will you want other people to see you. What are some of the challenges you've experienced?
Sketch Muzic: I'm very blessed on the side of giving people giving me the chance. This happened in Alabama and people took a chance on me. But I guess, challenge-wise, the only challenge that I've really had is just reaching the right audience. With my production, I get some good airtime but it's challenging to really capture a bigger audience. That's been the only thing it's getting my music into people's ears.
EDM Maniac:  Are there any other events or any other notable things that you'd like to mention for next year? Or where can we kind of find you and what will be anything you want to share?
Sketch Muzic: There will be some shows in Arizona, as well as a possible festival.
EDM Maniac: Lastly, what are just some of your personal or personal or artistic goals for next year? Do you have anything that you really want to get done?
Sketch Muzic: I would like to release Another EP I'm sitting on. I'm on like 13 unreleased tracks right now. An EP will definitely be something that I'm looking to release, and I'm in talks now with a few labels to see if they want to release them as singles or maybe put together a two or three-track EP.
Sketch Muzic's newest track with Auntie Venim, "Belong to Someone" is streaming now on all platforms, and make sure to catch him at his next show in Maui, Hawaii on March 10 as direct support to PHASE ONE.
View this post on Instagram