It's a good day to have a good day! To all of our fellow trance lovers, we are pumped to turn you on to your next favorite EP. Today, K3SS dropped his brand new Dark Side EP. His 4 new tracks string together a medley of melodic tones and bumping synthetic beats in a way that is bound to keep your heart and fists pumping.
K3SS is an up and coming artist from San Diego. His vibey style pulls inspiration from artists such as Sasha and Digweed, Paul Van Dyk, Above and Beyond, Armin Van Buuren, Gareth Emery, Ferry Corsten, and Markus Schulz. But, like all the best artists, he incorporates his own unique blend of dark and light undertones culminates his lively style of progressive trance. We had the chance to connect with him and learn more about his life, style, and how he has grown to be the artist he is today.
EDM Maniac: For our readers who don't know you yet, can you give us some background on your story? Who were you before your music and how did you get into music?
K3SS: Growing up, my dad always played guitar, and he taught me at a young age. It has always been both a hobby and a stress reliever, and I got pretty serious with it in high school. Along with discovering trance around that same age, all genres of rock became a musical passion of mine. Already having a guitar background led me to join garage bands throughout college and after. During all of that time, I had always loved trance just as much as rock, and listened to it equally, but didn't know anything about creating it myself.
EDM Maniac: How did you learn to produce? Were there any influential moments or people in that process?
K3SS: Having a musical background always left me curious about how to produce trance/EDM, but there was one very specific "lightbulb" moment for me when I truly decided to go for it. At EDCLV 2017, I was in line to buy a drink, and Slushii was playing at the stage I was next to. I heard him say something to the crowd, to the effect of "Just three years ago, I was standing where you are, and if you want to be up here, you can do it too". For whatever reason, that resonated with me strongly enough to decide I was going to learn how to produce my own music. As soon as I got home from Vegas, I began researching anything I could think of on how to get started: digital audio workstations, synthesizers, studio equipment, how my favorite DJs and producers got started, and then lots of Youtube. As time passed, more things became available, including Masterclasses (Armin Van Buuren, Deadmau5, Timbaland), and those were also extremely helpful.
EDM Maniac: How did you find your place in trance? What about the genre makes you love it?
K3SS: When I was working my first job in high school, at Sonic, I brought a guy's food out, and he was listening to something that I thought was amazing but had no idea what it was. I asked him and he said "ATB." That next day I went to Best Buy and asked someone to "help me find ATB, and what was it?" They told me it was trance, and I started listening to it obsessively. So technically my first exposure to EDM ever was ATB's "Movin' Melodies". I love how trance takes you on a journey and invokes emotion. I literally get lost in it. Each song is a separate story.
EDM Maniac: For those who aren't familiar with your music yet, how would you describe your art?
K3SS: I feel like I have two distinct sounds. One is bright and uplifting, and the other is dark and sexy. There is no grey area in between.
EDM Maniac: Today, you released your Dark Side EP. Can you tell us more about the EP? What was the process of making it like?
K3SS: Obviously, this is the dark and sexy sound. I started this EP in Summer 2020. I desperately wanted to be in an underground nightclub dancing, and I was hearing melodies in my head of what I wanted to dance to. Based on the current situation, it was more of a dark mood than uplifting, so I started writing. After finishing a couple of songs, but still having more ideas, I realized that they all went together and should be released that way. I sent them to my label, telling them my thoughts, and they agreed and loved the idea of releasing the tracks as an EP.
EDM Maniac: What inspired you during the creation of your EP, or with your music in general?
K3SS: During the time I began working on Dark Side, I was listening to a lot of Arkham Knights, old school Paul Oakenfold, and Sasha & Digweed, so those producers definitely set the mood when I began writing this EP. For my music in general, it's always dependent on my current mood or an event that triggers a certain emotion.  Depending on that mood, I'll drift to certain producers.  If I'm feeling sentimental/uplifting I'll turn on some Above & Beyond, Armin Van Buuren, Gareth Emery, Markus Schultz, etc.  If I'm in a darker mood I'll listen to Grum, Arkham Knights, I_O, and other artists with a similar mood.  If I want something exciting,  I'll listen to Nifra, and so forth.  Then I draw from the feeling that those producers give me and put my own spin on it when creating my tracks.  At the end of the day, my goal is to create an emotional response from the listener. 
EDM Maniac: Your music is described as a mix of both like and dark sounds, can you give our readers some insight on what that means? How do you choose the style of each song?  
K3SS: I think that again goes back to my mood, dictating who I listen to at that time, that I then draw inspiration from.  I generally get a dark or light sound dependent on the bass progression.  I almost always start with the kick drum and base-line groove to set the mood of any of my tracks.  If I'm going for a "dark" mood, I ask myself if the bass and kick relationship evoke a sexy, mysterious feeling; with "light" I ask myself if those things bring out a sentimental or happy feeling.  From there I just keep building.
EDM Maniac: The pandemic has been hard on everyone, but especially those who rely on making and sharing live music. How would you say this pandemic has affected your career? How have you worked to overcome this situation?
K3SS: Right before everything shut down, I was getting a lot of momentum.  I had released 3 singles,  I had just established a residency at a major night club where I lived, I was getting phone calls every weekend for other bookings, and I even booked a festival.  Things were moving really fast.  Then, just like everyone else experienced, it was all shut down and gone.  After this all happened, I decided to use this time to really focus on learning more and getting better at producing.  I just kept writing music.  I was always looking at how to better my craft.  While DJs went straight to Twitch or Mixcloud and started live streaming, I took the opposite approach.  Although I did a few live stream gigs,  my main focus was making my own new music.  I feel that for me personally, as a producer who also DJs, it was important to build up a solid library of my own material that would allow me to express myself properly to an audience.  After releasing 8 tracks in 2020 and having finished Dark Side,  I had reached that point.  I felt it now gave me the opportunity to focus my attention on establishing a consistent twitch live stream.  Every Friday at 7:00 PM PST you can view my live stream, Trance S3SSIONs here.  I play classic and current trance, along with my originals, both released and unreleased.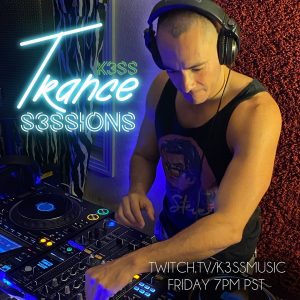 EDM Maniac: How have you stayed motivated to continue producing during this time?
K3SS: A lot of the great artists that I look up to have consistently kept releasing amazing music during this time.   Seeing them do this really does motivate the hell out of me to be better.  My friends and family have also been extremely supportive from the beginning and constantly push me to keep going. 
EDM Maniac: Do you have any future projects in the works you are excited for? 
K3SS: Yes!  This EP is part of a bigger project.  I'm not done exploring my dark side, but, like yin and yang, every dark side has a light side….
We cannot wait to see the rest of what comes with K3SS's dark side, but in the meantime, his Dark Side EP will keep us more than satisfied. Make sure to check out more of his music, and keep him on your radar. With the passion and the drive that he has, we have no doubt that he will be breaking the charts.
Featured photo by K3SS