Los Angeles Pride is this weekend, and there are a lot of events celebrating gay pride across LA.
The biggest is the LA Pride Festival taking place in West Hollywood. The music kicks off Friday and ends Sunday evening. This year, Pride has morphed into a festival with single day tickets costing $25. You can get a multi-day ticket for $45. However, on Friday, all general admission tickets will be free. You'll have to pay if you want a VIP one.
There was an outcry by the gay community over the pricing, as most gay pride events are free. I'm not going to dive into that debate as I want to concentrate on the music. Some big names in music will be performing live at the festival including: Krewella, Bebe Rexha, Charli XCX, Carly Rae Jepson, Gallant, EC Twins, dance diva's Robin S. & Inaya Day, Faith Evans, Da Brat and many, many more. There will be music on multiple stages as well as gourmet food and drink vendors. This all goes down at West Hollywood Park. The entrance to the music festival is at the intersection of San Vicente Blvd. and Santa Monica Blvd. EVERYONE is welcome! Tickets will also be sold on site. Check out LA Pride's official website: http://www.lapride.org
Actress, model and DJ, Ruby Rose, will be taking over Create Nightclub on Saturday night to celebrate the club's 3 year anniversary. I've seen her perform before over at Exchange LA, and she puts on a really fun show. You can bet that the ladies will be front and center for her at Create! It will be PACKED there so be sure to get your tickets before they sell out! First tier tickets are on sale right now for just $25! For more information on this event click HERE.
Another fun party taking place is at one of the best nightclubs in all of Los Angeles, Sound Nightclub.
Stimulus is a new monthly Sunday tea dance put on by Michael Gladstone. What is a tea dance? Well, it's a long standing gay tradition of a Sunday afternoon or evening dance party.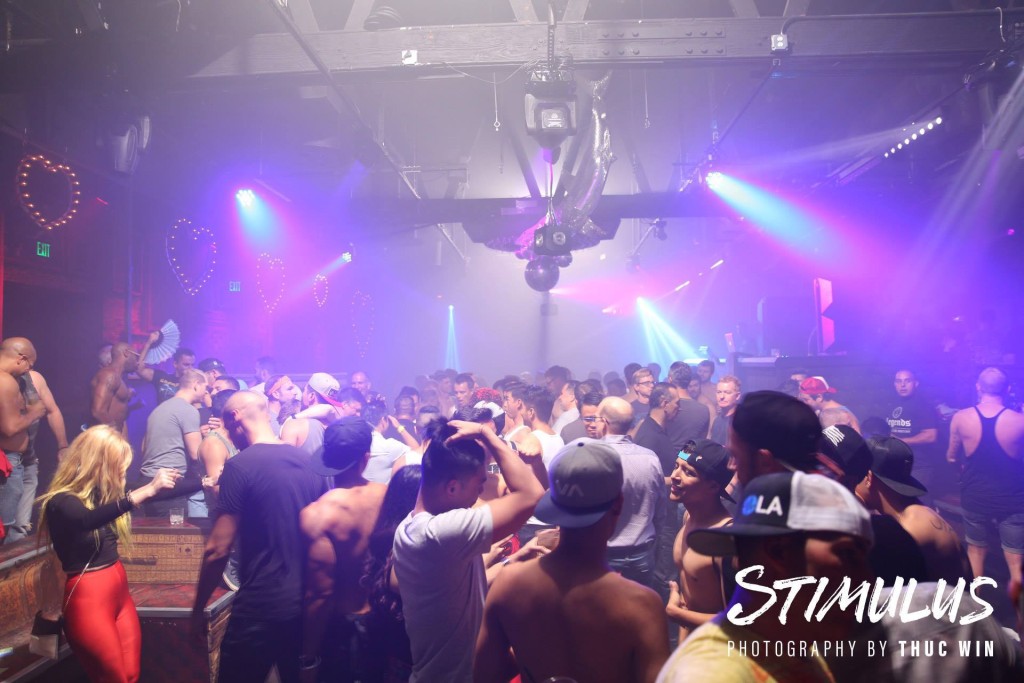 It's basically a place to go dance without staying out too late.  Stimulus is for everyone of all walks of life and backgrounds.  It's the perfect spot to celebrate Sunday Funday over Pride weekend with all of your friends!  Stimulus is bringing out two big dj's to keep the pride festivities going…Wayne G. of London and LA's own Max Bruce. Expect to hear some fantastic house and deep house at Stimulus.  Other genres like trance and progressive house will be making an appearance in the coming months along with some big name DJ's.  Doors open this Sunday at 5pm and the party goes strong until 11pm. If you get hungry, Sound will have their kitchen open so you can enjoy some delicious snacks like their tasty tater tots, and of course the bars will be open along with the outdoor patio. Pre-sale tickets cost just $10, so you really don't have an excuse to come party! Tickets will cost $20 at the door.  You must be 21 years or older to attend.  You can find more information on Stimulus and purchase tickets HERE. After Pride weekend, the next installments of Stimulus will be July 10th and August 7th.
Check out DJ Corey Craig's 3-hour set from the May Stimulus event: https://www.mixcloud.com/djcoreycraig/corey-craig-stimulus-tea-sound-los-angeles/.
This will be the best way to spend your Sunday. Besides, do you really need an excuse to go to Sound? For more information on Sound Nightclub visit their website: http://soundnightclub.com.
You could also hit up one of the many bars in West Hollywood to celebrate! Some will be charging a cover – so be sure to bring some extra cash and expect really long lines. I would opt for the Stimulus Tea Dance for my Sunday Funday plans!
Gay Pride is about coming together as a community to celebrate life and love. Whether you are gay or straight, come out and show some support this weekend!
See you on the dance floor!
-Jared