Note: this review only covers Day 1
As the end of 2013 came around earlier this week so did the end of the year events from coast to coast. This year the EDM Maniac team was privileged to have attended Day 1 of OMFG! San Diego at the Valley View Casino Center presented by LED. As always, LED never fails to provide us with a full interactive stage set up consisting of CO2 cannons, enormous wrap-around LED paneled  walls, huge confetti blasts and the massive selection of lasers that made many event goers awe in unison. This year alone LED has transformed the Valley View Casino Center into the place to be for some of the best events in Southern California year round. The seats were filled and the floor was packed with nothing but good vibes and an high-energy audience. LED really "brought out the guns" and amazed us with the production this year. It seems to be that ever year LED invests more and more in their production, and this year it really showed. Plus it's always great to be inside in an arena looking around at seeing the place packed (even in the seats) with smiling faces.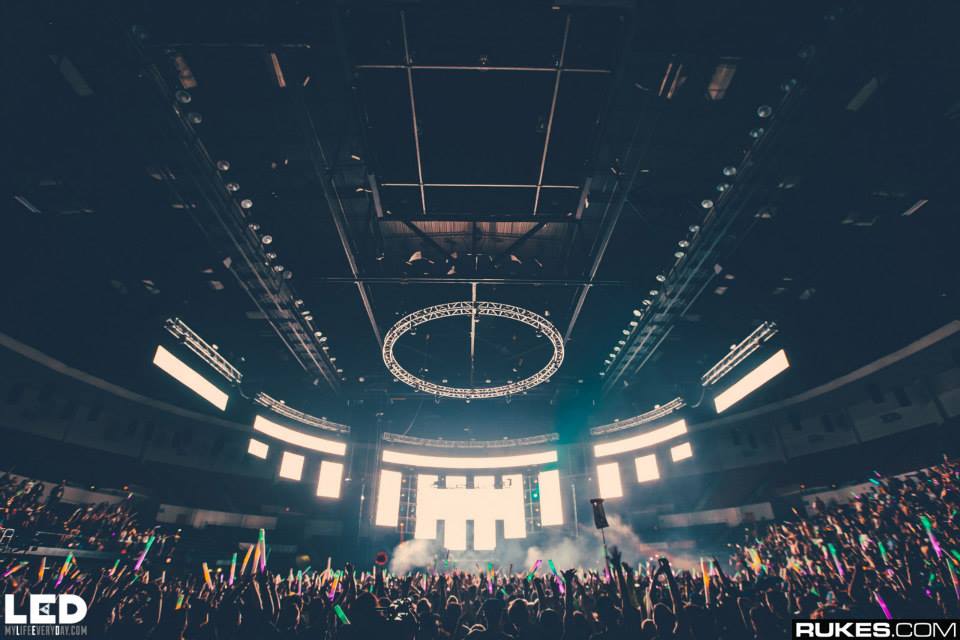 Production at LED Present's SOLD OUT OMFG NYE , San Diego California
Walking on to the dance floor we were greeted by Henrix mid-set as he was warming up the crowd for the musical journey the night was about to provide to us. Bro Safari graced the stage shortly after, and we must say he completely surprised us during his set with an infusion of trap mixes and originals; the energy in the arena was indeed of the most energetic sets we had ever witnessed. This was one of the first sets where we got to see Bro Safari in his full potential and  we were not disappointed.
Feed Me (also known as Jon Gooch) continued the night during his set composed of dub step and electro house track list. Keeping the energy going from Bro Safari, Feed Me added his own touch, while the arena filled up just in time for Madeon.
We had underestimated Madeon. Without a doubt. There was a lot of talk around Madeon in 2013 we had heard snippets of his sets at various festivals but this is our first chance to finally hear a full Madeon set. With a full scale light show from the lasers illuminating the crowd, to literally having us dancing from start to finish, his hour-long set went by too fast in our opinion. Not only did his track selection tastefully take us a on a journey, he really showed how much he has progressed since his first single "Gold." He threw down his popular tracks like "Icarus" and of course, "Technicolor." He certainly lives up to his hype and we can easily see him taking up a top DJ ranking in the years to come if he keeps producing euphoric and uplifting tracks. He's got a vibrant sound, and it's a breath of a fresh air to see someone so young with so much talent  share the stage with some big pretty names.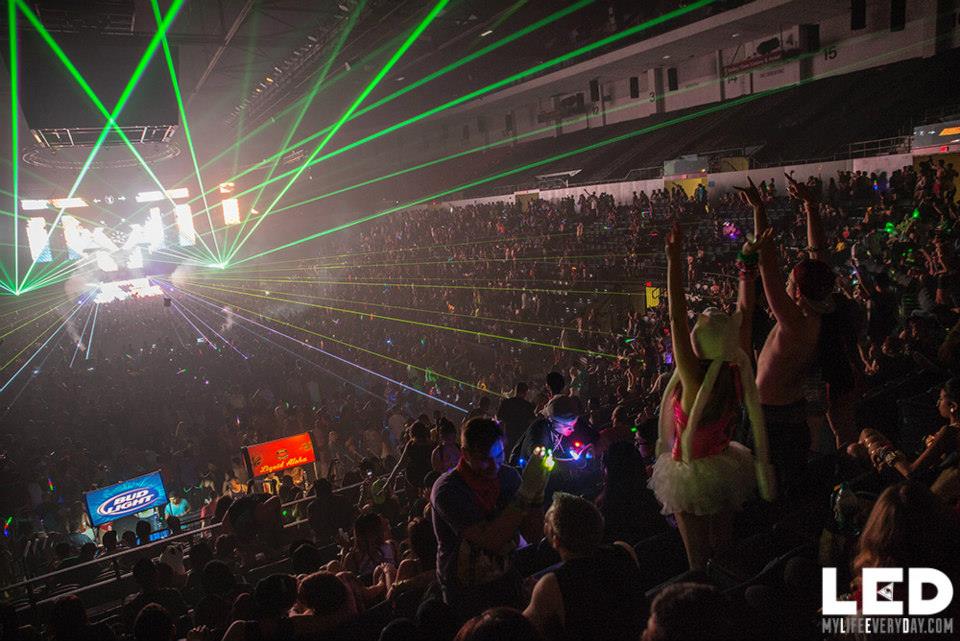 Not a single seat was empty at LED's OMFG NYE
Laidback Luke (one of our favorites) has never failed to leave us wanting more of his musical bliss. However, this time around were left with a void. He brought the energy with his own originals and remixes from over the years like "Indestructible" featuring Robyn and "MORE" however,  his transitions this time around weren't the smoothest and at times often felt like he lost the crowd. In previous times that we've seen him he's always taken us away, but this time around not so much. Of course the crowd went crazy when he dropped "Turbulence" but some of the tracks seemed out of place. As always we're looking forward to seeing his productions in 2014.
By the time Nervo came around we did not think we had any energy left, but we were so wrong. With their hits "Like Home" and "Reason" (to name a few) the girls closed off day one of OMFG! without a hitch and we couldn't have asked for a better set to have done so. Their combination of progressive, electro and tech house track list we was graced with one of the best sets of the night that had easily tired us out by the time we walked out of the Valley View Casino Center.
As always it's a pleasure to be in San Diego during the LED events as the production, talent, and of course the people always make it a memorable show. This time around it was a sold out show, and it definitely showed based on the attendance. A huge thank you to LED for having us and we must say that it was a great way to start our end of 2013 celebrations.