After attending Lightning in a Bottle for the first time last year, I just had to return this year. LiB quickly became my top favorite festival and I've attended plenty throughout the years. From the people, to the art, to the vibes, it is way more than just a music festival. You can only understand it if you attend but I will do my best to give you an idea of what it was like this year.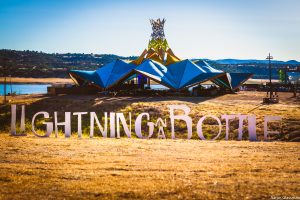 Photo: Aaron Glassman
Situated in the hills of San Antonio Recreational Park in Bradley, CA on Memorial Day Weekend, thousands came to escape real life for a few days. Since I had attended last year I already knew what to expect and was really excited when I finally arrived. My day began a little later than I would've liked to this year because I had to work Thursday. I arrived Thursday night and while arriving the venue late at night was great due to not having to wait in a long line or sitting in traffic, it was not easy to find a camping spot and set up in the dark. I did not get a car camping pass, which I highly recommend getting if you don't want to trek back and forth getting  your camping gear, so finding a spot was difficult. I finally found one situated almost in the same area I was in last year and quickly made friends with my neighbors. After finally being done setting up my spot, I made my way into the festival to check out what was going on. After walking around for a bit, I decided to chill at the Jive Joint which is a cool spot that features live improv theater and live music. I always love going to the Jive Joint to for entertainment and lots of laughs.
The next day, I woke up and noticed the morning wasn't terribly warm like compared to last year. I got up and it was nice overcast weather and eventually cleared up for a bit but the weather this year was perfect (besides Sunday). I ate breakfast, changed, and went into the festival. My favorite part about LiB is not knowing a lot of the artists on the lineup, leaving a lot of room to not stress about set times and discover new artists. Besides checking out new artists, I spent Friday seeing Walker & Royce and Will Clarke at Woogie, The Glitch Mob's Ooah & Boreta at Favela, and closed the day with The Glitch Mob. I walked around to see what activities I could participate in as well. At LiB there are activities everywhere from craft classes and workshops, to events like a Soap Box Derby, 5K run, and even a Roller Skating Rink. One of my favorite activities I did Friday was Acro Yoga. It was my first time trying it and it was a lot of fun. I love that at LiB I get a chance to participate in new activities I wouldn't try at home.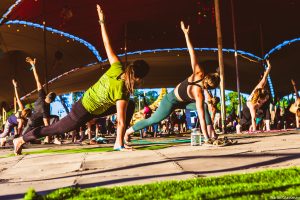 Photo: Aaron Glassman
Saturday I checked out a lot of the vendors. There are vendors lined up with everything from clothing to accessories to flow toys. I love seeing what people create because it is so unique and unlike anything you see anywhere else. Then I headed over to Cauldron and sat in the "A Magical Apothecary" class. It's so refreshing to listen to people at classes and workshops and listen to their experience, knowledge, and wisdom. Later in the evening I went to check out Yotto at Woogie and afterwards headed over to Meditation Mountain for the sunset. Each day at sunset, everyone watches the sun go down and howls at the sun in unison. Whether you are at Meditation Mountain or not, you will hear howls no matter where you are. However, the best place in my opinion to watch the sunset is at Mediation Mountain. The mountain fills up with people who all are sitting waiting for the sun to go down to howl at it. You also get a great view from up there. After the sun goes down, the festival transforms and the art installations light up, totems are lit, the LED lights at the stages turn on creating a different ambiance at night. They had a Fire Flow Zone which was a circular area open to the public that celebrated the fire performer community. It was awesome to see so many people with their fire flow toys dancing to the beat of the music in the background. I ended my day at the Thunder Stage for Zeke Beats, Bleep Bloop, and Tipper. My favorite sets of the day were Yotto and Bleep Bloop.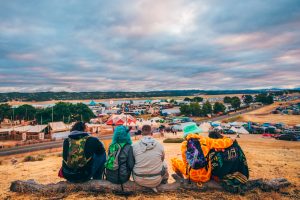 Photo: Aaron Glassman
By the third day, I was sore and tired. I like to use the last day as a chill day where I go explore more and just hang out. Last year there was a lake for the first time at LiB in years and I was worried it would be gone this year but there was some water in the lake. There wasn't as much as last year, a lot of it dried up but still enough to go in for a swim or chill in a floatie on the water. The lake was popular on Sunday because it was the warmest day of the weekend. I didn't go in the lake this year but it looked like it was a lot of fun. I spent the last day checking out more spots that I had missed out previous days. I went to go look at the Sound Bath, more art that I had missed, and took another yoga class. I hoop dance so when I saw they had a hoop yoga class I knew I had to go and check it out. I also went to a sculpting class that was an hour long where I made a self-portrait with clay. I had never taken a sculpting class before and it was nice to try something new. Instead of watching the sunset at Mediation Mountain on this day, I decided to join the fire ceremony at sunset. We all gathered in a circle and had the opportunity to hear stories and insight from mentors and elders about cultivating a healthy relationship with our community and Earth. This one was special because it was the last ceremony of the weekend. To end the weekend, I closed out with Zhu at the Lightning Stage followed by Treavor Moontribe at Favela. I stayed almost until the end and as I was walking back to camp I realized that it was all over.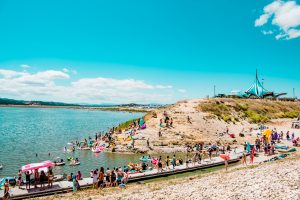 Photo: Jessica Bernstein
Lightning in a Bottle is a festival of it's own kind. From the art, activities, to the easy-going attitudes and good vibes, it all comes together and it makes it such a unique and special festival. Each time I go it leaves me feeling, well, transformed. Sounds cliche but it's true and if you've attended LiB, you know what I'm talking about.
Cover Image: Eric Allan