Today marks a bittersweet day for the electronic music community as we honor the late Tim Bergling (better known by his DJ name Avicii) while we raise awareness for mental health. Back in June of this year, The Tim Bergling Foundation announced a tribute concert to be held on December 5th, 2019 in a remarkable event that makes of the first of its kind. The event, which sold out the same day that tickets went live, will take place in his hometown of Stockholm in Sweden at the Friends Arena. The Avicii Tribute Concert for Mental Health will be live streamed via Avicii's official Youtube, Instagram, and Facebook for loyal fans that are unable to make the trip to Sweden. Additionally, the event will be broadcast across the United States, Sweden, Europe, and Asia through their respective media outlets.
Stream The Avcii Tribute Concert Here
The concert will be produced by The Tim Bergling Foundation, which was founded by his parents after the producer's unexpected and tragic death by suicide in April of 2018 after a longterm struggle with mental health issues. The foundation focuses on raising awareness for mental health and providing aid for causes that were important to Tim, including the environment, conservation, and education.
Artists and DJs from around the world will be taking the stage as part of a live band, including nineteen of the original singers from Avicii's beloved and acclaimed tracks. Adam Lambert, Alex Ebert, Aloe Blacc, Sandro Cavazza, and Rita Ora among many others will be accompanied on stage with a thirty-piece band. Alongside them, top DJs from around the world will take over the decks for live sets and mixes of Avicii's work. The concert will play host to David Guetta, Kygo, Dimtri Vegas & Like Mike, Laidback Luke, and Nicky Romero tomorrow night as they give back to a man they loved and respected.
The day Tim chose to leave this world behind was an utter shock to his parents, loved ones, and millions of fans across the globe. Many were aware that Avicii had struggled with mental health, an element of his life that was made apparent when he desperately needed to cancel shows to deal with health problems. This portion of his life was heavily detailed in his Netflix documentary True Stories, which was released in 2017 a year prior to his passing. Despite the fact that Tim was struggling with mental health, his music ironically lifted his fans up during some of their darkest hours as they struggled with mental health issues themselves.
How To Watch
For many, the concert today is a chance to relive the light that Avicii spread both in the music he created and the unbelievably positive energy he cast over crowds during his sets. No one will ever forget that smile of his, with a single hand raised in the air as the crowd danced and sang while smiling back. You can watch the stream below.
One of Avicii's lifelong goals was to showcase his music with a large band, and tomorrow his dream is becoming a reality. For a once-in-a-lifetime experience, make sure to tune in tomorrow online at 9PM-11.15PM CET here at the local time to Stockholm (or at noon tomorrow PST). For those that will be at the show live, we know you will be blown away by the performance as superstar artists gather for this showcase.
Rest in peace Tim. Your memory will be in our hearts and your music in our ears for a lifetime.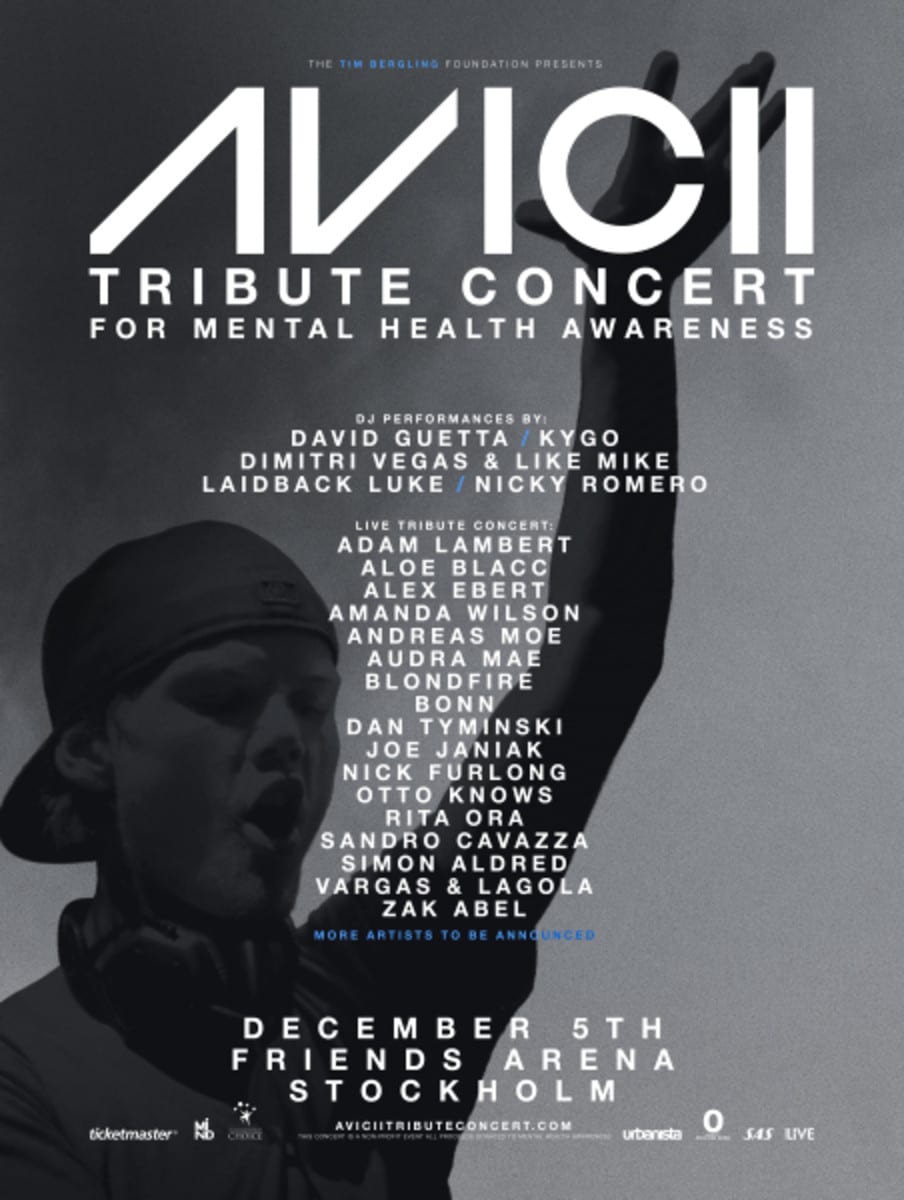 *Images via Tim Mosenfelder (poster), rollingstone.com, and NBC news