Imagine declaring the confining "I Do" to your significant other as a million dollar firework display illuminates the desert sky. Imagine being in a moment surrounded by elaborate musical stages and carnival rides, while your closes peers congratulate you on your vows. Insomniac (the LA-based company behind the world famous Electric Daisy Carnival) will be doing all of this and more, at this year's Electric Daisy Carnival happening in Las Vegas from June 20-22. For the second time, Insomniac will be conducting weddings, vow renewals, and non-legal commitment ceremonies on the festival grounds of the Las Vegas Motor Speedway with the fairytale backdrop filled with over the top production and some of the world's best DJs as the soundtrack.
Having tied the knot alongside various other couples and friendship groups during last year's EDC Las Vegas weekend, Matt Salcedo and Alli Wright experienced first hand the wedded bliss of being one of the few pioneers to take part in this unifying ceremony. As one of the featured story-lines of Insomniac's EDC 2013 documentary "Under the Electric Sky", we spoke with Matt and Alli about  their experience and what a year of married bliss has been like for them. When speaking with Alli (you can check out her amazing EDC wedding outfit below) she told us that she took Matt to his first EDC in the late 90s and the two have been enjoying the scene and music since. "Matt had never been to a rave and since that's what I was doing I brought him along with me" Alli said when talking about the couple's first memorable EDC experience. And the two have been going to EDC ever since.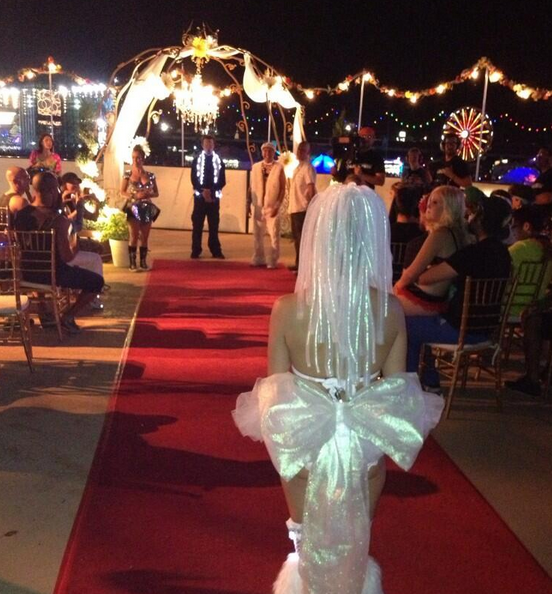 Flash forward to nearly 15 years later, on the day of their EDC wedding day Ali was dressed just as beautiful than ever, tutu, fluffies and all. Matt dressed as a handsome raver with awesome jeans that he decked out himself. The two were truly embodying the creative culture that EDC celebrates. When getting married at at EDC, Ali described the experience as "so much more fun and the person doing the ceremony made it special and comfortable… it was also nice to have a bar downstairs!"  Years later and also now with kids (who by the way make their own kandi), Matt and Alli knew that their bonding experience as young adults at EDC would stay with them forever. Matt and Alli's family represents a lot of what EDC is about — this notion that music can bring people together, and create memories that last a lifetime. Matt described it as "a place of acceptance and a place you can just be yourself." For anyone that is connected to the EDM culture and lifestyle, Insomniac is making it possible so that your special day can be at one of the happiest places on earth: EDC. It was so refreshing to speak with Matt and Alli about their EDC wedding experience, it seems like it was almost made for them.
With this year promising "the best is yet to come", Insomniac proudly offers a wide variety of ceremonies to suit each pair based on their fitting needs. Ceremonies are available from 9:30 p.m. to 3 a.m. each night of the festival. The primer "Under the Electric Sky" package is priced at $199 and includes a ceremony performed by an EDC minister or Elvis impersonator, six professional photographs, a commemorative souvenir certificate and much more. Alongside the wedding ceremony, Insomniac also offers two wedding reception packages consisting of 3-signature tray-passed appetizers, celebratory champagne toast, entry to the VIP Dining Deck, and much more; prices starting at $35 to $125 per person depending on the reception package that suits your tasting.
Additionally, Insomniac will be offering their popular vow renewal and non-legal binding commitment ceremonies composed of a short but sweet, non-legal ceremony unifying any couple or group in love/friendship. These will be FREE and on a first-come, first-served basis which no marriage license is required. Optional reception package can be added at an additional cost (see Insomniac website for details).
Couples looking to legally marry at the festival must obtain a marriage license from the Nevada Marriage Bureau during normal business hours prior to their binding ceremony at the festival. To reserve your spot for a marriage ceremony you can contact vip@insomniac.com.
See you under the electric sky!