As we are gearing up for Summer, we love to see more and more digital festivals come to the forefront. In recent news, Middle Eastern lifestyle brand MDLBEAST has announced the launch of MDLBEAST Freqways, an immersive musical adventure that will take you around the world via a 12-hour online music festival. This soiree will take begin at 7pm (GMT+3) June 20th and will end at 7am on the iconic World Music Day.
MDLBEAST Freqways will bring in the best international artists such as Steve Aoki, Maceo Plex, Claptone, Afrojack, Benny Benassi, and many more. Not only will this event bring you the beauty of music, but it will combine art and culture and will ultimately unite one another through the common language of music. Attendees will also immerse themselves in virtual museums and galleries to attempt to emulate a similar experience to real travel. This is a perfect way to explore Saudi culture and heritage.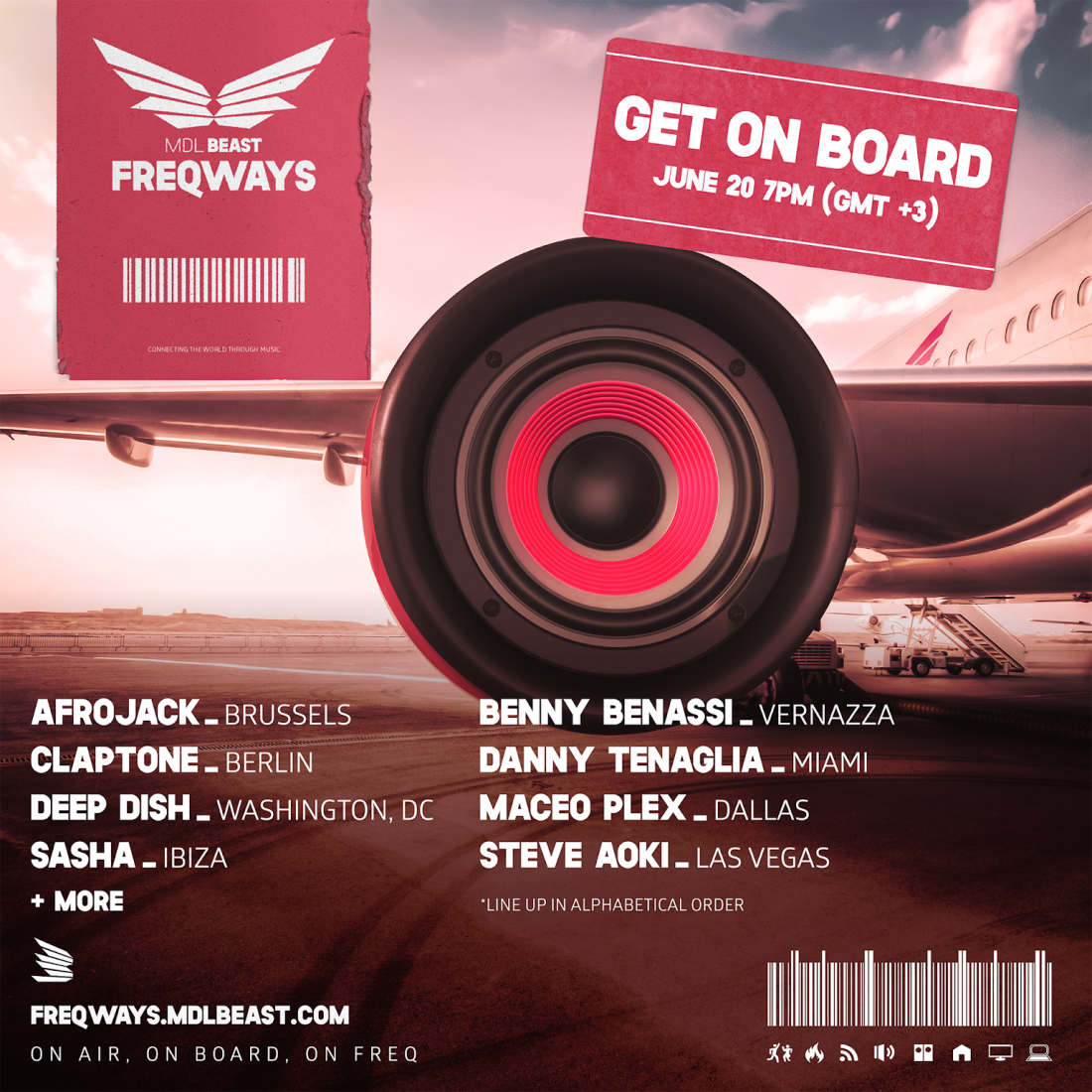 MDLBEAST is proving to take the world by storm as they are beginning to become a household name in the Middle East. They pride themselves on setting the tone for music, art, and culture. Their annual event, Soundstorm, was the area's largest festival to date and brought in 400,000 people over just three days. The most notable aspect of this festival was the fact that it was able to bring underground music to the forefront and offered opportunities for collaboration and representation for all walks of life. As the effort is to unite one another from the comfort from our own home, travelers will receive a "boarding pass" and head to one of the conceived boarding gates (stages) and prepare for take-off. 
The digital festival is available to stream on Saturday by clicking here.
INTERNATIONAL ACTS
Afrojack (Amsterdam)
Art Department (Barcelona)
Benny Benassi (Vernazza)
Butch (Frankfurt)
Claptone (Berlin)
Danny Tenaglia (Miami)
Deep Dish (Washington DC)
Dirty South (Melbourne)
Delano Smith (Detroit)
EDX (Zurich)
Laidback Luke (New York)
Gui Boratto (Sao Paulo)
Maceo Plex (Dallas)
Phil Weeks (Paris)
Sasha (Ibiza)
Steve Aoki (Las Vegas)
Steve Lawler (Midlands, UK)
& MORE
REGIONAL ACTS
Anmarz (Jeddah)
Antabi Brothers (Diriyah)
Baloo (Al Baha)
Cosmicat (Red Sea)
K.LED & Majid (Riyadh)
Jade x Tala (Beirut)
& MORE