Clouds spread across the Atlanta skyline and over Piedmont Park. I stood solemnly, surrounded by thousands of brightly colored wristbands bearing the signature Music Midtown emblem. The earth below me a sloshed in stuck against the soles of my boots, covering me in red mud. On any other occasion, I would be thrilled to dance in dirt as guitars and synths echoed from a lit stage. But I was dead broke, and unable to sneak in my #1 vice: a tiny silver flask bearing my name, which contained the alcohol elixir I needed to loosen up. My pockets were empty, and a $15 rum and coke sounded less appealing with every passing thought. I was completely sober, standing in the middle of a heavily intoxicated crowd, swaying in sync to the rich sounds of live bands. I sighed, and begin to slither through flailing arms and legs, hoping to at least get a better view.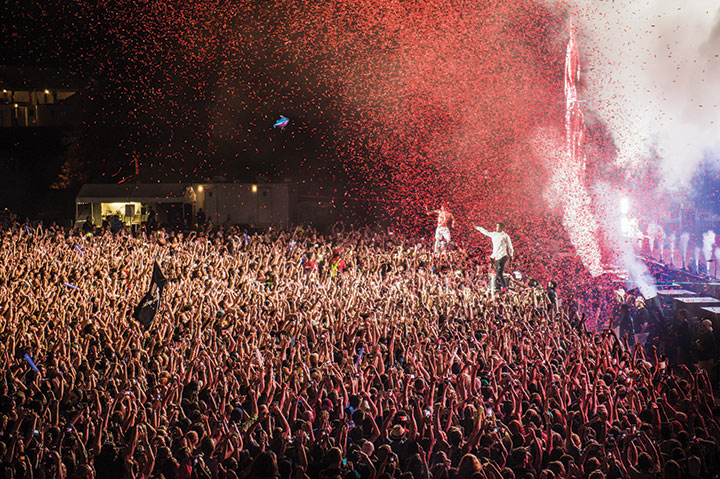 The lights from the main stage danced over the audience, blasting crystal-clear projections like endless meteor showers. I scanned the crowd, anxious to see if anyone else was enamored by the sight. But dozens of half-closed eyes surrounded me, drunkenly mumbling the choruses of each belting song. My disappointment rose again. I was alone, covered in mud, and most of all, thirsty.  The band finished their last song, gleefully leaving the stage as thousands hollered in applause. People began to disperse, taking a quick break before the next set. I adjusted my rain jacket and pushed forward, finding a better spot towards the center of the field. My eyes suddenly froze on a pair of burgundy Vans with neon green shoelaces, a signature trademark of my little brother.
"Madison?" I called out. His face instantly lit up and he jogged towards me. His half-filled plastic cup sloshed brown fizz down his hand. "Great, he's drunk too," I mumbled reluctantly.
"Hey!" He yelled, a grin spreading across his tan face. His friends lingered close behind us as my brother beckoned me to join him. I hesitated, staring deep into the frosted cup, jealous of his drink. "What?" He asked curiously. "Do you want some?" He shoved the cup towards my face as I took a swig.
"Wait, this is just Red Bull." My face contorted in confusion.
"I know. I don't really drink at these things," he replied nonchalantly. I breathed a sigh relief as I finally latched onto another sober body. We inched closer to the stage as the next act began. Bass boomed from the speakers, vibrating through my bones and rattling my core. I felt weightless as sound wave after sound wave hit my body. I glanced at my brother, his eyes half closed in pleasure as the sound carried him. Fat raindrops begin to fall from the night sky, refreshing my skin and filling me with sensation.
"Holy shit," I whispered. I lazily spun, drinking in the heavy bass. The guitar riffs warmed my belly, as each note made me feel tipsy.
"Whoa!" My brother yelled, pointing upwards towards the stage. "Look at these lights." I glanced up watching the dancing lasers spread through the crowd. He was seeing what I saw, free from constraint. The music guided our journey as we stayed buzzed from the noise and lights. A smile spread across my face, as I chuckled in contentment. I nudged him. "Yeah?" He questioned. I looked at him thankfully.
"I don't drink at these things anymore either."