Have you ever met someone that just made such a positive impact on your life? It doesn't have to be for a long period of time, or anything substantial but that just merely knowing them enriched your life in some way?
Let me introduce you to my friend Jason. We met back in the fall of 2014. He's one of those people who has a contagious personality. I'm a weirdo at my core so I tend to gravitate towards other goofy souls and he was no exception.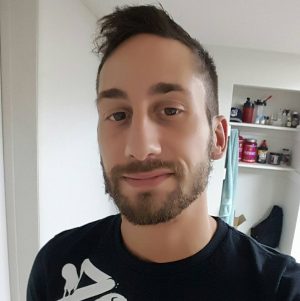 It wasn't until I added him on Facebook that I learned that he was also submerged in the EDM world. He was a DJ on the local level and was always bumpin something electronic; everything from Tiesto to Excision every time I saw him. I never saw him play live but sometimes he'd show me videos of him behind the table (that's him in the video below.) He even started making his own line of e-liquids called "Dub Juice" with ridiculous flavor names like Banana Hammock, Strawberry Nipple, Blue Balls and Queefcake lol
I spent a lot of summer of 2015 exchanging silly snaps with him; bouncing around to whatever our newest EDM find was that week. My boyfriend at that time (who is not into EDM at all) was also good friends with Jason. I remember him getting into my car once and groaning about listening to Jack U because he had to hear it the whole prior day with Jason.
In the fall, after my year and a half long sabbatical from going to shows because I got clean, I bought two tickets to see Excision in March and posted it on my snap saying "who wants to come with me?!" You best believe Jason was the first one to hop on that. I was so stoked to finally have a friend in the Cleveland area to go to shows with.
Unfortunately, he didn't get the chance to go.
Toward the end of February of 2016, a couple friends and I were concerned about Jason. He didn't seem to be doing too well. I remember talking about it with my friend Dave on Friday and he said he was gonna talk to him the next day. On Saturday I got a text from Dave, fully expecting it to say he had talked to Jason and everything was cool.
"Jason's dead."
I called him right away, in complete denial. He answered and told me that it was true and then had to rush me off the phone because he was on the other line with Jason's mom.
I was hysterical, everyone at the house was hysterical. Nothing in the world hurt my heart more than seeing my friend being taken away in a body bag. The following week was probably one of the most difficult weeks of my whole life. I hurt so much knowing that he was gone and there was nothing I could do about it.
My friend Sarah took his place at that Excision show. She was the perfect person to go with and that actually wound up being the beginning of our festie bestie relationship. We ironed Jason's DJ name on the back of our shirts. I remember feeling so emotionally overwhelmed at that show like his spirit was there with us.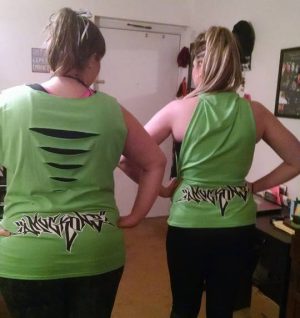 That happens a lot to me actually; when I'm at a show, festival or just listening to a song in my car. I feel overwhelmed all of a sudden like I can feel that someone is there with me that I can't see. I know that's Jason, bouncing around to the bass with me. So my festie bestie and I have run with that when we go to EDM shows and festivals. We believe that he's always there with us wherever we go.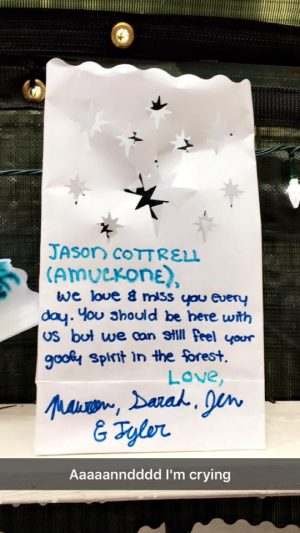 Somedays that doesn't make it easier though. Sometimes when I think about how he's gone it hurts a lot, sometimes I cry until my head hurts. But most days, I try to reminisce about the good times I was lucky enough to have.
Tomorrow is the Excision Paradox show here in Cleveland, which is odd because it's always been in March. Tomorrow also marks two years that Jason physically has not been with us. I say physically because I believe his spirit comes alive in every bass drop or when the stage production explodes. Tomorrow, we'll memorialize him which is what I think he would want… for us to celebrate his life rather than grieve over his death.
Love you Jason, miss you everyday brother. Keep wreakin havoc and watchin out for all of us wherever you are out there in the universe. 
If anyone who knew Jason is reading this, message me or comment on the link and tell me your favorite memory of him. Let's remember the great times we had.
Do any of you have a friend that you've lost but you'll never forget? Message me and introduce me to them, I would love to hear about them and how they impacted your life.
Let's never forget the ravers we've lost. ❤