As festival season kicked off into full swing, Insomniac returned to the National Orange Show Center for another edition of their 'Back to Basics' series. The series is Insomniac's way of fusing the music and people together to bring back the original "warehouse" style vibes.'We Are NRG' was the motto (and name) this time around, and it shined all throughout the night.
The EDM Maniac team arrived to a welcoming Insomniac crowd, many of which were dressed creatively like various characters from "Adventure Time" and super heroes from far and wide. As we stepped into the Damus building of the NOS Center, we noticed it felt more like an intimate, yet nominal production which is rarely found at today's festivals.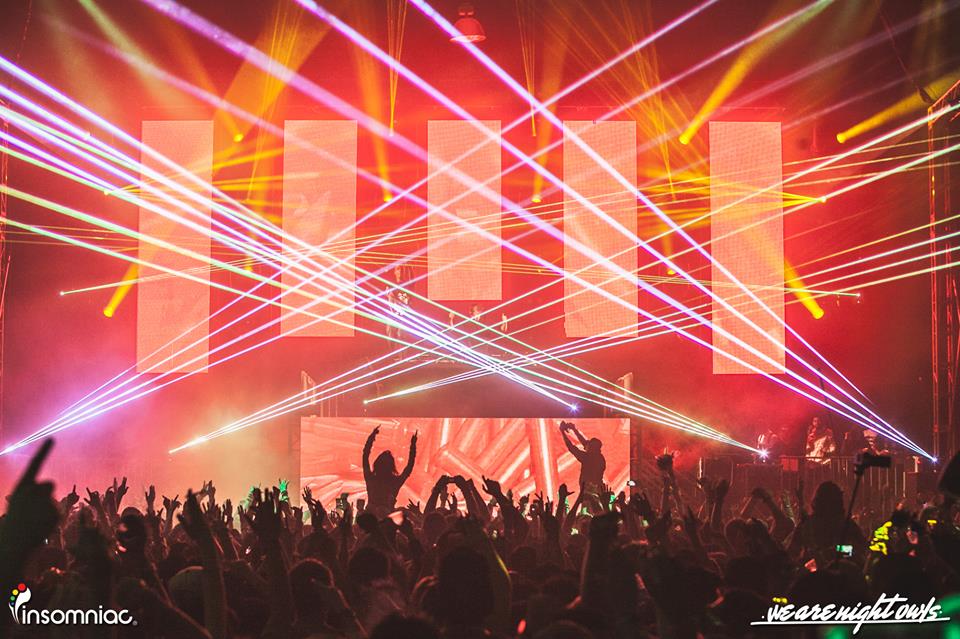 Lasers, Lights, Oh My! Fans bring the ENERGY to Insomniac's NRG Event in San Bernardino, California
Catching the last bit of his set, Mercer was wrapping up prior to the group Yellow Claw who was invigorating for a change from the big room house sound that we are often treated to. Incorporating their signature trap, dubstep, and glitch sound into their set, Yellow Claw had everyone on their feet with thriving hits such as "DJ Turn It Up" and "Pillz" featuring Green Velvet & Flosstradamus. As numerous lasers shot out into the crowd, we couldn't help but notice that Yellow Claw's set was one of the night's first surprises.
Following Yellow Claw was the 22-year-old young phenomenon, Audien. We were taken back at the energy Audien brought throughout the hour-long set and quickly became one of the highlights of the night. Introducing his variety of singles such as "Iris" and "Wayfarer", Audien was quick to bring out those emotions (or "feels") within the event attendees. As "Circles" resonated throughout the bunker, the crowd caroled Ruby Prophet's vocals alongside the lyrics in a moment that was truly brought everyone together. When Audien's remix of "Together We Are" played, it brought us back to a moment in time at last year's Electric Daisy Carnival Las Vegas. A "calm before the storm" (as we like to refer to it)  because immediately following, the heat and energy within the venue was turned up to another level.

Hands up for NRG!
Bassjackers (well one from the duo) took over the stage shortly after, for a set that was above average. Getting the crowd going with their MAK J collaboration of "Turn The F**king Bass" and "Zing", Bassjackers big room sound got everyone raising their hands and moving in a waveform unison during the drops and upbeat set. Combining other elaborated edits such as Martin Garrix's version of "Crackin" and Hardwell's edit of Blasterjaxx's "Fifteen" the crowd was jumping down and really into the moment.  Energy and euphoria was in the air.
W&W were assigned the task to close NRG in their true big room, progressive,  and electro house collaborated sound. In what seemed to be a far too familiar set, W&W's banger-to-banger set was just that. Playing many of the top tracks found on Beatport charts, W&W instilled their crowd-pleasing chart toppers "Thunder", "Bigfoot", and "Lift Off" to satisfy the crowd. Alas during the set, Hardwell's remix of Armin Van Buuren's "Ping Pong" and W&W's remix mash up of  Gareth Emery's "U" and Calvin Harris' "Under Control" reminded us too much of Hardwell's Ultra and San Diego Petco Park set we had seen the weekends prior. Nonetheless, W&W closed off the event successfully leaving us with something to remember it by.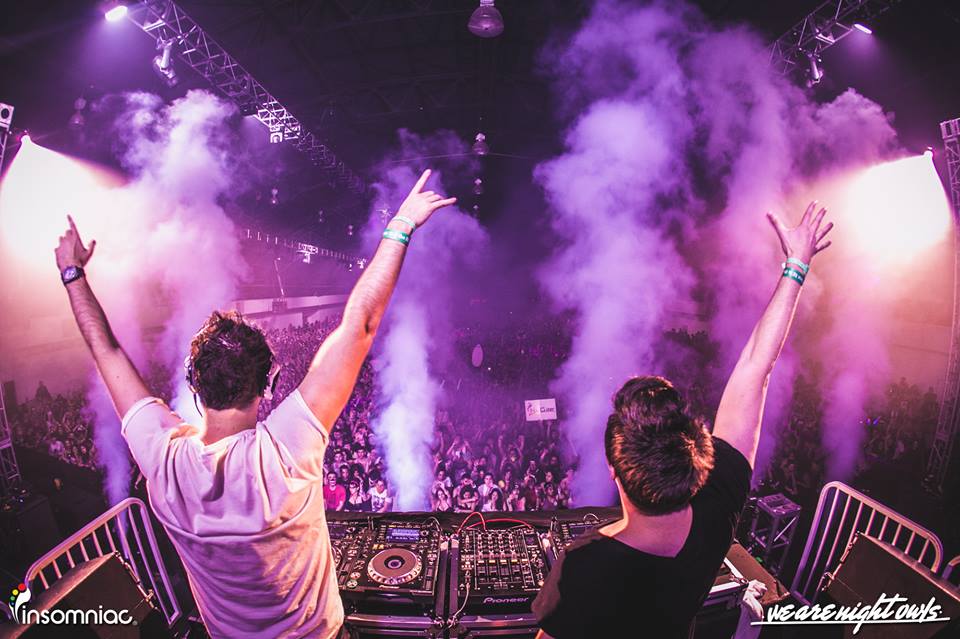 Fan Favorite's W&W Closing The Night at Insomniac's NRG
We thank Insomniac for having us at the event and to all the artists for giving us the musical therapy we long for. But most importantly, thank you to the people for bringing their positive, energetic, and welcoming vibes to an event that truly felt like we were 'back to the basics.'
by Eddy Leon, Staff Writer