Red Bull Music Festival will be thankfully returning to Los Angeles kicking off on February 7th with a plethora of concerts, art events, film screenings and pop-ups that celebrate the diverse Los Angeles we all know and love.
The event will take place across the entire month of February and will include the launch of the Swedish icon Robyn's North American Tour as she takes over the Hollywood Palladium for two extraordinary nights. She's re-teaming with Red Bull Music as she brings her live show to the city for the first time since 2010 and will gracefully bless us with her marvelous new album Honey.
As Valentines Day then slowly approaches the corner, the infamous duo Rae Sremmurd will take the stage as couples and singles will be awarded their eclectic and vibrant show which will include some exemplary covers of iconic love songs.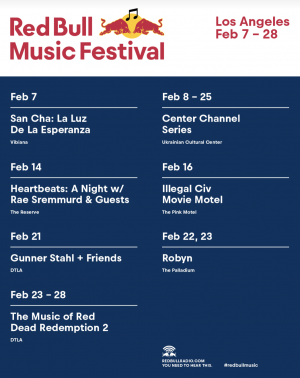 Although music will be at the forefront for all attendees, the film will also prove to be an important aspect of the month. Red Bull Music (RBM) will present Center Channel, a film series exploring the best intersections of sound and film. RBM has come together with curators from LA's local music and film scene and gather premieres, panels, screenings, and live performances. Center Channel will offer their opportunities in the historic Ukrainian Cultural Center on the border of Hollywood.
For more information, click here!