Robot Heart is a group of dreamers and artists known for their part at Burning Man. Attendees will have the chance to experience Robot Heart's first festival in Central Park in New York City, which spans two days, from April 30 – to May 1, 2022, from 2-10 PM at the Wollman Rink in Central Park.
Festival-goers will have a chance to see diverse artists such as Acid Pauli, Behrouz, Be Svendsen, Carlita, Cymande, Guy Laliberté, The Illustrious Blacks, The Weather Station, Francesca Lombardo, Holmar Filipsson, Kenny Glasgow, and Philipp Jung.
Grab tickets for the upcoming festival from Dice.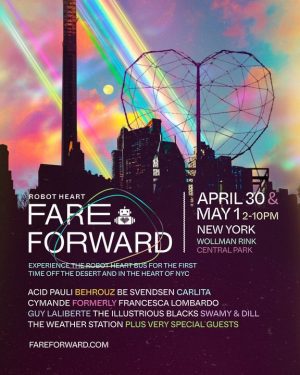 Featured image from Facebook