Miami Music Week brings together music fans, artists, producers, and industry leaders from around the world to the beautiful downtown paradise of Miami for an entire week of anything and everything electronic music. Along with it, the hotels throughout Miami and South Beach open their doors to the most epic pool parties of the year.
The National Hotel, located in the art-deco neighborhood known as the Faena District in South Beach, is a historic luxury hotel located right on Miami Beach. This year, The Seven Lines Group will be taking over the oceanfront infinity pool at That National Hotel for five days of legendary pool parties to carry you through Miami Music Week and Ultra Music Festival.
The pool party series will run from March 18th to March 22nd, 2020 with major labels, brands, and DJs as hosts including ANTS, Magdalena with Shadows, MK (Marc Kinchen) with Area10, and Descend. According to music director Ubi Hernandez, "Our lineups were pretty stacked last year, but this year we've really outdone ourselves and we look forward to unleashing some massive lineups soon!"  The series kicks off with an opening party on Wednesday March 18th featuring Miami label Descend Records alongside guest hosts Second State, Filth on Acid and Form, Julian Jeweil, and Oscar L.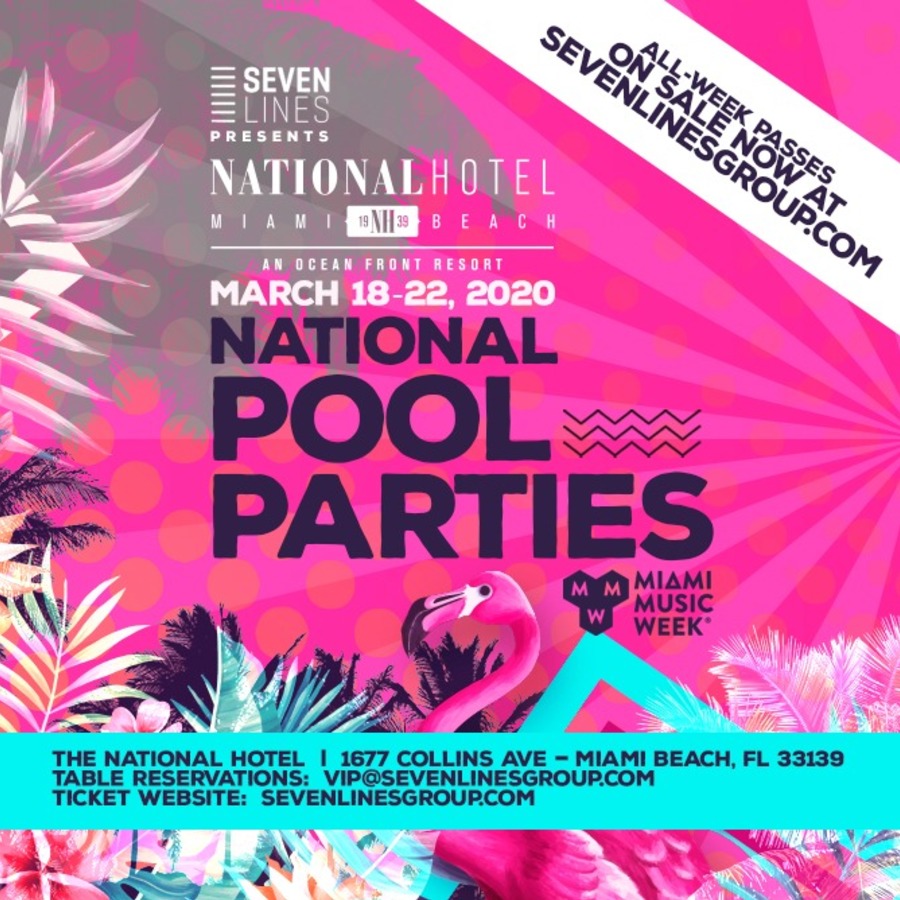 On Thursday March 19th, the renowned MK will be taking over with his brand Area10 for an exclusive The Area 10 Pool Party which sold out last year. MK will be returning with Lee Foss and his label Repopulate Mars alongside Annabel Englund, Leftwing & Kody, Martin Ikin, Nightlapse, Weiss, and others. Leading into Friday is the kick-off for Ultra Music Festival, making the Shadows party a perfect pregame event. Hosted by Magdalena, the Shadows party was a huge success in Ibiza and will feature Audiofly, Oona Dahl, and Bryan Estefani.
Through the rest of the weekend, the legendary ANTS Ibiza takes over for the Miami Music Week Closing Party concluding on March 22nd, 2020. ANTS curators are well-known for their unparalleled production, which is showcased each summer at the famous Ushuaia in Ibiza. ANTS will be featuring performances by Andrea Olivia, Francisco Allendes B2B Franky Rizardo, Ilario Alicante, Joris Voorn, and Matthias Tanzmann B2B Martin Buttrich.
For tickets, VIP reservations, and more head to www.sevenlinesgroup.com