Bass music producer Michael Petzel, a.k.a. Shlump, has a passion for taking crowds to the moon and beyond with his otherworldly music. 
His name appears on iconic downtempo and low-end bass music labels like Wakaan and Deep Dark & Dangerous, and he's shaking things up further with his new release "Rock Like This",  his first-ever collaborative single with Bay Area Dubstep duo Smoakland.
Featured on the Deadbeats record label, the festival-stage banger delivers a hard-hitting combination of floor-rattling frequencies in the style of old-school dubstep and ethereal melodies underlined with hints of blues and soul music – two seemingly opposing energies that work together like peanut butter and jelly. 
Despite never stepping foot in a studio, Shlump and Smoakland's creative chemistry combine seamlessly in the piece—no easy feat for a long-distance project.
In his conversation with EDM Maniac, Shlump offers a glimpse into his unique creative instincts and the inspiration behind the track.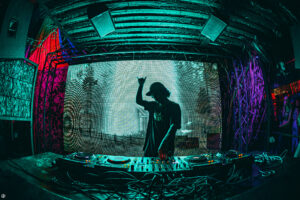 EDM Maniac: You just dropped your first-ever release with Smoakland, what inspired you guys to collaborate? 
Shlump: I've been a fan of Smoakland since I first met them live at a Halloween party we both played at a few years back.  We got to hang out, I saw their set and was pretty impressed, and we just kind of hit it off from there.
We started sending each other a bunch of WIPS (works in progress), and one of the tracks they sent me was a sample of this track called "Oh No" and I was like "Yooo this is sick!" We ended up sending that back and forth and it eventually evolved into "Rock Like This."
EDM Maniac: How do each of your distinctive styles fit into the piece?
Shlump: Yeah, you know sometimes it's hard to find a good balance in collabs, you can get uneven weight as far as what each artist puts in creatively. 
I feel like putting together this song was a really smooth process though. Their creative input really shines through in the first drop and mine in the second drop. But Smoakland and I both sprinkled our own edits throughout the piece, and overall I think it's a really balanced mix.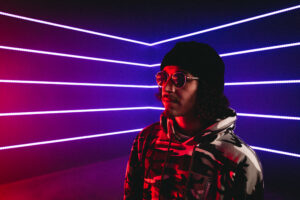 EDM Maniac: What kind of sound design theory did you and Smoakland have in mind when putting together the song?
Shlump: So all of the ethereal, pretty sound-scapey synthesis is built around the original Motown-style track "Oh No" that you hear at the beginning of the song.
In fact, a lot of our melody and even the bassline is built off the original sample because it already had such a good groove.  Sometimes that's how it'll go, you'll find a couple of things in a sample that you can build off of like the root of a plant. 
A big part of writing electronic music is making sure all your elements mesh together well and you have a beat you can build off of that's in line with what's already there. 
The sample that Smoakland sent out had this chopped-up structure with these interesting drum loops and basslines that I thought were really cool and it was easy for me to see a million different directions I could take it. 
EDM Maniac: Tell us a little bit about the Motown sound. What about it inspired you?
Shlump: Yeah, So Motown is a record label based out of Detroit that puts out a lot of old-school style black soul music. I'm not sure whether the sample specifically came from Motown itself, but  That sample had a lot of that soul-style feel to it, and I used to do a lot of hip-hop and rap beats so it really appealed to me.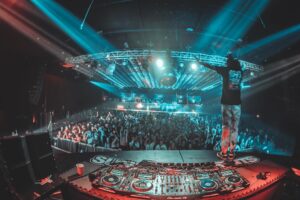 EDM Maniac: Speaking of your personal style, you also describe your style as "Alien Music", and otherworldly psychedelic aesthetics are a staple in your work, what's the story behind the trippy space themes?
Shlump: Let's see, well I've always been super fascinated by space, science fiction, and aliens. When I started creating this project, that's definitely something I wanted to represent.
Also, it's part of my fascination with dubstep– you know, when I first heard dubstep it sounded like alien music to me. The synths and the sounds were so different than anything I'd heard before that it felt otherworldly. It felt like an instrument that doesn't exist here on Earth.
EDM Maniac: What appeals to you about this style of bass music versus heavier styles of dubstep?
Shlump: Before dubstep, I was really into things like Warp Records, Aphex Twin, Squarepusher, and a  lot of stuff that was just really psychedelic and trippy. That led to my fascination with old-school dubstep that sounded like music from another planet. 
Dubstep was still underground when I started getting into the scene in like 2009. I was going to underground shows around Oakland where I got to hear artists like Rusko, The Widdler, Caspa, and all these pioneers of dubstep.
That low-end style of dubstep has just always been what I feel more drawn to, and it's evolved a lot as artists have come together to create new sounds. That's why right now is an exciting place to be for artists on the Wakaan label.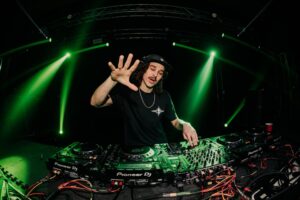 EDM Maniac: Just for fun, do you believe aliens exist?
Shlump: Yeah I definitely think there's life out there, I believe the universe is abundant with life, I think it just manifests in all different forms. But I do think intelligence and sentience exist in the universe.
EDM Maniac: What's next on your radar for this year?
Well for the rest of this year, we're just going to be finishing out the tour we're on right now, the Alien Trip Tour. Then it's off to festival season.
I'm really excited to play at Beyond Wonderland At The Gorge as well as some other festivals we've got lined up. Other than that I'll be working on some music releases!