On a Saturday night in the Inland Washington city of Spokane, a line of hyped-up party people gathers around the gates of the Knitting Factory– the city's premier concert hall.
It's a pretty typical sight for a sold-out show, but something about this event is distinctly different: The star of this show is an idea rather than a lineup. 
Anyone who's in-the-know in the US dance music scene will recognize the chuckle-inducing pictures, videos, and flyers reading "It's Dumb Just Come Have Fun" that started zipping through social media in early 2022: Shrek Raves.
At first, the concept might have sounded like a joke, but today, these events sell out venues all across the country. What's more, the event organizer Ka5sh also launched another popular meme-inspired themed event called Big Bubble Rave (also known as Bikini Bottom Raves).
The rebelliously absurd and humorous concept behind these themed events certainly makes a statement amidst an industry that leans heavily into star-studded lineups and VIP-crafted experiences to generate hype these days.
That's easy enough to see. Nonetheless, there's more potential trend-setting value in the Shrek Rave experience than one might think.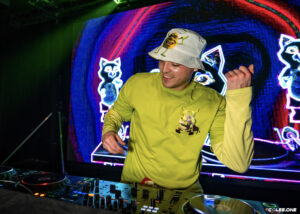 Inside the Knitting Factory, the party pops off. Attendees show off their Shrek-inspired costumes– some of which took days to craft.
Despite being packed wall- to wall, there's very little pushing or crowding toward the stage. People dance, order drinks, mill around the venue, and chat with friends and strangers alike. 
Many attendees are new ravers or have never been to a rave before, but it's hard to tell. College students, office workers, casual visitors to the rave scene, and veteran ravers alike can be seen doing exactly as the flyers prompt: just having fun. 
It's a refreshing sight to see people from different walks of life come together for such a simple, silly, brilliant idea. Today's commercial electronic music festivals already draw a diverse range of people, but a sense of connection with fellow ravers can also feel a bit diluted in these climates.
On one hand, commercialization allows many promoters in the industry to create truly phenomenal experiences that bring the community  A-list lineups and dazzling productions that rival the magic of Disney. On the other hand, this also means that these spaces sometimes feel more like a competition to get closer to the hype than a collective space.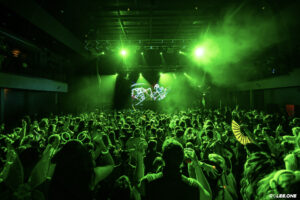 Shrek Raves flip this dynamic on its head by making the collective experience the central focus of the event. Some veteran ravers who attend the show even say it brings them back to earlier days of raving before EDM emerged from the underground.
Lineups feature a mix of local artists and touring DJs that are unique to each city.  Oftentimes, attendees don't know who's playing until days before the event–and that's okay. Set lists aren't genre-specific, it's likely you'll hear a little bit of everything in the mix.
The doors are truly open to anyone who wants to show up and just have a good time. It's a space for people to let loose, be goofy, and connect over music. No pressure, no pretentious energy, no gatekeeping. 
What's in store for the future of the Shrek Rave franchise and similarly themed events is open to many possibilities, but this grassroots-style approach sets an interesting precedent for the industry.
There's a lot of potential in the themed event concept, and it all comes down to accessibility. Pop culture-based themes help events appeal to people outside the rave community and give veterans and newbies alike something to connect over.
Booking a mix of local and touring artists gives smaller artists an opportunity to gain exposure. Plus, hosting these events in smaller cities along with affordable ticket prices gives people who would otherwise be limited by finances or geography an opportunity to join the fun—and buy more tickets.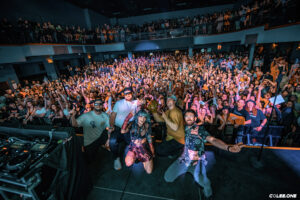 It's weird, it's hilarious, and yes, it's dumb– and brilliant. The meme-worthy content and goofy appeal Shrek Raves and other themed raves bring to the table are just the tip of the iceberg of their true potential.
These events prove that even oddball trendy ideas can become serious success stories, and they can also help a presently distant industry reconnect with the community it was born from.
Shrek Raves have an exciting opportunity to bring a new kind of experience to life in the modern rave scene– and that's nothing to laugh at!
Photo Credit: Brady Colee (Colee.One)