There's one name in the game that keeps coming up over and over again.. He's known for his unconventional, boundary-pushing blend of heavy dubstep and riddim.
Maybe you've seen him at Camp Bisco, Lost Lands, Big Dub or most recently on the Origins Tour with Ganja White Night with his dynamite energy behind the table, rocking his signature floral flat brimmed hat with his crazy curly hair draping around it.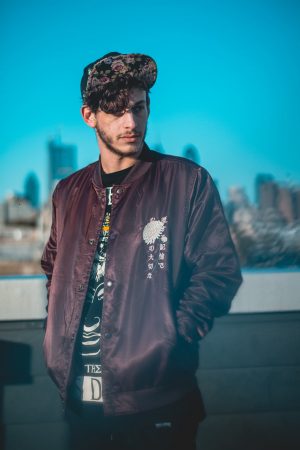 Fusing his love for SUBwoofers and elecTRONICS, Jesse Kardon has brought us the "spaced out wook trap vibe" that is the mastery of Subtronics. I was lucky enough to snag an exclusive interview with the producer to talk about everything from his freshest EP, Thermal Expansion (which is out TODAY) to his past work and what the future holds for him.
Subtronics' beginnings and finding his signature sound
Jesse began his journey with dubstep back in Philadelphia when he was in high school and came across the big names like Skream, Caspa, Rusko and Excision. Soon after he submerged himself into music production, teaching himself the basics through tutorial videos before embarking on a journey to find his own signature sound.
That journey took about 4-5 years for him to find, but he's happy that he finally did.
"Everyone has their own personal texture and preference when it comes to shaping and carving out new sounds with serum, so following my own preferences and techniques generally leads down a road to a similar location sound wise," he explained. "I create completely new basses and sounds for every song, I mean it, EVERY SONG, so that adds up to a ton of sound-design experience that lets me sound-design faster."
But what sets Subtronics apart from all other DJs? Well, it all begins with that signature sound that he worked for years to hammer down. That sound is played with an manipulated to create dozens of original tracks. From there, those tracks are meticulously organized to comprise the mind-blowing live Subtronics set.
"I put an enormous amount of thought into my sets, shoot for about 80-100 songs an hour, double and triple drops the entire time, mixing and matching the new unreleased goods no one has heard yet, while really trying to cover ground."
He's spent a lot of time lately playing around and experimenting with new sounds too which is evident in his previous EP Depth Perception.
Talking Thermal Expansion
When I heard he was dropping this EP today I was pleasantly surprised because he had just released 'Depth Perception' on SubCarbon Records a couple months ago. So immediately I was intrigued as to what set Thermal Expansion apart from Depth Perception.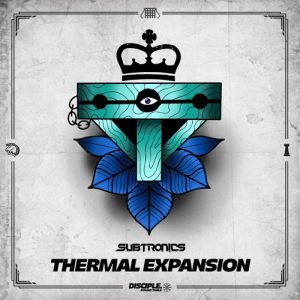 "Depth Perception was an opportunity for complete creative freedom," Jesse explained. "I have been pushing out heavy dubstep for so long with the goal to make the biggest tunes, so to take the pressure off even a little bit to explore realms I haven't before was some of the most fun I've had producing in a long time.
Thermal Expansion on the flip side is the result of me saving all my "best" tunes from the past 6 months," he continued. "All my best "dancefloor" tracks that get the craziest responses live and go off the hardest on big club sound systems. It was my attempt at making the hardest hitting dance floor smashing dubstep bangers."
The EP is his first release with Disciple Round Table who Subtronics has idolized for their quality dubstep for years now. He's been experimenting recently with more "ping pong repitch tonal delays," which is evident on this EP.
Typically, it's been my style to break down the EP for you guys but who better to do it here than Subtronics himself? I asked him to expound on his methods and thoughts for each track and here's what he had to say…
Shurikan
I had a ton of fun with the flow. I have a habit of making extremely busy basslines then slicing and cutting them down to more simplistic terms, but this one stayed really complex because it has this really ambiguous bounce. It also highlights aspects of my own sound, blending funky bouncy groove with the complete opposite, in your face abrasive white noise robot death.
Ocean Lab
I love how Ocean Lab came to be. I had another tune called Blender Riddim which some DJ homies liked and were playing out, but I wasn't quite happy with the drop so it sat in my itunes forever. I was working with Uber on a new collab and we got really stuck, so I threw together an 8 bar bassline loop to see if Maxwell could work it into what we had. He ended up not liking it at all, but I threw it over another bassline I had saved and both going at once created a really unique flow / accent that I instantly fell in love with and had a major "eureka moment". I tried seeing how that drop fit with the build up of Blender Riddim, really liked how they fit together and boom – the tune was born.
Damage Report
I just spent a really long time trying to think of something catchy and when I finally found this arrangement it jumped out. I had another one of those 'eureka moments' and got excited enough to finish it. Everyone told me to change the vocal sample but, fuck em' I like it.
Thermal Expansion
I literally made this song just to show how impactful negative space can be and how it can get a crowd to react. I thought it was kinda eh until I started sending it around and everyone reacted positively. The first time I played it out the place exploded. Fans started asking when it was going to be released. I put the track in my mix and noticed at all the shows after people knew the words to the samples. The interesting part of the tune is all the re-pitch ping pong delay automation on the percussive sounds, which is how I get those crazy textures, damn I love ping pong tonal delay.
One thing I did notice about this EP that was different was that it was all Subtronics, no collaborations (which is not a bad thing at ALL). It's evident that Jesse's work holds its own, and then some.
"I actually have an ENORMOUS amount of collabs I am sitting on, it is kind of just coincidence that there aren't any on this one," he said. "I'm really proud of that because it displays my capabilities as an artist, I don't want to be known as the collab partner on that one big tune. I want people to know that this is entirely my work."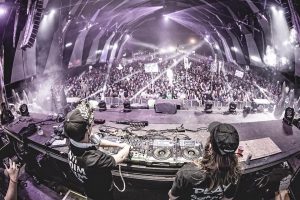 So what does the future hold?
Personal opinion here, I think this dude's got the whole world at his fingertips. He's such a talented artist who's proved that he can work with just about any artist but can also throw the fuck down solo. It's been dope to get so many new tracks from him over the past couple months. And the best part about it? He's sitting on more gold and is FAR from done.
"You can expect another EP within the next few months," he explained. "It's already done and ready to go, plus literally 10 plus collabs I have been working on, and some really high profile remixes."
Jesse has now released tracks with Disciple Round Table, Never Say Die Black Label, Buygore, SubCarbon, Crowsnest and Prime Audio so far according to a recent press release. They also hinted that there will be "major signings on the horizon for 2018."  
One of the coolest things I got from him through this interview was how intense his drive is to improve and learn with every new project, explore new realms and have a shit ton of fun while doing it all. He didn't even have to tell anyone that, he radiates it.
Subtronics plans to announce more tours and a load of festival dates for 2018 so be sure to look for him on lineups. It sounds like 2018 is about to be one hell of a year for this dude and I couldn't be more excited to watch it all unfold. His drive and determination have him set on the path to success.
"Stay tuned because I'm so inspired. This really is just the beginning."