It's that time of the year – when we start to panic that summer's ending, warm weather is slowly dwindling (at least for those of us on the east coast), and, for some of us, school is starting. The end of August also might appear, at first glance, like the end of another festival season.
This, however, is not the case. As I sit back and reviewed the festivals and shows I've been to thus far (Dreamscape, EDCNY, EDCLV, Electric Adventure, Billboard Hot 100 Festival) and those that I have coming up in the next month, I quickly realized that the best is really yet to come. Plus, in September, things have usually cooled down a little bit, which makes for a much more comfortable experience for everyone! Here are some of the biggest festivals coming up in September, complete with reasons why your festivals season has sort of just begun!
September 4-6: Electric Zoo TRANSFORMED – Randall's Island, NY
After unfortunate luck the past two years, Electric Zoo is back, and bigger than ever. Ever since ticket sales began, they've been releasing things here and there that show why Electric Zoo is branded as TRANSFORMED for 2015. With completely new stage designs that are modeled after animals (the main stage will resemble a phoenix), a cashless wristband system (with an especially cool design for early birds), and a vast array of after parties, EZOO is one you can't miss. We also can't forget that they delivered a HUGE lineup – headlined by Above and Beyond, Alesso, and The Chemical Brothers.
September 4-6: North Coast Music Festival – Chicago, IL
Chicago is probably the city that's been the biggest EDM surprise over the past couple of months. After reading rave reviews about both Spring Awakening and Lollapalooza, Chicago impressed the scene even more with the announcement of Freaky Deaky (showcasing acts like Pretty Lights, Carnage, Armin van Buuren, Bassnectar, and Oliver Heldens). North Coast Festival, taking place over Labor Day Weekend, should merely add to the impressive resume of 2015 Chicago festivals. If you're heading there this Labor Day, make sure to check out Knife Party, Kill the Noise, and Porter Robinson.
September 4-6: Nocturnal Wonderland – San Bernardino, CA
Of course Labor Day Weekend would barely exist without an Insomniac festival. Nocturnal Wonderland, which celebrates its 20
th
anniversary this year, is one you absolutely cannot miss. From the lineup (Afrojack, Armin van Buuren, Deorro, Flosstradamus, and Yellow claw, to name a few) to the premiere camping to the time of year, the cards are aligned for this to be the best Nocturnal yet. As Insomniac always goes above and beyond, it will be interesting to see what surprises they come up with this year for their anniversary.
September 11-13: Dancefestopia – Kansas City, MO
In my opinion, Dancefestopia delivered once of the best lineups of the entire festival season. With impressive lineups in the past, Dancefestopia 2015 features the likes of Bassnectar, Porter Robinson, Datsik, Keys N Krates, Zomboy, and Borgeous (just to name a few). If you're a trap head, this is the show for you. Tickets are still at only $159 for all three days, so consider it a steal if you're in the vicinity!
September 25-26: One Tribe Festival – Lake Perris, CA

One Tribe Festival is all about good vibes. This will be the first year of what hopes to be an annual festival in California. With headlining acts such as Kygo and Gramatik, One Tribe Festival centers around other activities like yoga, camping, swimming, and a general focus on spirituality. I know I'm jealous that we don't have more events like this on the east coast, as it's sure to be unique and extremely special.
September 25-26: Beyond Wonderland Bay Area – Mountain View, CA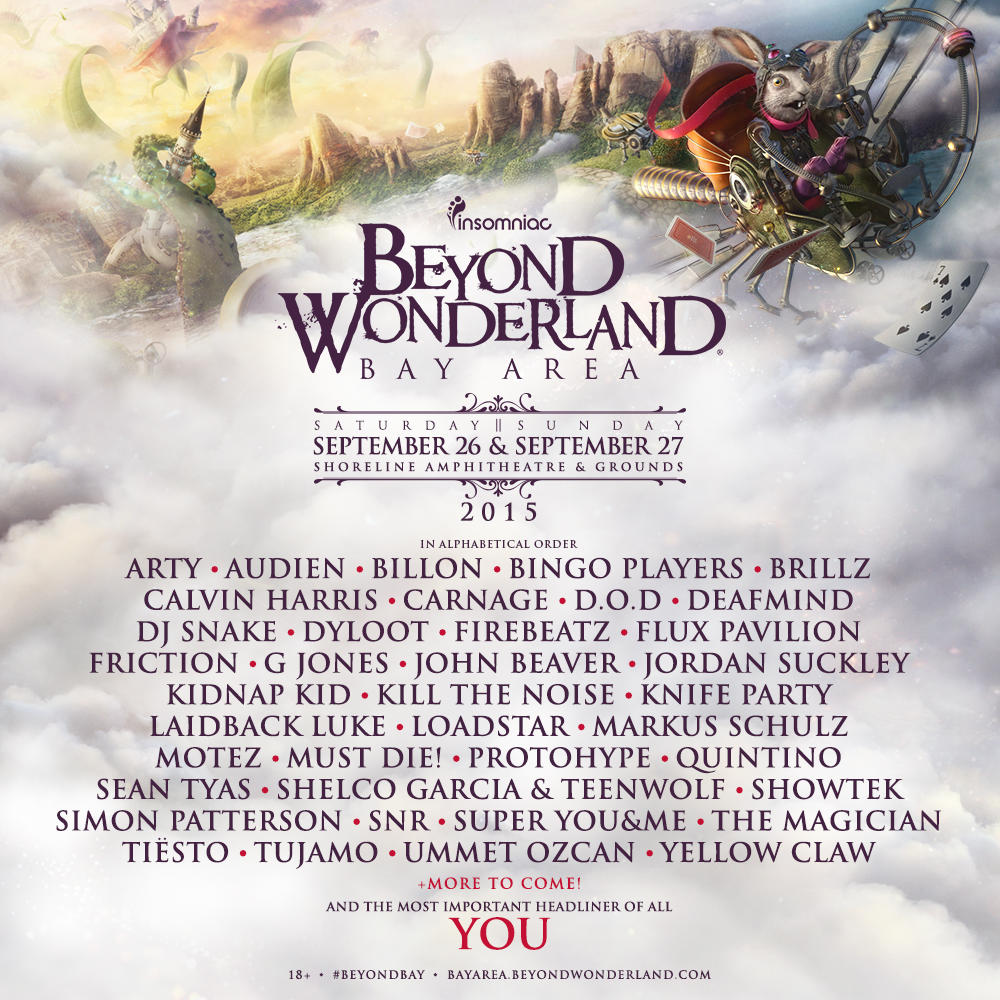 Just three weeks after Nocturnal, Insomniac rears its wonderful head again for Beyond SoCal. One of the coolest themes (in my opinion) that hits California, Beyond combines great outfits with outlandish performers with top-tier music for yet another magical weekend in September. Calvin Harris, Knife Party, Laidback Luke, DJ Snake, and Tiesto are just some of the big names Insomniac announced earlier this summer.
September 25-27: Tomorrowworld – Chattahoochee Hills, GA

This list just wouldn't be complete without one of, if not the most anticipated U.S. festival of 2015. After what appeared to be another amazing and unforgettable Tomorrowland, Tomorroworld returns to Georgia in late September. Dreamville camping is the way to go for this one, as it brings an added layer of depth to your experience. The lineup has just about every big name out there (including DJ Diesel – aka Shaq) and will be the perfect end (or, maybe not!) to your festival season. Tickets are still available, but not for long, so make sure you do the right thing and lock in your spot!