In a semi-cryptic tweet this morning, Tiesto retweeted a preview of a new track from an account called VER:WEST. While Tiesto is well-known by his stage name, those familiar with the legendary DJ and producer know him by his real name: Tijs Michiel Verwest. According to a now deleted Beatport pre-order page, the latest track under VER:WEST is a track titled '5 Seconds Before Summer' and is listed under the "trance" genre. This latest information indicates that Tiesto may be returning to his roots under the alias of his last name.
The track teased by Tiesto is released under his sub-label AFTR:HRS, which is part of Tiesto's label Musical Freedom. The alias VER:West is stylized the same was as this sub-label, which was originally created to release underground and deep house music. You might remember the track as the one he closed with during his Beatport RE:CONNECT live stream earlier this year. You can listen to a part of it here:
The track is approximately 7-minutes and will most certainly capture the hearts of trance and house fans alike.
Here's the album pre-order and artwork circulated around r/Trance before it was taken down (shout-out to r/BonerJellies for posting the link!)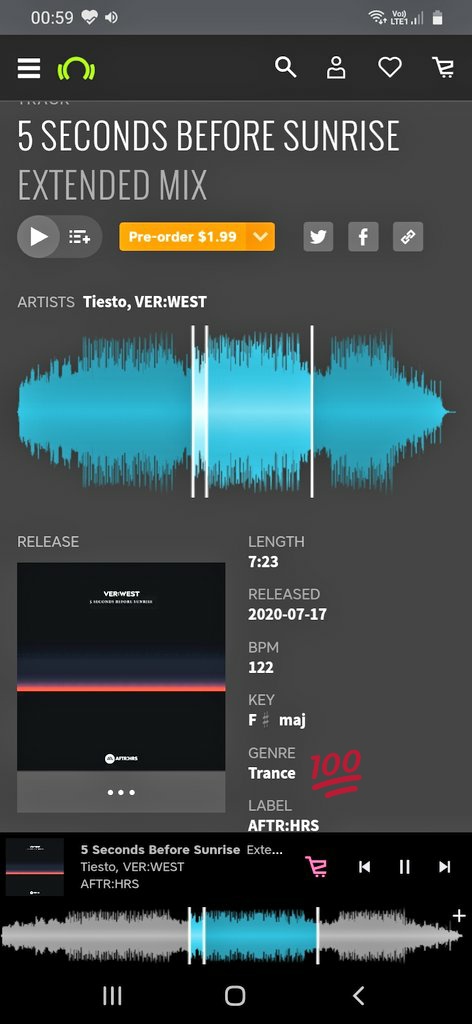 Tiesto began to stray away from the trance genre around 2008, moving more into electro-house and big room with chart topping tracks that took the world by storm. Eventually Tiesto achieved mainstream fame with hits like 'Feel It In My Bones' and 'Red Lights' that made him a household name across the globe. However, for those that have been listening to electronic music for decades remember Tiesto as a trance phenomenon with hits like 'Adagio for Strings' and 'Love Comes Again.' For fans, a return to his trance roots would be a shock that would send waves of excitement through the electronic music community.
While the latest track was classified as "trance," it is not an exact representation of the genre and is more of a deep, progressive sound with heavy elements of his older trance style. As a prequel to his track in 2007, '5 Seconds Before Summer' is a step into a return to trance with an entirely new style and alias. This move is similar to the shift with Calvin Harris to an underground house style under his alias Love Regenerator. According to Beatport, the track is set to release on July 17th and will be an exciting way to celebrate the summer after a somewhat difficult year.
NOTE: As we were writing this article, the Beatport pre-order page was quickly removed adding to even more speculation about it's release. 
⁣


◾️ @verwest ◾️⁣⁣⁣
◾️ @verwest ◾️ https://t.co/xOo6Q3DFx6— Tiësto (@tiesto) July 9, 2020