Do you smell that?
It's the smell of Electric Daisy Carnival Las Vegas in the air. Though the festival doesn't go down for another 134 days (June 16th to be exact), Insomniac CEO and Founder Pasquale Rotella has been sharing all the excitement and preparations going down at Insomniac HQ for this year's massive 3- day festival. Preparations are well underway as the Insomniac team gets ready for North America's largest dance music event, and Pasquale is giving fans quick previews of all of it's glory on his social media accounts.
What's even more exciting is all of the new editions coming to the festival. In a recent interview with The Las Vegas Review-Journal, Rotella said new experiences are one of his biggest priorities for this year's show:
We're moving some stages around, and that's going to add some extra flavor to the experience as well. I want it to be a different place every year. We get a lot of people who've been coming for 10 years plus, and in order to keep their interest, we really have to change things up a lot.
In the interview Rotella even hinted at a new stage coming to the festival, which immediately got EDC fans wondering more. 
There's a genre of music that's really grown a lot in the States in the past couple of years and we're going to build a whole new stage.
So what exactly could that stage be? We might just have gotten the answer. During Pasquale's recent social media blitz, he revealed the graphics and design for this year's ticket boxes, which he PROMISES will be received on-time this year. For those who haven't been to the festival before, Insomniac sends out super sweet ticket boxes to attendees prior to the festival stocked with Insomniac goodies, your festival wristband and a festival guide. 
Pasquale showed all of this off on his Instagram story today, and if you look closely, you're able to see some of this year's festival booklet showing of all the different stages at the festival. The Insta story showed him scrolling through the Circuit Grounds, bassPOD, Kinetic Field, Cosmic Meadow, Wasteland, Upside Down House and something unfamiliar… "Quantum Valley" presented by Dreamstate. If you're familiar with Insomniac you might be well aware of their widely successful brand Dreamstate, which solely focuses on the Trance genre.  If you're with familiar with EDC, you know there's never been a DEDICATED Trance stage, and there's never been a "Quantum Valley."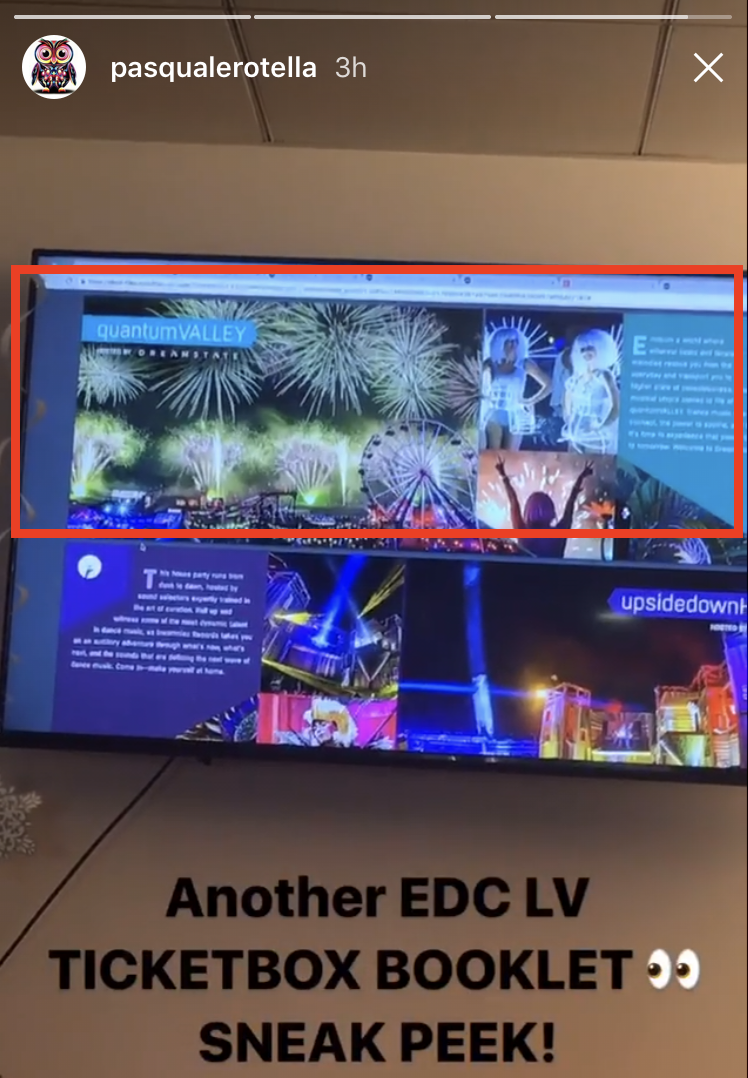 This only leads us to believe that the "whole new stage" Rotella spoke of will be a TRANCE stage at Electric Daisy Carnival Las Vegas 2017. Trance fans, you got your wish! We can't wait to see what the Insomniac team has in store for this brand-new stage. 
Electric Daisy Carnival Las Vegas takes place June 16-June 18 at the Las Vegas Motor Speedway. Tickets are on sale now. 
Cover photo: Insomniac Events