In this day and age of bass music, it takes a lot for an artist or a record label to stand out. Some are notorious for a certain sound or style. Others are well known for the popularity of their artists. But once every blue moon, you'll find a group of extremely talented artists whose music will make you feel like you're transcending into a whole different universe. There is one record label that embodies that description… Wakkan.
Wakaan Record Label was established by multidimensional producer Martin Stääf, who most of us know as Liquid Stranger back in 2015. In a previous interview, he stated that he started Wakaan because he felt as though his style never really fit anywhere else. His goal by starting the label to give himself an outlet to express the full depth of his work but also to help other producers do the same.
"With this label he has given free-form compositions and artists a place to thrive," a press release stated.
Stranger himself and the handful of brilliant artists that comprise the Wakaan label are not to be overlooked. They've made huge strides in the industry to get to where they're at today; that will only continue to happen in the coming months and years. Here are the artists you'll want to watch out for who have released on Wakaan: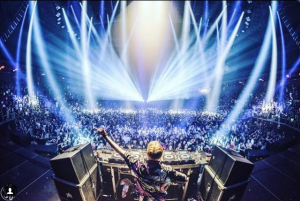 LIQUID STRANGER
Most recent releases on Wakaan: Liquid Stranger & PROKO – UFO (Single) and Liquid Stranger- Weird and Wonderful EP
What he's been up to: The kind Stranger has been touring alongside Excision on the 2018 Paradox Tour across the country. I recently snagged the rail for his set when they came to Cleveland and I was completely mind-blown. Dude melted me into a damn puddle. Being that close to the speakers for his set rattled my whole existence. It was incredible.
Some other notable shit: The Wakaan/Liquid Stranger merch is always hot. They're dropping a bunch of dope new shit tomorrow, March 2, afternoon.
Where you can catch him next: Liquid Stranger has already announced playing a couple festivals including Minus Zero Festival, Ever After and he's playing Okeechobee this weekend.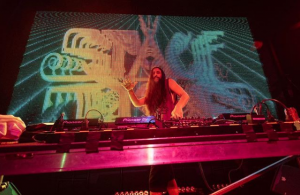 SPACE JESUS 
Most recent releases on Wakaan: Space Jesus & Dirt Monkey- Sofa Surfin (Single) and Space Jesus- Zoned Out Vol. 1 EP
What he's been up to: Space Jesus embarked on Datsik's 2018 Ninja Nation Tour back in January and has been touring with them for the past couple months.
Some other notable shit: Space Jesus has taken over my car stereo in the past several weeks. He released a dope single with Bleep Bloop back in December "Ichabod Crane" that is probably one of my favorite tracks in the game right now. They donated all proceeds from the track to the American Civil Liberties Union. Talented and generous… pretty cool dude!
Where you can catch him next: Space Jesus has been spotted on lineups for Get Lucky, both weekends of Electric Forest, Ever After, EDC, Dancefestopia, Camp Bisco, Shaky Beats and Bonnaroo.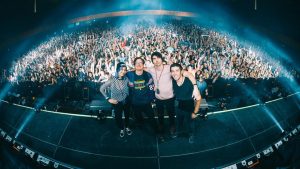 MINNESOTA
Most recent releases on Wakaan: Minnesota- Dark Crystal (Single) and Minnesota- HiLo (Single)
What he's been up to: He just played Wobbleland and currently has several weeks off to "go deep into the modular hole" according to his Twitter.
Some other notable shit: Bassnectar dropped Minnesota's track HiLo in his NYE set. Even better news, those tracks listed above will also appear on Minnesota's first EP in four years that comes out on Wakaan next week!
Where you can catch him: Minnesota has announced playing at Phoenix Lights, Shaky Beats, Spring Awakening and Dancefestopia so far.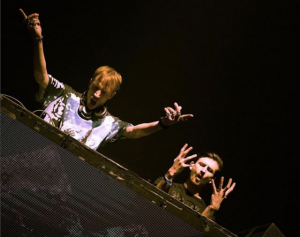 LUZCID 
Most recent releases on Wakaan: Luzcid- Hypagogia EP and Wakaan 2017 Mix feat. Luzcid
What he's been up to: He's been jumping in on a couple B2B's with Liquid Stranger along the Paradox Tour. I haven't gotten the chance to see it for myself but I hear they're straight fire. The final one is in DC next week. Snag tix while you can!
Some other notable shit: He's going to be opening for Rusko next month in Brooklyn. Also from what I hear, he's got a couple collabs set to drop soon, and hopefully more new solo tracks.
Where you can catch him: Luzcid has been spotted on lineups for both weekends of Electric Forest and Valhalla Sound Circus.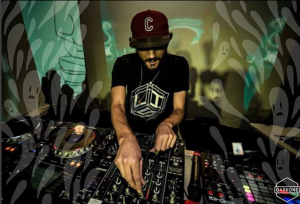 ESSEKS 
Most recent releases on Wakaan: Esseks- Broken Bones (Sticks and Stones) and Esseks-Cartoon Violence
What he's been up to: He recently went on the Morphed Tour with Wakaan label mate Space Jesus and Digital Ethos. He also played a Bamboo Bass Festival in Costa Rica and Fractal Beach in February.
Some other notable shit: When Esseks releases, he unloads a shit ton of gold. The albums listed above are packing some serious heat. Another cool thing; his Facebook page is full of amazing paintings and sketches of the creepy little characters that are spotted on his album covers. He's a really well-rounded, talented artist.
Where you can catch him: So far I have spotted Esseks on the Lightning in a Bottle, The Untz and Lunar Tide in Chicago lineups.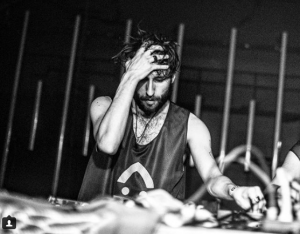 FREDDY TODD 
Most recent release on Wakaan: Freddy Todd- Southfield
What he's been up to: Seems like he's been switching between individual shows and falling down the music production rabbit hole. Good news for all of us, that means new shit coming soon…
Some other notable shit: He tweeted this past week about choosing the new art for his next EP, hashtagging psychedelic. He also said one of his new tracks is in a "whole new dimension." I'm pretty stoked to see what that's all about.
Where you can catch him: He was also spotted on the Lunar Tide lineup. He's also playing alongside Muzzy Bearr on St. Patricks day in Wisconsin.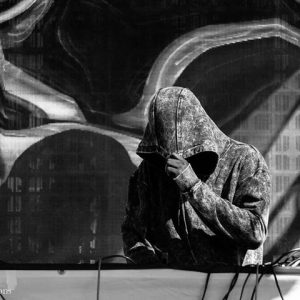 TLZMN
Most recent release on Wakaan: TLZMN- The Hood EP
What he's been up to recently: The Hood is TLZMN's debut EP and it just released on Wakaan less than a month ago. He recently took over the Wakaan Weekly Playlist to share his own tracks but also what inspires him. He wrapped up a stint on Bleep Bloop's Fifth Pupil Tour at the end of 2017.
Some other notable shit: This dude is like a ghost, super mysterious but his music speaks for itself. I think we're going to see a lot more of him (his music that is, not his face which he keeps hidden) over the next year and beyond.
Where you can catch him: TLZMN is set to appear at the Serenity Gathering in Oakdale, Cali. But honestly, beyond that, I have no idea. I hope to see him on more festival lineups going forward though.
https://www.facebook.com/spacejesusmusic/videos/1576576202403613/
The releases on this label are absolutely insane and have so much momentum. In addition to everything we've heard so far, there's still so much that we haven't. Well, we have, but it hasn't been officially released. Personally, I've been waiting to hear when Space Jesus is gonna drop this absolute banger (above) he did with Liquid Stranger that he played at Bisco last summer. I mean come onnnnnnn LISTEN TO THAT DROP.
Now keep in mind these are just some of the releases on Wakaan. The sounds of Wolf-e-Wolf and Shlump also have graced the Wakaan Soundcloud account. I could go on, but I think y'all get the point.
Make sure you're following what's coming up on Wakaan in the coming months… it's free form electronic music at its absolute finest.