It was finally here. And then, in the blink of an eye, it was over.  When my friends, family, and coworkers ask me how it was, I struggle to put it into words. And, to be honest, I've had a hard time forcing myself to sit down and write this because I get so nostalgic thinking of the memories.
It's finally time, though, to try to put my experience down onto paper. And to share my time under the electric sky with those of you who were right there with me, others who were religiously watching the live stream, and others who may have missed out altogether. I learned more than I ever imagined over EDC weekend, from my own group of friends and strangers, and will take these lessons through the rest of this festival season.
1. The West Coast really does know how to party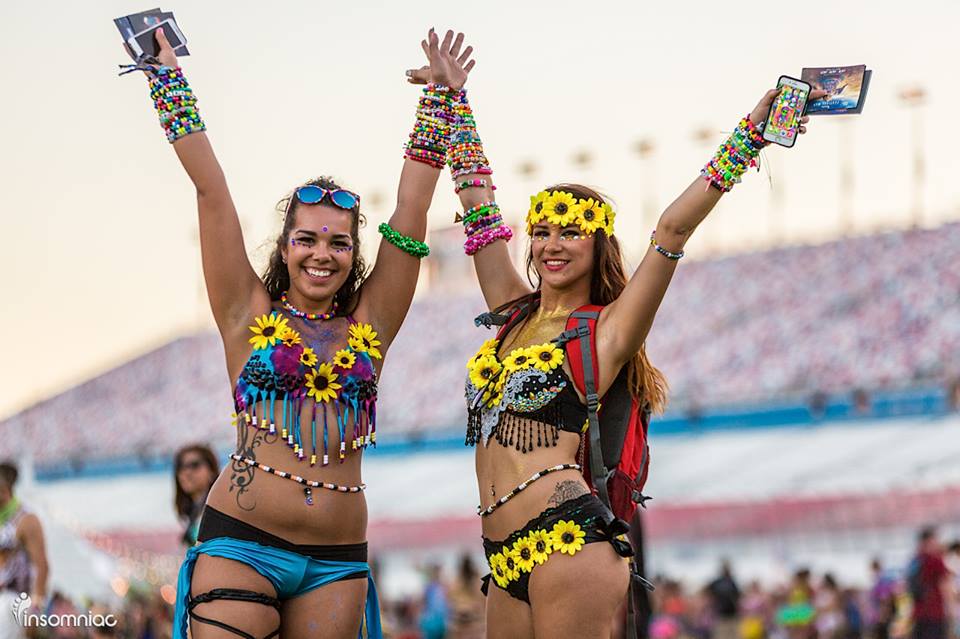 Coming from New York, this was my first festival on the other side of the country. At previous festivals, I've obviously run into people from the West Coast, who claimed that the "vibes" are so different out West and that my festival experience would be totally different. Well, what I realized in Vegas is that they're (unfortunately) spot on. While I love my East Coast festivals, there's a lot more negativity, there are more people attending for the wrong reasons, and there's much less of a sense of "family." At EDC Las Vegas, however, I felt completely safe and at home 100% of the time. Everyone there was so friendly, compassionate, and caring, and there was never an overwhelming sense of selfishness or a large percentage of people with bad attitudes. People were there for the music, and to express themselves, and it made for a beautiful atmosphere.
2. Even if you make a schedule, you probably won't stick to it. And thats okay.
Having never been to an EDC Las Vegas before, there was no way I could fathom what the actual layout of the speedway would be. While the stages were relatively close to one another, and getting from one to another within 10 minutes was usually feasible, that wasn't the reason that I didn't stick to my schedule. For one reason or another, I found myself skipping some of the biggest names in EDM for someone up-and-coming at a smaller stage. Personally, I loved the vibes and space at the cosmicMEADOW, and spent most of my weekend hanging out either up on the railing or laying in the grass.  Long story short – even if you make a schedule and want to stick to it religiously, you won't, and that's one of the best things about the experience. Sometimes, what really matters isn't who's on stage – it's what your environment is radiating and the company of people you're surrounded by.
3. 'Oh it's dry heat it won't be bad' was FALSE.
I can't tell you how many people told me that the 'dry heat' of EDC Las Vegas would be a pleasant surprise coming from the humidity that's seemingly omnipotent on the East Coast. Well, they may have been right when it came to 90-degree dry heat, but with temperatures rising to almost 120 degrees, I would've taken humidity any day. The first day we went to get on our shuttle, after standing outside waiting for 45 minutes, the bus did not have working AC. Let's just say most of my outfit had melted off of my face before I even made it through the entrance gates. That being said, once midnight hit, temperatures had cooled down enough that I could dance without any hindrance.
4. Don't expect to see any DJ on the lineup before 9pm.
If you took a shuttle like I did (the first one, at that), you probably wound up walking through the gates around 9 at the earliest on Friday night. My group and I were stuck in the lines from about 7:30-10, which I was not exactly prepared for. We made the entry easier the next two days by walking around to different entrances, but even so, there was almost no way for me to see any of the opening acts while still taking the shuttle I paid for. My advice? If you know you want to get there the minute gates open, rent a car, and get there SUPER early. Either way you might never make it in by 7, but it's worth a shot.
5. Everyone is your friend.
When I finally made it through the gates on day 1, I turned around, and all three of my friends were gone. We were overexcited and forgot to make a meeting place, which set us up for failure on Night 1. For the first hour or so, I was stressing out about it and wasting time trying to find a place with service. But when it came time for Yellow Claw, I decided to just make my way to the stage and enjoy the night. Turns out, I met a group of awesome people who I wound up staying with the rest of the night and meeting up with again on Day 2. Sometimes, being alone can be a blessing in disguise – you meet other people at your favorite stage who love the same music you do, instead of having to compromise with a large group of friends and their differing interests. I wound up spending a large majority of the weekend by myself or with new friends, which made the experience that much more special.
6. Nothing does the main stage (or any of the stages) justice.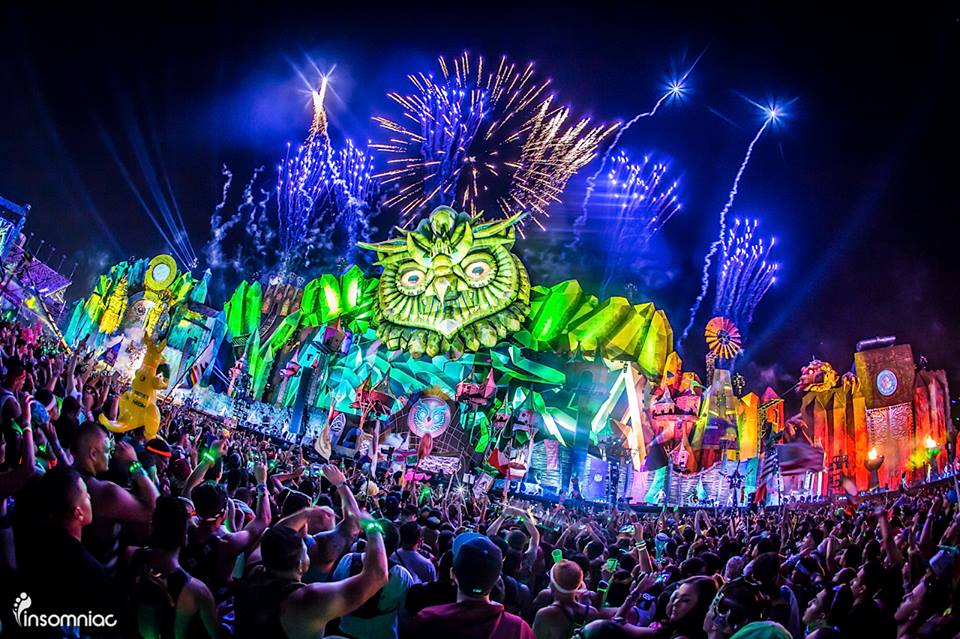 You can do all the research you want, and watch all the videos out there, but there is no way to do justice to the kineticFIELD. Revamped from last year, and updated from the kineticCATHEDRAL, the main stage this year was completely and utterly magical. With waterfalls, stained glass video screens, a massive owl with eyes that opened and closed, and various other elements that developed as the night went on, the main stage of EDC Las Vegas took my breath away. I found myself staring at it multiple times every night, just fascinated by all of the minute details that went into its creation. When you actually stop and think about how much time, effort, and money went into the LED effects and visuals, your mind will be blown.
While the design of the main stage obviously stole the show in that regard, I spent most of my time at the cosmicMEADOW and bassPOD. Personally, I think they could've used some more space at the bassPOD, and the structures were extremely hot to stand near, but otherwise, they hit it out of the park. circutGROUNDS is always a hit because of its hangar style that caters towards lasers, and even the revamped wasteLAND was greatly improved from years past.  Each stage truly had its own character and personality, and if you didn't catch at least one set on each stage, you missed out.
7. Take advantage of the artist merchandise stand.
Who doesn't love to rep their favorite DJ's merchandise? As I've mentioned before, I am a huge fan of Yellow Claw, but have a hard time justifying buying their line because of the $35 shipping fee and the 4-week delivery time coming from the Netherlands. The artist merchandise stand was a great opportunity to grab some merchandise without any shipping fees or delivery times. Most major DJs had at least one item for sale, and prices weren't too bad at all. If you missed this at EDC, make sure to keep an eye out for it at other big name festivals across the world this summer. In addition, Insomniac had some pretty cool hats and t-shirts available for purchase at their merch stands.
8. Take at least the next few days off from work, if you can.
I was fortunate enough to be able to take Monday and Tuesday off from work. But, being as I had the red eye Monday night, I wasn't fully adjusted to normal life until getting 12 hours of sleep Friday night. The crash post-EDC is real – especially if you make it until 5 am almost every night. If you have flexibility with your job, take Mon-Wed off. You'll be extremely thankful you did.
9. There is nothing like this in the world.
Whatever bad press EDC has ever received must have been from those who didn't attend. Because this was the most magical weekend of my entire life, and I can guarantee that most other attendees felt the same. The vibes were fantastic, the music was diverse, and the people were unique and euphoric. Pasquale and his team focused on every little detail and really did their best to make sure that the weekend went off as smoothly as possible. It's hard to deny any magic that blossomed over the speedway for three straight mornings and nights because it was definitely there. 
EDC returns to Las Vegas for the 20th anniversary this June 17-20th. Tickets are still available.
All Photos Credit to: Insomniac