Outside Lands is one of San Francisco's most iconic music festivals. With so much art, history, and, of course, great music, there's something for everyone. But we here at EDM Maniac know our readers like one type of music best, electronic, and there's a one-stop-shop for some of the best artists in EDM today. This place is the SOMA tent.
The SOMA tent is an electronic haven that premiered at the 2021 edition of the event. This year, the tent will play host to major tastemakers in house and techno such as Claude VonStroke, Amémé, Cassian, and more.
Now with a larger footprint, longer hours, and the lighting genius of Rob Ross, the SOMA tent is the place to be during Outside Lands. Here are five artists to see in the SOMA tent at Outside Lands 2022: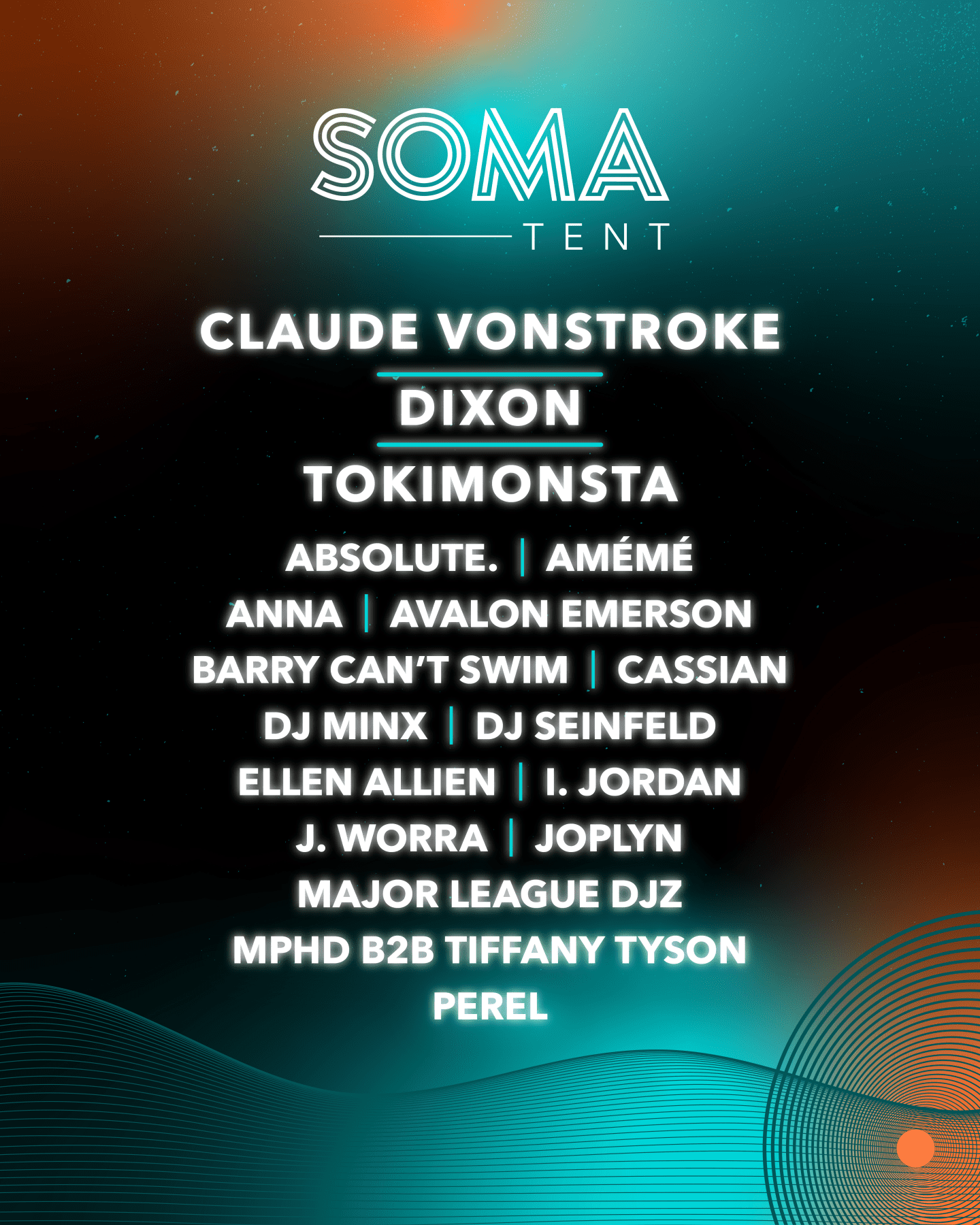 ANNA
ANNA grew up in São Paulo, Brazil surrounded by electronic music. Her father owned a nightclub and she began DJing at around 14 years old. An accomplished DJ and producer artist, she's been on virtually every prominent label in techno: Hotflush, Drumcode, Sapiens, Nova Mute, and more. Festivals like Movement Detroit, Awakenings, and Tomorrowland consistently have her as a headliner, proving ANNA is a force to be reckoned with in the techno game. She's also showcased her production skills on remixes for legends like Adam Beyer, Stephan Bodzin, and John Hopkins.
Dixon
Berlin based artist Dixon is an electronic music visionary, co-running the Innervisions record label with Frank Wiedemann and Kristian Rädle of Ȃme. He's well known for his remixes and has made edits of "Tides" by the XX, "Boiling" by Disclosure, and "Cover Me" by Depeche Mode. He also co-founded a fashion label entitled Together We Dance alone, a club-wear brand incorporating the digital age, machines, and layering. His sound is deep and mysterious, with some elements of minimal and dark progressive.
TOKiMONSTA
TOKiMONSTA has shown that she can break down barriers and overcome her past to skyrocket to success. She's an Asian-American women in a male-dominated industry and continues to gain respect of her peers and the community at large. In 2010, she was the first woman to sign to Flying Lotus's Brainfeeder label and released the album Midnight Menu.
Tragedy struck in 2016 as she was diagnosed with Moyamoya and had to undergo two brain surgeries. She lost the ability to speak, walk, and make music. But she was able to relearned her craft and released the album Lune Rouge, landing a Grammy nomination for the work.
ABSOLUTE.
ABSOLUTE. is a European activist and revered producer in the electronic music space. He's performed at high-profile UK festivals like Glastonbury and Creamfields and has received support by Pete Tong, Maya Jane Coles, The Blessed Madonna, and Annie Mac.
He's an advocate for human rights, climate, race, and LGBTQIA+ justice. He even wrote a track called "Rave Against The Machine" which sampled a speech by the Gen-Z environmental activist, Greta Thunberg. ABSOLUTE.'s music can be described as "feel good" and features elements of classic house and disco.
https://www.youtube.com/watch?v=_vW84bBFFpo&ab_channel=Mixmag
DJ Minx
DJ Minx is a legend in the Detroit electronic music scene and has been spinning for over 30 years. She was inspired by the Music Institute in Detroit and later became a resident of Club Motor in Hamtramck.
DJ Minx was a headliner at the first Detroit Electronic Music festival and is a celebrated regular at Movement. In 2001, she established her own record label called Women On Wax Recordings. Her sound is pure Detroit classic with elements of early tech-house. This icon is a can't miss at the SOMA tent.
Featured image from Outside Lands