Following a sold-out show last summer, Tale of Us is once again bringing Afterlife back to the world-famous Brooklyn Mirage next month. After personally chasing these guys around the past few years, I can confidently say that the Afterlife show is a journey everyone needs to experience. I've seen the Afterlife shows in warehouses, at festivals and at clubs and each time it's a different, emotional, melodic journey. Their upcoming stop in Brooklyn will be no exception.
Home to some of the world's most sought after shows, The Brooklyn Mirage is the epicenter of dance music in America. It quite possibly might be one of the best venues to showcase some of the world's best parties. Party connoisseurs like Elrow, have recently picked The Brooklyn Mirage to host a series of their infamous crazy parties, so it's no surprise that DJs are also doing the same. Jamie Jones has brought his famed "Paradise" Ibiza residency to Brooklyn, and many consider The Brooklyn Mirage the quintessential place in America to debut parties straight from Europe. With its massive footprint, extended hours, and insane audio and visual production, The Brooklyn Mirage is the perfect home for Afterlife on Saturday, September 7th.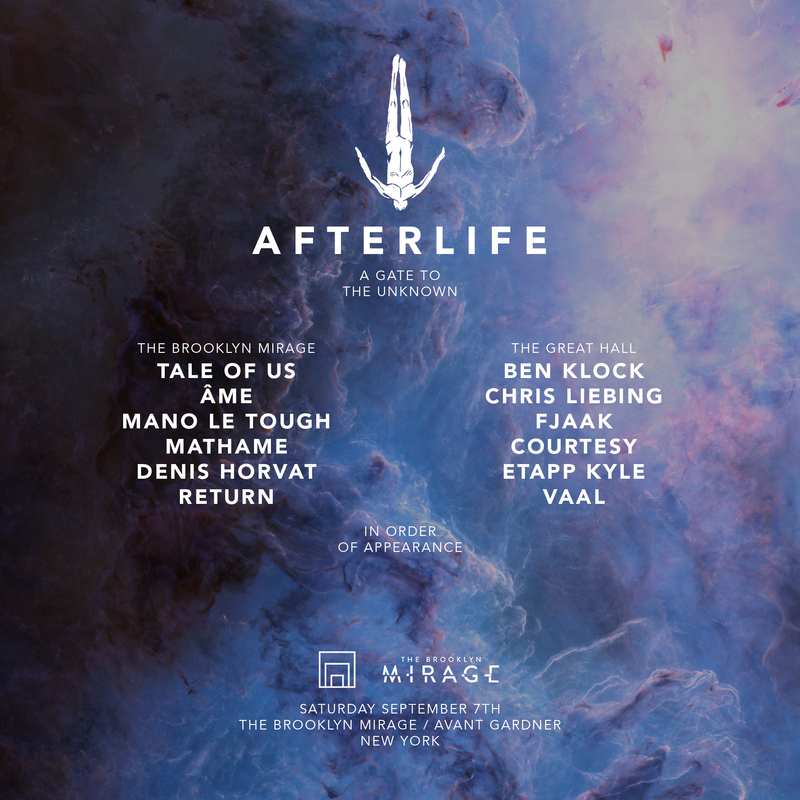 Afterlife New York 2019 will be an open-air, day into night affair with some of the most cutting edge artists in Techno right now. Tale Of Us will bring along their partners in crime Âme and Mano Le Tough, as well as two rising stars from the Afterlife label, Mathame, and Denis Horvat, while Return will open the floor. Next door to the Mirage is, of course, The Great Hall, an extension of the venue. In this room, you'll find hard-hitting, dark sweaty Techno featuring the likes of Klockworks label boss Ben Klock, as well as pioneer Chris Liebing,  FJAAK, Courtesy, Etapp Kyle and Vaal. This will all make for one incredible night you will won't want to miss.
As with every Afterlife show, Afterlife New York 2019 will also take you on a visual journey. Acclaimed multimedia artist Quayola, who is best known for using video, computer software, and installation to explore the tension between real and artificial spaces and surfaces, will join Tale Of Us. This magnificent artistic visual experience, along with the sounds of Tale of Us is sure to take you on an adventure you will be talking about for days and months to come. 
Tickets for Afterlife New York 2019 are on sale now. You can buy tickets for the show here.