by Grant Manley, Staff Writer
Hardstyle, already being a household name in Europe for many years, is expanding at a rapid pace in the United States. With new events popping up everywhere, and existing ones adding stages to now feature the genre, there's one female American DJ you can find at the frontline. Persian hardstyle diva Lady Faith has been a regular favorite in the Los Angeles scene since 2007.
In 2012 Lady Faith's career took off, playing at massives including Defqon. 1 and the Q-Dance Stage at EDC Las Vegas where she was ecstatic over a packed stage full of faithful's from around the world. While touring she still maintains a heavy local presence for her Southern California faithful's, often found at Motive Events like the upcoming Love Groove. Last year she released 'Queen Bitch of the Universe,' portraying her hardstyle diva persona through the song. Not skipping a beat, Lady Faith continued hitting the road with her music, making appearances at more huge festival's this year including Bass Control Sydney, Austrailia, EDC Las Vegas and Chicago, Basscon, Motive's 420 and Atlantis Festival, and rounding it all off at home in Los Angeles, playing Fresh NYE.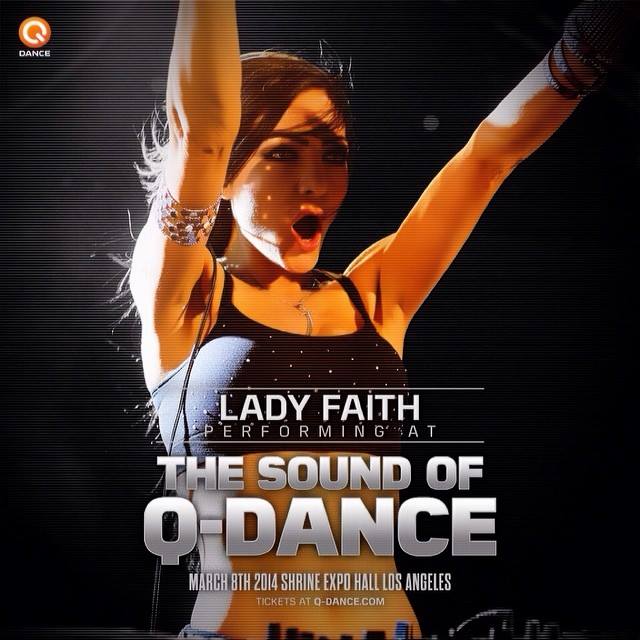 Lady Faith finished the year with two more releases, "Fame" with The Pitcher, and "Rising High" with a remix by Stana. Continuing to deliver her unique hardstyle with a Persian twist, she promise's her faithful's more new tracks in the works, and even an EDM inspired clothing line. Next month she will be joining forces among a huge line-up at the 2nd Sound of Q-dance Los Angeles, featuring Brennan Heart, Frontliner, Mr. Skeleton, Sylence, The Prophet, Wildstylez and Mc Villain. For the dedicated freaks, and renegades, don't miss this show, her faithful's will be traveling from all over to dance together under the hardstyle diva.
Interview with Lady Faith
Thanks so much for speaking with us, can you tell us what you have been up to?
You're very welcome. I have been extremely busy lately with a huge touring schedule all across the United States. When I am not touring, I spend most of my time in the studio working on new tracks and listening to the new content. Lately, Hardstyle has completely taken over my life. It is my passion and I have dedicated my career to spreading the sound.
How would you describe 2013, what were some highlights?
2013 was a crazy year. I had a fantastic performance at Electric Daisy Carnival and produced a few of my very best tracks. Since I love performing so much, any time I am onstage, it is a highlight but outside of EDC, I really enjoy travelling across the USA to bring Hardstyle to the many new fans that don't get to hear it regularly. I especially loved my gigs in Sydney, New York, Washington DC, Hawaii and Tallahassee in Florida. Of course, I always love my local Los Angeles performances too.
 What are you looking forward to most in 2014?
2014 has already been an interesting year for me. I am working harder than ever on new tracks and hoping this will enable me to perform in more international events – especially those in Europe. I have a performance in India coming up and I am really looking forward to that.
We know you have been working on some new tracks, can you tell us a little bit about them, what can we expect to hear with these new tunes?
The tracks I have recently completed are very melodic and bouncy – more suited to my American fanbase. The next tracks will be darker and a bit raw, designed for my European fans. As always, I plan to push the boundaries of the sound and incorporate new ideas. So far, this process is working very well and I hope to have at least 4 new releases this year.
Do you plan on debuting these new tracks at Q-Dance?
Yes. I plan to play at least one new track for the Sound of Q-Dance in March. I can't wait to see the fan reaction as I am very proud of the new content that I have been creating.
What's it like knowing your playing another Q-Dance event?
I was a Q-Dance fan long before I was a Hardstyle DJ, so playing in any Q-Dance event is a dream come true. I still crave the chance to perform on the main stage at one of their massive European events, but for now, I am delighted that I will be performing on their stage in Los Angeles.
For those that aren't familiar, what can we expect from a Lady Faith set? Anything special planned for your Sound of Q-Dance set?
This event is in my hometown of Los Angeles, so I plan to represent my Faithful by bringing them a fantastic hour of Hardstyle. For those that have not heard me play, they are in for a wild ride. As always, it will be an emotional rollercoaster.
Will you be touring in 2014? What cities do you plan on visiting?
 My touring schedule is really hectic this year, with performances in pretty much every Hardstyle loving state in America already scheduled. I recently returned from a gig in Hawaii and will soon head to India for a gig in New Delhi.
 Are there any artists you would like to collaborate with in the future?
I already have some collaboration plans, but it has always been my dream to work with Noisecontrollers. Hopefully Bas is reading this interview – hint, hint 😉
 When you're not working on music, what is Lady Faith doing?
I was not aware that Hardstyle artists were allowed to have a life outside of the music. I will need to research this phenomenon further.
 Thanks for speaking with us again. Can't wait to see you on March 8th!

You're welcome. It's going to be a fun night.