It was a sunny day (like most) in Los Angeles and a crowd of fans were outside the House of Blues in West Hollywood on December 9th awaiting one of the biggest DJs in the world to stop by. The House of Blues was about to welcome the one and the only Armin van Buuren. Armin has been working diligently preparing his next solo world tour, ARMIN ONLY and was going to talk about what we can  expect from the tour and to participate in an exclusive meet and greet with fans.
Our immediate reaction was that it was rather refreshing to see Armin in such an intimate surrounding. The House of Blues does not have a big stage, nor does it have room for thousands of people like most venues in LA. This was a very exclusive opportunity that his publicist had worked out to for fans to come and meet Armin and to hear about ARMIN ONLY hitting Los Angeles on May 9th at The Forum.
Presumably LA traffic is what caused his small delay, as he was set to arrive at 1pm. Finally, when he appeared on stage at around 1:45, this small and intimate room erupted with applause. Armin appeared on stage right in front of our eyes in a very up close and personal environment with his standard jacket, t-shirt and sneakers. He was incredibly laid back and you could tell how excited he was to talk about ARMIN ONLY.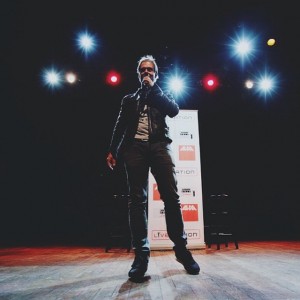 Armin van Buuren in Los Angeles speaking about his upcoming ARMIN ONLY tour 
Armin played a quick teaser video for us to take a look at (one that had just been released online for the world to see) and thanked both the press and the fans for attending. His demeanor was so relaxed, and he was genuinely  happy to be there. After the video finished, the applause grew even louder. You can tell that the video alone cause even more excitement, and to have Armin introduce and share it was a very poignant moment. Armin said, "This is like Christmas dinner with Armin van Buuren…are you guys ready for this?!" and brought his tour manager on stage to help answer any questions.
Armin opened up the question and answer portion by explaining the stage setup for ARMIN ONLY, noting that he is bringing the biggest DJ booth in the world with him on this tour.  He also mentioned (to much excitement) that on the first night of Armin Only he went "back into the attic and brought out some vinyls." This got huge applause as this is not something that is traditionally done. But this tour is not going to be traditional. It is Armin van Buuren we're talking about, after all.
Armin mentioned he's done tryouts, he's worked with special visuals, and the visuals have been worked on for over a year. The visual render farms took about 20,000 hours to render, so you can only imagine what the show is going to be like in the live environment.
During the question and answer session, members of the press were allowed to ask Armin a few questions. When it came our turn, we asked Armin specifically about the artistic elements of the show and where he got the inspiration from. Armin mentioned that most of the inspiration came from Holland, and that he is bringing his  brother who has his own band on tour with him for ARMIN ONLY. Armin said "It's great. Taking your brother on the road is  fantastic."
Shortly after, the press wrapped up their questions (you can see the full video below of the entire press conference) and Armin did something very special. He stuck around and took pictures and signed autographs for the over 100 fans that attending the conference. This was something very special that he did and it should not go without being mentioned. Every fan was allowed to take a picture with Armin as part of the meet and greet, and it was such a delight to see him so excited to meet fans and talk about the tour.
Armin with fans at the LA Armin Only Press Conference and Meet and Greet
ARMIN ONLY is going to be an out of this world production that only Armin van Buuren knows how to deliver. A 5 hour Armin set coupled with dazzling visual effects, dancers and surprises, ARMIN ONLY is set to truly take you to "dinner with Armin van Buuren" and be a night of unforgettable memories.
For more information about ARMIN ONLY, visit www.arminonly.com. Tickets are still available for the LA show on May 9th at the Forum!
Keep up with Armin van Buuren on Facebook here.
FULL VIDEO: Armin Only Los Angeles Press Conference