For trance fans across the globe, this year is already off to a solid start with a unique event for the acclaimed radio show ASOT (A State of Trance) helmed by the legendary Armin van Buuren. This year marks the 20th anniversary of ASOT, featuring two decades worth of the most beloved trance hits in history. The official celebration for this milestone would normally entail an enormous celebration at the annual ASOT Festival held in February, but considering the state of our world the festival has been scheduled for later in the year.  As a way to celebrate, Armin van Buuren has confirmed the ASOT 1000 Countdown as a precursor to the main event.
ASOT began in 2001, quickly becoming a staple amongst the trance community and beyond. Each week since, a new episode is released featuring the best of trance. Last year, fans voted for their favorite ASOT plays of all time. Using this information, ASOT 1000 Countdown will showcase the top 1,000 tracks during ASOT 1000. The event will take place from January 14th to January 21st, 2021 with features from Armin van Buuren, Ruben du Ronde, Ferry Corsten, and other ASOT members as they remember the top trance tracks in history.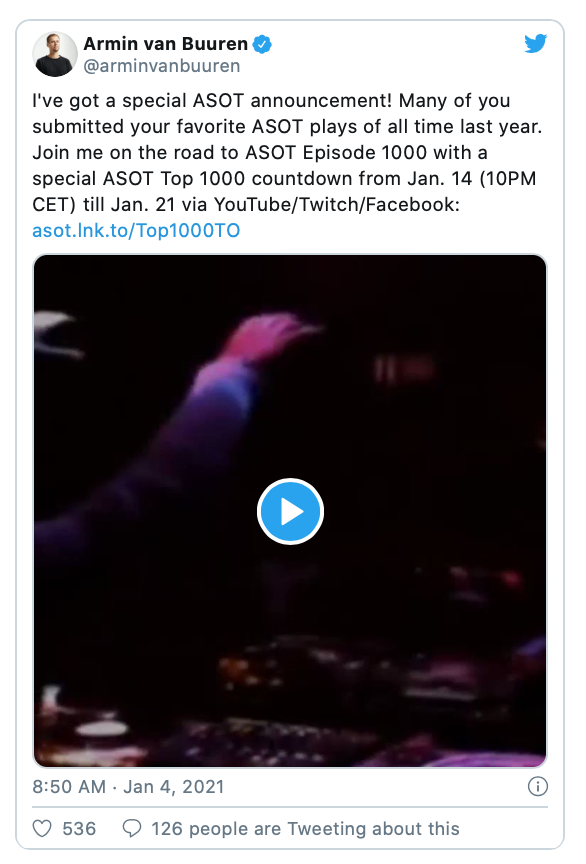 During the event, Armin van Buuren will reveal exclusive details regarding ASOT Festival 2021 set to take place in Utrecht, Netherlands later this year. In the meantime, set your calendars for January 14th to recount two decades worth of the best in trance history. The event will be broadcast on Twitch, YouTube, and Facebook. If you missed it, check out the ASOT 1000 preview featuring a vinyl B2B set from Armin van Buuren and Ferry Costen. Get ready to celebrate twenty years, 1,000 episodes, and electronic music history in the making!