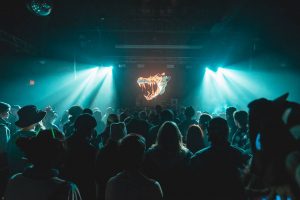 The Kaprosuchus, more commonly known as a BoarCroc, was a terrifying prehistoric creature. Growing to be over 20 feet long, the massive Boar-Crocodile hybrid was a savage hunter of land and sea. It would rip its prey to shreds with its three sets of teeth and tusks. The only difference between the ferocious habits of this beast and the sounds of Louisiana-based artist BOARCROK is that his music is far from extinction…
In fact, this is only the beginning.
Connor Canterbury, better known by his DJ name BOARCROK, is roaring into the EDM scene. He's recently been destroying the decks and hyping up crowds all over the country during his stint on the Boogie T and SQUNTO Strike Back Tour. It was hard to believe this was his first tour ever, he never came across with that rookie vibe. Plus he was a perfect fit with the styles of Boogie T and SQUNTO.
Brock and Connor have been homies for over a decade and have been making music together during that time. He met Eric for the first time in person at the beginning of the tour after years of internet friendship.
"It's great to hang and hear about their experiences from the past few months/years," BOARCROK said. "And it's just non stop joking around, discussing music and memes… Mostly memes."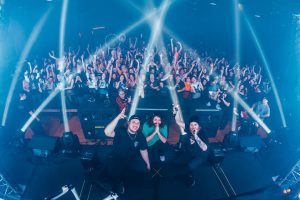 BOARCROK explained that he couldn't have pictured a better first tour. Not only did it boost his name and exposure as an artist, but also gave him even more motivation to continue to make dope music.
"It boosted, more than anything, the confidence I have in myself; knowing that people are really into my music," he explained. "It was cool to meet everyone and feel that love yanno? I had people who have never heard me come to the show and now their fans. That's pretty cool."
BOARCROK got his start in music by making hip hop and rap instrumentals with a couple friends back in the day. Soon after, someone introduced him to Dubstep and he was instantly hooked.
"I wanted to know how to produce something more like that," he said. "And the passion has not left me since."
BOARCROK admires the work ethic, humility and talent of his fellow producers. His inspiration is drawn from those around him and the sounds around him; everything from other types of music to vocals from a movie or TV show.
"Sometimes there is just the urge to create something new; experimenting with different techniques. Having fun producing a track is always key to me."
Now that he's back home in Louisiana, the work is only beginning for BOARCROK.
His main goal, for the time being, is getting his tracks out to some heavy-hitting labels and a couple up and coming ones while continuing to compose tons more bangers.
"I've been spending time with friends, my girlfriend and just stackin up music for labels," he affirmed. "Other than that I'm trying to book shows and plan out the rest of the year."
He's also involved in a music collective called CROATOAN with a few other artists. BOARCROK has released there in the past and will continue to do so in the near future.
How much new music are we talking here? One, if not two EPs this year in addition to a bunch of dank collabs with Boogie T, STRIX, Tyro, Lord Swan3x, Calvin Hobbes, and more.
BOARCROK just recently announced joining the Gravedancer Agency team which represents other big names in Dubstep/Riddim like Bandlez, Blunts & Blondes, Bommer, Boogie T, Diselboy, SQUNTO and Subtronics.
Hopefully, this means we'll be seeing him at more festivals and shows across the country real soon. According to the man himself, he's got big things coming in 2018.
"I wish I could spare more details but in all I have, I have got a lot to be thankful for. I'm excited to announce some awesome news soon!"
I think the future for BOARCROK is holding some pretty dope things. Keep an eye on his come up y'all, I think it'll be one for the books.