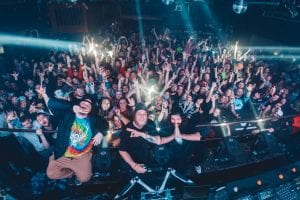 Dubstep had it coming… and there are a few cities who have already got it.
Boogie T (Brock Thornton) and SQUNTO pronounced skwun-toe (Eric Roth) announced their first co-headlining tour "Boogie T and SQUNTO Strike Back" a couple months ago and the madness just began last Thursday. A spoof of an infamous Jay and Silent Bob film, this duo was about to embark on "not a show, not a concert, definitely not a rave. A fucken dubstep function" across the country.
Honestly, I was a little hesitant at first to go to this show since I plan to see them both at Electric Forest this summer. But after realizing that this tour is probably going to be nothing like their performances in the forest, I snagged my ticket to the second stop of the tour in Columbus. Seriously, best decision I've made so far in 2018. I could give you a billion reasons why y'all need to get to this tour, but I figured I'd boil it down to 8….
1. First and foremost, these dudes are cool ass humans.
I've been following Boogie T and SQUNTO for awhile now and I can honestly say they are two of my favorite DJs in the game. These two never fail to put a smile on my face as I watched their antics together throughout Snails' Shell Tour and their banter back and forth on Twitter. Not to mention the fact that they're both dynamite DJs and I've been bangin' Soul'd Out and Megachop Volume I and II for months now. You ever meet someone whose mere existence makes you happy? That's Brock and Eric to me.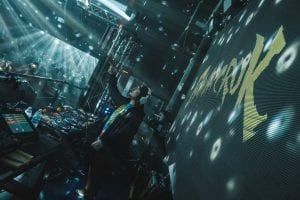 2. Boarcrok is a hidden gem.
After another opener, Connor Canterbury, better known as Boarcrok, took center stage. When it comes to most supporting acts at shows (that I'm not too familiar with), I'm usually underwhelmed… not with this dude. His whole set was fire yo, mixin' up some of the nastiest riddim infused drops I've heard in a minute. He also previewed several new tracks he's got comin' up solo and with Boogie. Needless to say, I'm following his shit closely now and I would highly recommend y'all do the same.
https://www.facebook.com/boogietmusic/videos/2116501805043187/
3. Boogie T is probably one of the most theatrical performers ever.
I saw Brock at the Cleveland stop of the Shell Tour and his performance was perfect; I couldn't wait to see what he had in store for his own tour. He opened with Raven Master as he lip-synched and vivaciously bounced around to each part of the song. The lyrics showed up on the screen behind him it was like some awesome Boogie T riddim remixed version of the old school bouncing ball follow along shit we all watched as kids. The dope part about any Boogie T set is that he displays that kind of eccentric enthusiasm throughout his entire time on stage. I get even more hyped watching how hype he gets. Not to mention the fact that he plays ALL of his bangers.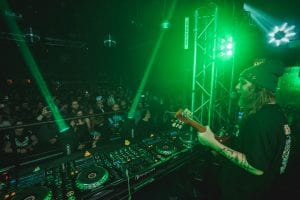 4. Brock brings his guitar with him and it's fucking magical.
As entertaining as it is to watch Boogie T mix up his funky riddim beats on stage, it's even better when he brings out his guitar. **fans self with hand** Look, I don't usually fangirl too hard about anything but the second this dude gets that guitar in his hands I just fucking melt. He sang and played Flava (with a guitar solo thrown in), his new collab with Ganja White Night and his remix of GRiZ's "Can't Hold Me Down." I mentioned this in a previous article but I'll say it again… Brock Thornton is an all-around talent: he's an incredible DJ, singer, instrumentalist and overall entertainer. If you haven't by now, hop on the Boogie Train it's gonna be one wild ride this year.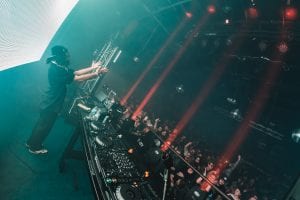 5. Chopcam 2.0: You can actually see SQUNTO MegaChop live.
Instead of trying to describe to you what MegaChop is, I figured I would leave that to SQUNTO himself. When he released MegaChop Volume 1 back in 2016 he explained the style like this:
"MegaChop is the cutting edge of Bass Music Playback Technology. Utilizing the power of Ableton Live, The MegaChop enables seamless 8 deck mixing – Allowing for completely unprecedented multi-drop & chop routine possibilities. Anything goes, and the goal is complete dance floor destruction."
The keywords from last night in that are "dance floor destruction." SQUNTO annihilated Skullys in Columbus. His visuals switched back and forth from trippy illustrations and video clips to shots on him actually chopping it up live. It's amazing to see how quickly he's able to mix and drop it. It gives the visuals so much depth. Speaking of that…
The new visuals.

Posted by SQUNTO on Friday, January 26, 2018
6. The stage production SQUNTO has been pouring all of his energy into, speaks for itself.
I have seen a lot of tweets and posts from Eric talking about how much time and effort he's put into the production. A week or so ago, SQUNTO posted:
"…Every single piece of lighting and video information is hand sequenced by myself. This means every single light will hit perfectly to every song, every single video sequence is 100% tight and to the beat and that the entire experience is exactly my vision."
I can tell you from seeing it first hand, SQUNTO's "vision" is unlike anything I've ever seen before. I'm not just saying that either, I seriously can't compare it to anything else. It's in a category of its own. There was a lot of hype leading up to actually seeing it in person and hot damn it didn't disappoint.
I was super close to the front of the stage for the beginning of the set and felt like I needed to back up to get the full experience of his project. Super glad I did this because I got to experience the best of both worlds. I'm watching the videos I took of the show as I'm writing this and I just keep hearing people around me yell, "what the fuckkkkkkk" every other drop. Yep, accurate way to describe my feelings too.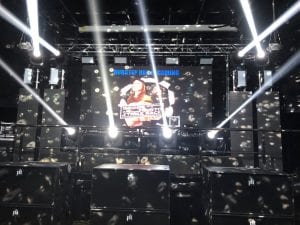 7. The PK sound they're packing is unreal
So the way this show was set up was the stage, rail, then the speakers in front of it. I spent a lot of my time close to this general area, at one point literally holding onto the speakers and using it as a rail. I was sharing the one particular speaker with two other fellow headbangers and there was one drop during the B3B that literally vibrated all three of us back off the speaker. We all immediately looked at each other and just started laughing and yelling. The dude next to me looked like his brain was gonna explode right out of his head it blew his mind so hard. It was like that though throughout the entire show. The sound was flawless.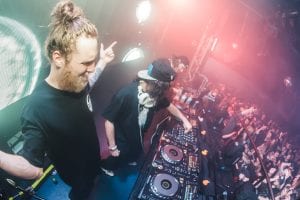 8. They close up with a B2B2B that will psych you out and blow your mind.
Basically, combine most of everything I just said into one set and the product is a B3B as they called it with Boarcrok, Boogie T and SQUNTO. Seeing these three work together was such an awesome experience. Not just because their set was a dope mix of their spin on some of some dubstep classics, but because I had so much fun watching them have so much fun. These three are not just amazing talents, they're impressive entertainers too.
I'm not spoiling any specifics for you guys because I'm not playing when I tell you that you need to get to this show. I drove almost three hours to get to it and I'll tell you it's definitely worth the drive if you have to make one. Get your tickets today and see them "strike back" for yourself.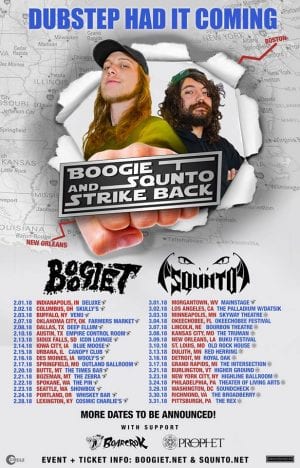 Feature photo by Ching Chen