by Grant Manley, Staff Writer
Fabian Bohn of the Netherlands, known by the stage name Brennan Heart, started his career as a duo with DJ Thera in 2002 then called Brennan & Heart. He began his early years experimenting in Techno, Hardtrance, and Techtrance before focusing all his efforts on creating his Hardstyle sound. After parting ways in 2005 with DJ Thera, Bohn went on to satisfy Hardstyler's with over 100 releases,  2 albums and numerous Festival Anthems.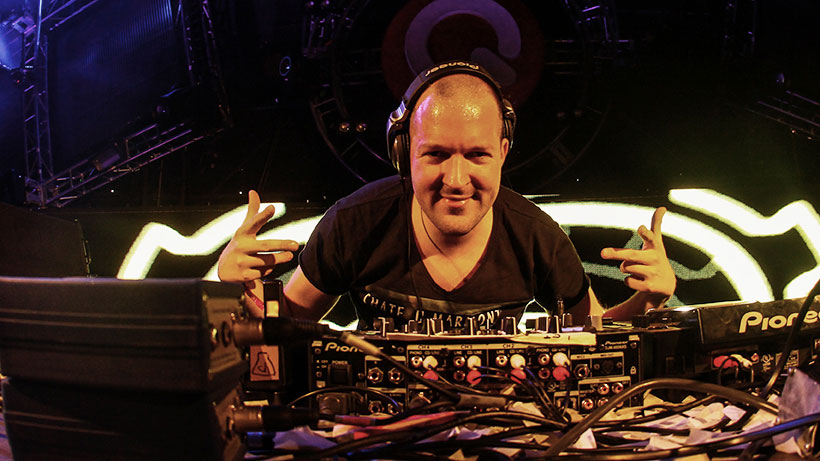 Brennan Heart has crushed main stages across the world, including appearances at Tomorrowland, Qlimax, Defqon. 1, Mysterland, Electric Daisy Carnival Las Vegas, and two you may not have heard of, Hard Bass in the Netherlands, and Decibel in Seattle, WA. He went on to produce the Festival Anthem's for Defqon. 1 2007 'Get Wasted,' and Qlimax 2010 writing 'Alternate Reality,' which featured a live symphonic orchestra.
Bohn has since been producing and DJing non-stop for the last several years. 2009 brought the release of his first album Musical Impressions. Staying busy he released another album the following year titled M!D!FILEZ. In 2011 fans voted Brennan Heart into the DJ Mag Top 100 list, breaking 98th on the charts, and then jumping all the way to 49th the next year.
As most legendary producers do, in 2012 Fabian started his own label called "Brennan Heart Music" (Since changed to "We R Records"). His first release on the label was a collaboration with Wildstylez titled 'Lose my Mind.' The following year fans voted Bohn's 'Imaginary' feat. Jonathan Mendelsohn as the Q-Dance #1 Hardstyle track of 2013.
Never skipping a beat, Bohn released the first ever lengthy Hardstyle documentary titled 'Evolution of Style – a journey with Brennan Heart.' The film takes a personal look into Fabian's life by following him all over the world with camera's for 18 months, telling his story based on true passion. With more music to give than he probably has time, Heart began a monthly podcast on Slam FM called 'We Are Hardstyle,' featuring up & coming producers along with today's new EDM hits.
We highly anticipate this seasoned Hardstyler's return to the U.S. at The Sound of Q-Dance Los Angeles, alongside amazing talent such as Frontliner, The Prophet, Lady Faith (a Southern California local), Sylence, Mr. Skeleton, and MC Villain this event is not to be missed! Be sure to stop by Brennan Heart's SoundCloud before the show, the amount of full sets and songs featured is quite impressive.
We recently spoke with Brennan Heart, and you can check out the interview below!
Brennan Heart Interview
What have you been up to Fabian? How's 2014 treating you so far?
I'm fine! Still a bit recovering from a big highlight in my career: the XQ show in Amsterdam. It's always good to celebrate and enjoy these unique moments, but my schedule is quite intense in the next months. So I'm careful to live healthy and stay focused in the studio and on-stage.
Anything you're looking forward to in the future?
I'm absolutely thrilled to return to the US in March. It's my favorite country and I always get inspired, when visiting New York, Los Angeles and other beautiful cities. The vibe is quite different from Europe, and the fans are really committed to our music.
Can your fans expect an album from you in the near future?
Well, I just released an album the other day! 'Evolution of Style' is quite a special album, as it consists of a 3-disc package: CD, DVD and blu ray. People might have seen my documentary on YouTube, but it's very impressive to see these images on high quality. And there's lot of new music in my documentary, so please check the album!
Where do you get your inspiration for your tracks?
Inspiration is a magical and intangible phenomenon. Sometimes you have loads of ideas, that it's hard to capture them all…other days, you're only staring at your screen in the studio. I often go out for a walk along the canal, which enables me to get peace of mind. In general, music from other artists and genres really generate new ideas for my own tracks.
From all the hard dance events in the world, If you would have to pick one which would it be and why?
My XQ in Amsterdam, just a few weeks ago. Going back in time, with old tracks, classics and good friends behind the desks. Looking forward in time, with new music, fresh tracks and many talented DJ's. Such a dedicated crowd that created a tremendous energy for hours. That's how it was meant to be!
During your spare time what do you love to do?
Watching Southpark, over and over again!
What are some differences you see from the European crowd and the American crowd?
The fanbase in the US is growing quite rapidly. When I first came here, our music was new and unknown to people. It's very important to tour here, play on festivals and have a more constant flow of hardstyle events.  Fans in Europe are quiet 'pampered' with many events with great line ups, but I hope we can also serve the US-fans more often.
Which artist(s) would like to collaborate in the future?
I already did some great and interesting collabs, and there are more to come. Lately I've been more into remixing, so be prepared for some fresh tracks during my shows.
Can you describe your experience of your own X-Qlusive?
It was an amazing experience, an absolute highlight and landmark in my career.  It's a big honor to host your own event and create your own line up. Please check the great aftermovie and you'll sure pick up the unique vibe.
Other than hard dance music, what do you love to listen to?
I'm a melody man. I listen to classic music, to pop music and my managers have a background in rock music…J I've a wide scope, and I can get really triggered by great vocals..goose bumps all over.
Any chance we can expect a world tour from you?
Take a look at my schedule; I'm collecting airmiles like crazy. My actual tour is called 'Evolution of Style Continues Tour' and I'm visiting many countries around the globe.
What inspired you do to 'Evolution of Style' documentary?
I realized that I'm living a dream, and I wanted to share it with people that enable and contribute to this dream.  I'm really blessed with all the great reactions I got, sometimes really personal and intimate. It's beyond music, and I hope it inspired people to chase their dreams.
Win tickets to THE SOUND OF Q-DANCE on March 8th in Los Angeles!
-THIS CONTEST HAS ENDED- Congratulations Alexis Blackman!
1) Go to this Facebook post
2) LIKE/SHARE the the post (more shares = increase your chances of winning)
3) TAG 5 friends in the comments, AND type the ANSWER to this question "What TV Show did Brennan Heart mention in his interview?" Winners will be announced next week. Good luck!