Since dance music first boomed through dark warehouses under the cover of night, the dancefloor has been a sacred place for people to feel safe and free from the world's troubles.
The rave community is filled with people who take active measures to look out for one another and ensure the sanctity of the dance floor remains intact for everyone who shares the values of the community.
All that said, while most people come to concerts and festivals to find a safe haven, individuals with corrupt or careless mindsets unfortunately can infiltrate these spaces. 
That's why Washington state-based promoter Fire At Will Media and UK Drum and Bass artists Calyx and Teebee are going the extra mile in ensuring people stay safe at their events.
Earlier this month, the DNB duo headlined a fundraiser event marking the launch of Fire At Will Media's new promoter charity, SPOKE, (Spokane Promoter Outreach and Kommunity Engagement) in the city of Spokane.
The charity's mission is to lead harm reduction efforts for the local community by providing free testing strips for beverages at all their events. It's a modest event, but their efforts are modeling an important standard for the dance music community at large. 
Tucked away behind a sliding door next to the stage, Calyx, a.k.a. Larry Cons, and Teebee, a.k.a. Torgeir Byrknes, greet Fire At Will Media founder Steve Otten and an entourage of fans upon entering a snuggly packed green room inside the Red Room Lounge in Spokane.
Amidst handshakes, hugs, toasts, and the booming bass rattling through the green room doors, the three men share the story of how they're working together to promote harm reduction through their roles as artists and promoters, and what inspired them to start.
As the Me Too Movement and harm reduction advocates started demanding accountability for abusive behavior and exploitation of women in the arts and beyond, the dance music industry has also been called upon to take action.
Many people on all levels of the scene want to see promoters and artists involved in social justice and harm reduction efforts, and Otten, Cons and Byrknes stand out as industry personalities who are in fact stepping up to the plate. 
"I'm so happy we made this happen!" Otten cheers as he takes a seat next to Byrknes and Cons. Otten goes on to explain that this alone represents a big success for Fire At Will Media, but above all else, helping the dance community is the real success:
"We want to make sure we're taking care of the community. There's been a few instances of people getting dosed here in Spokane, and we've heard of a few horror stories in bigger cities. It's a big problem, and we just want to set an example that any promoter in America could follow."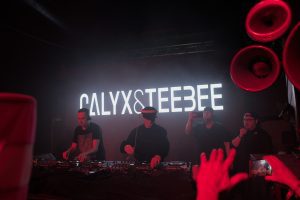 As artists, Cons and Byrknes lead by example. Leaning forward on the leather couch, Byrknes expresses that artists have a unique position in shaping the industry culture:
"I think obviously we have a platform through which we can help promote healthy values, and speaking out about issues surrounding club culture and especially the safety of women is something that needs to be highlighted. It's a shame that it has to be the case in the first place, but that's the society we live in. So, let's make the most out of it. If we can do that and be a part of that, then we're all for it."
Being outspoken is an important step in addressing these problems. Giving people the means to protect themselves comes next.
That's why many leaders in the dance music scene began providing accessible substance testing resources as a simple but powerful harm reduction tool. Cons points out the impact these projects have within the community:
"It's been starting to happen a lot in the UK and a few other European countries. We've been a realizing that, well besides the fact that war against drugs is never gonna win, at least we're trying to make moves to make people safer." 
Other communities can also provide guidance. Otten credits the City of West Hollywood for inspiring him to start a beverage testing strip distribution project in Spokane. In fact, one of his goals is to model the city's strategy in his own organization:
"They do something like this for all of their bars in town where they will hand out test strips to any citizen. They have 'peace agents', that hand them out, and we want to do something similar here. We're just one organization, not a city. But still, we want to have a guarantee that there'll be drink test strips at every one of our shows, every venue we work at, any venue that wants to join us, and that's something we're working on."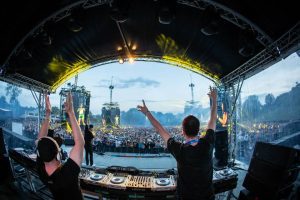 Otten's vision also includes collaborating with Cons and Byrknes long after they step off the Red Room stage. He wants to give the duo the ability to provide free testing strips at all their US events:
"We are working on making sure that's the case any time Calyx and Teebee come to the US. We all work within similar agencies, so all they have to do is let me know when they're coming stateside, what the first place they're going to is, how many shows they've got, how big the venues are and we'll make sure they're ready."
Otten dives into the ins and outs of sourcing, business, and logistics while Byrknes and Cons get ready for their set. As they prepare, Byrknes offers his own angle on the project's future by simply adding " If we have a choice, we'd have this at every gig we go to." 
Images by Calyx and Teebee, Fire at Will Media and Axel Pics Photography