Groove Cruise. Where do I begin!? If you've been on this wondrous floating adult playground before then you understand that question. If you're reading this as a potential new captain, or purchased your ticket already and about to sail the seas of pure paradise for the first time I have advice for you. When you come back you classify people as one of two things: Groove Cruise Virgin or Veteran.  Know now that no matter what amount of partying you think you've done in your life or festivals you've gone to, this coming from a self-proclaimed professional who has attended over 35 music festivals in the last 3 years alone, you're most likely not prepared for about 96 hours of what awaits.
You'll notice as I write about this experience that I say "we" and "us" (ship members) instead of "they" (party organizers) because we're all in it together. It's just something that happens after you come back, you spend the next months and years of your life with them.
#1 Could you handle 8 consecutive days of EDC or your favorite festival back to back?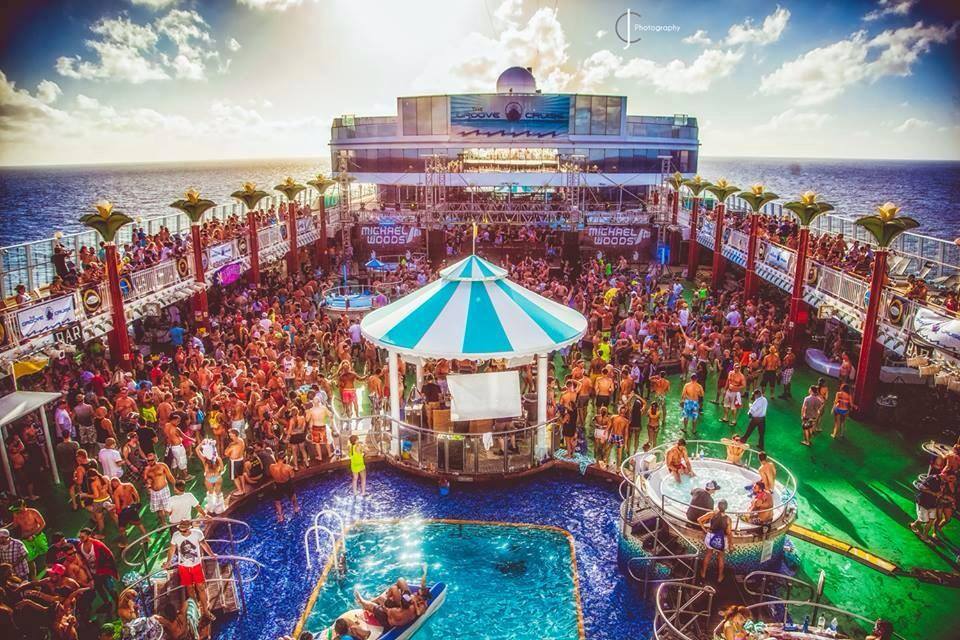 You're on a floating dance party in the middle of the ocean where there are no sound limitations, curfews, city ordinances, etc. That means 24-hour-a-day music. Literally it doesn't stop. I remember pulling into port in Ensenada around 7am as the sun was coming up, next to another cruise ship already docked the night before. An amazing deep house/tech house set which was being hosted on the Fortune 421 open-air stage on the back of the boat blasted as windows opened and heads popped out to see what was going on. They all wished they were on our boat. To fully put that into perspective picture Tomorrow World, EDC or your favorite music festival in your head right now. They are 3 days long for +/- 12 hours at a time, which makes Groove Cruise equivalent to 8 consecutive days of EDC or similar. I'll let you go get paper towels to clean up your mind that's just been blown to pieces.
#2 No strollers or walkers.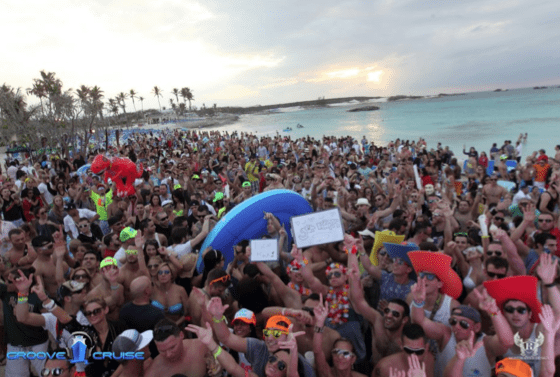 The entire ship is chartered. We're not sharing or caring with grandma or children. That means a couple thousand like-minded 21+ year old shenanigan loving dance freaks all put in a confined tropical environment usually not wearing more than a swimsuit, sunglasses, and a smile.
#3 21+ means we know what's up. So, what do you do??? 
21+ means you have people that know what they're doing, know what NOT to do, know what not to do and how to get away with it, and know how to maintain a 96 hour 4 day party because they've done it before. I have nicknamed these people as the "professional partiers."  Whether you're just graduating college and still in party mode or disguised in a suit and tie or dress and heels by day, the daytime and corporate costumes fly off in record time. We all pretend to have it together in the outside world but purposely left our minds at home. In fact, don't be offended if you meet people that don't instantly add you on Facebook or tell you what they really do. It's for a good reason. If you meet a "Chaz" it may or may not be me. It's amazing to come back to your mind that you left at home only to have it blown again a month later when you find in a secret Facebook group, that you did a round of shots with a kindergarten teacher, a doctor, a congressman, a professional athlete, a feature film movie star, a CEO, a porn star, and a random person in a monkey suit that no one knew, who paid the bill. You're all on the same playing field. Just go with it.
#4 You might get whiplash if you turn your head too fast.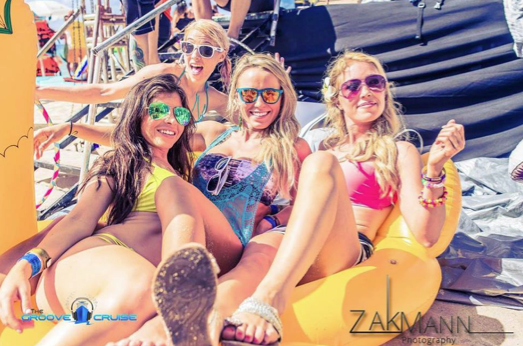 I remember asking myself if everyone on board passes an "attractive" test before getting on, and at one point questioning whether or not I was in a social experiment or being filmed.
#5 Was that DJ…?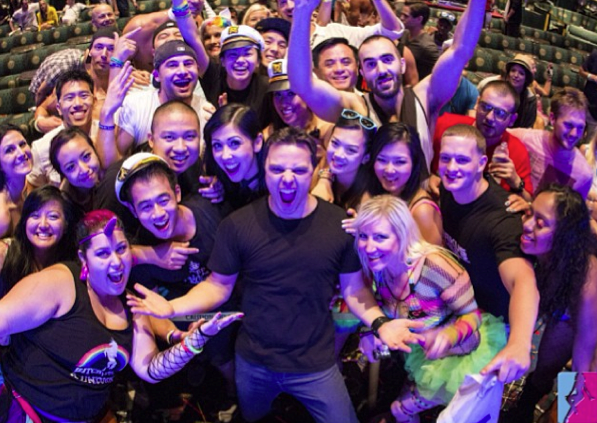 DJ's have to eat too. They're on the ship just like you, they can't go anywhere! Not uncommon on the first day to take pictures with your favorite DJ walking around, and by day 3 pass them in the hall with a head nod of mutual acknowledgment and no words, because you're both in awe, speechless and too tired from whatever adventure you're coming from to get your phone out for a selfie. You both have a 1 in 3 chance of knowing what just happened anyways. Wipe that smirk off your face you're too obvious.
#6 I will NOT miss the boat, I will NOT miss the boat….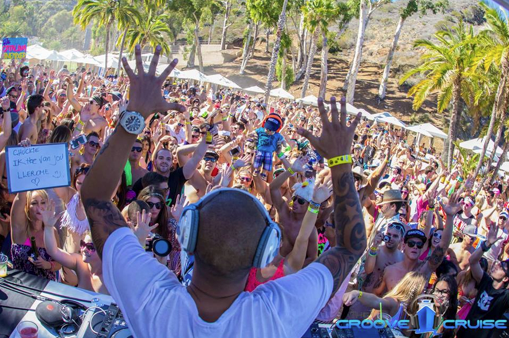 There are two stops (from the Los Angeles departure city). First stop, Catalina Island where you take small boat shuttle to a private beach party (2013 DJ Chuckie), and then on to Ensenada Mexico where you take provided busses to a private venue to hear another amazing DJ (2013 Morgan Page at Papas and Beer). A private beach party surrounded by sailboats and yachts is everything you thought it could be.  You can opt out to tour the city while you're there, just don't get arrested and don't miss getting back on the boat! Ah, Mexico, so many stories you can't talk about ever again.
#7 Eat like a King, or a 5 year old.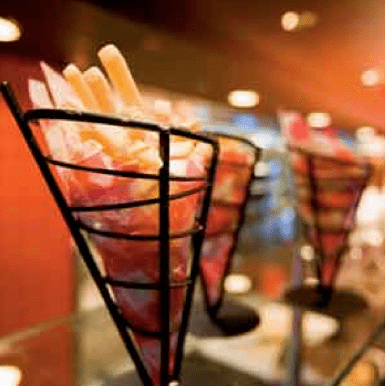 All-inclusive ice-cream cones. I had at least 30. By ice-cream I mean all you can eat all inclusive buffets and fine dining gourmet food including lobster, chicken tenders and everything in-between at multiple locations on board.  Food (certain areas) is also available 24 hours.  No one told me this until the second day, I was so happy I had another ice cream cone and then lobster. And then ice cream again. I'll do abs I promise. Don't judge me.
#8 Wear something you wouldn't normally wear. No one cares anyways.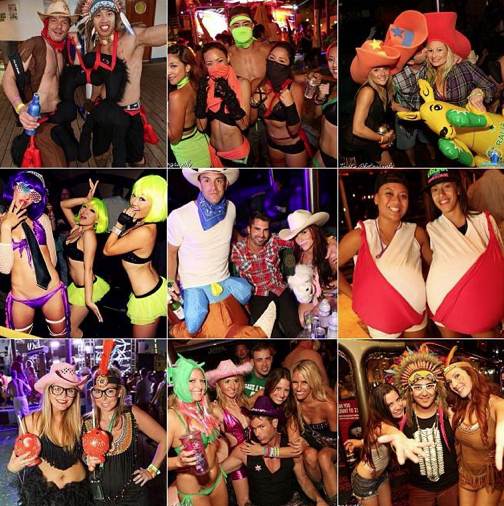 There are themed days, nights and events. Everyone comes prepared. I've never seen so many people participate, or at least wear anything but "normal person" attire. If it says to dress like a pirate, people dress like a pirate and fist pump with a plastic sword.  Bring your shiny gold tights, bring the clown wig, bring your tutu, and just bring as much random stuff as you can because you'll use it. At The same time you'll probably come back with half of what you packed. I lost 3 captains hats, well, 2, I traded 1 for a shot and a questionable picture, at least 3 shirts, a pair of sandals overboard, sunglasses in Mexico, ALL the inflatable animals, and a pair of shorts on a dare, but came back with my dignity and a sombrero. I just lied about the dignity.
#9 What's my room number again? What's your room number? You don't know either?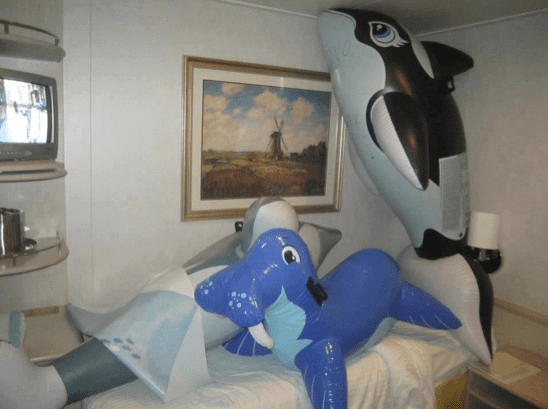 If I had to guess, I MAYBE, stretching the truth and rounding up, spent 6-8 hours in my room, total, mainly to change costumes or get new sandals. I might have spent another 3-4 in other peoples' rooms, 2 of which were spent blowing up inflatable animals. The moral of this story, you won't be in your room much. The other moral, bring inflatable animals. They're just fun.
#10 The ship is both super small yet huge at the same time.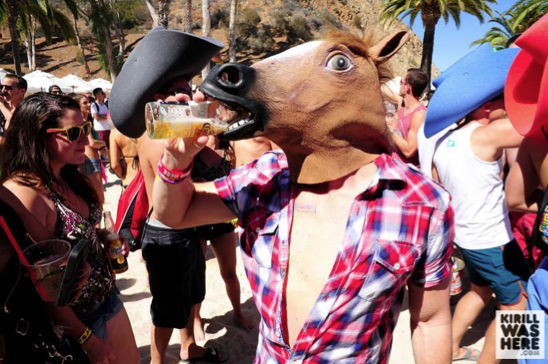 You're going to be separated from your group. If you're coming alone or only with one other person I salute you. There's no cell reception miles and miles in the middle of international waters, so you're almost forced to meet new people. It's actually quite an awesome concept and how I met quite a few of my now "festie-besties." These are the people you want in your wedding later so keep in touch for the best bachelor/bachelorette party of your life. Have a general idea of what places on the boat to meet and where. If they don't show up at least know they're having the time of their life, but some people bring a white board for the outside of their room or leave notes to come back to. I have gone with friends that I didn't see until the last night.
#11 This experience will be anything but normal.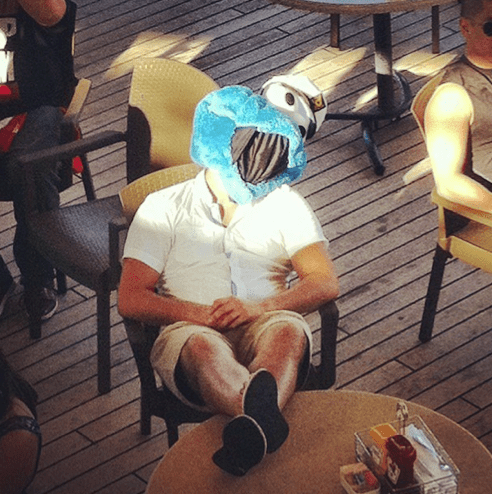 I would strongly suggest taking Tuesday off as well so you don't have to feel bad about the calling in sick conversation you're going to have to have with your boss anyways. Blame it on the water in Mexico (we know that was really tequila the whole time). You can power through it but you're going to be useless, it's up to you. The transition time back to your day-to-day will be much longer than normal festivals. What you went through is not normal.
You'll need to decompress, but you'll have plenty to pictures to tag or un-tag yourself from for months to come and people to reminisce with to plan your next one. Now that we scratched the surface, I'm going to leave the rest up to you. You should see an overall theme of what you're getting into, but like I said, you'll never be fully prepared. For more details, or help booking a cabin contact us here at EDM Maniac, The Groove Cruise, or to really see what I mean click THE GROOVE CRUISE PHOTOS to see more of the madness.
SAVE ON CABINS WITH THE CODE EDMMANIAC AT WWW.THEGROOVECRUISE.COM
See you on board!
-Brett