In case you haven't noticed, numerous DJ's have come under fire on social media recently. Everyone from Steve Aoki, David Guetta and Avicii have been targeted for destroying the electronic dance culture and scene. Of course, the outspoken and talented Deadmau5 had to join the drama. But first, let's set the stage.
Noel Gallagher, former member of the band Oasis recently played a festival just one day after Avicii. Gallagher wasn't too impressed with his music and was quoted as saying, "I don't know anything about Avicii. I don't wish to know anything about Avicii. It sounds like a fucking artist from the Renaissance period. Is it like that David Guetta nonsense? He also insinuated that Avicii just presses play when he performs at festivals.
Avicii fired back of course. He took to Instagram with a message to Gallagher. Avicii said it was "sad" that an old time musician wouldn't have an open mind to new music and would dismiss stuff he hasn't heard before. Avicii wished him the best and invited him to preview his album song by song!
This week, Deadmau5 took to Tumblr to talk about the EDM drama and his dislike of DJ's who simply play a CD. The rant on Tumblr is pretty epic. Deadmau5 said he understands the rise to fame for a DJ. It starts with a song made on some software and if successful, can lead to a career full of success. After a rise to fame, a DJ would then show up to a festival and play a CD. This is when Deadmau5 unleashed saying:
"I AM CONFUSED.  are you or are you not a guy who can use a comupter to make music?  because youre making in upwards of 200K to play a fucking CD…. so… wait. why?   With all the resources you have attained in the past X years of getting to where you are now…. WOULD IT FUCKING KILL YOU, to be able to add some sort of modularity, performance, showmanship BEYOND putting a fist in the air, telling people to make noise, and or playing the top line on an invisible keyboard in the air to show the crowd "HEY! EVERYONE!  THIS LEAD GOES HERE! WATCH MY HAND.  IT GOES DOOT DOOT DOOT DOOT."
Deadmau5 went on to say that DJ's who make a lot of money should play live and are beyond a CD player. He said that this was the core of Noel Gallagher's argument.
Deadmau5 wrapped up his rant with this:
"so, please, stop fucking up "EDM" with your fucking bullshit lazy CD playing and get to fucking work like the many others who are… then, the people who do put forth the bits when they can, dont look as fucking stupid as you."
Who do you agree with? What are your thoughts on the current state of "EDM"??
Oh, if you want to read Deadmau5's epic rant – click here: http://deadmau5.tumblr.com
-Jared
Update: it looks like deadmau5 and Avicii have made up, for now.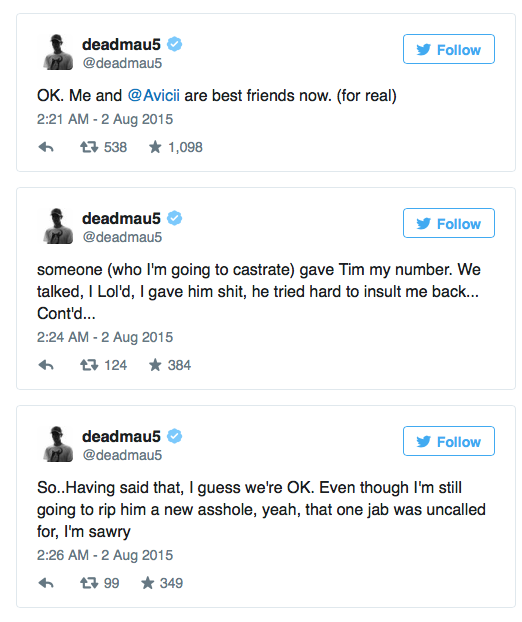 Photo: EDM Tunes