Desert Hearts is original. It's singular. It's unique. Even though two-thirds of its iconic ethos (House. Techno. Love.) are genres of music, it's not a music festival.
The world is full of music festivals of various shapes and sizes. From grand endeavors like Coachella and EDC Vegas to more intimate outings like CRSSD. One could argue that these events are completely different with their own intentions and goals, but having attended all of them myself (along with dozens of others) I can say first hand that the mission behind them is often the same: bring people together to have fun and forget about their troubles for a weekend.
Desert Hearts, on the other hand, brings people together to connect; to become a part of something bigger than themselves. This departure from the norm doesn't make it inherently superior to other festivals. I proudly proclaim that Coachella is my favorite festival, and attending Desert Hearts did not change my opinion on the matter. Instead, it shifted my perspective on what a festival can be. You simply can't walk into Desert Hearts expecting a typical festival, and as such, I can't accurately review it the way I would a typical festival.
Like most festivals, most reviews fall into a pattern. How was the programming? The production? The logistics? Did anything catastrophic happen? The answers to these questions can be found on the surface.
To get an idea of what Desert Hearts is I have to go deeper than that. I have to delve into the dance floor that is the nonstop beating heart of this gathering, and recount three separate moments that defined my experience.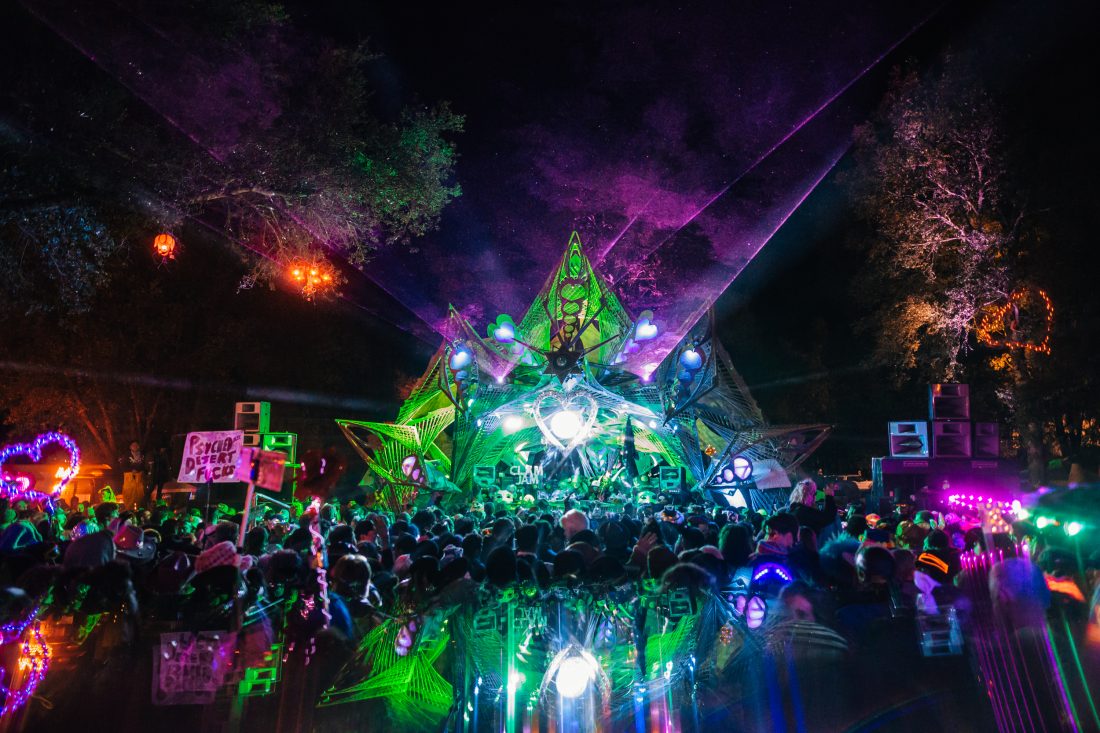 1. Sunrise with Rinzen
Sunrise holds a special place in the heart of this culture. As the day begins anew, many people have yet to shut their eyes, and at Desert Hearts it's when most of those eyes want to be open. I had to experience the dawn at least once while attending Desert Hearts, and when Rinzen was announced to be the first selector to guide us into the morning I knew that was the sunrise for me.
Rinzen, whose real name is Michael Sundius, is a seasoned veteran of the SoCal dance music community; a community of which I have become more and more a part in recent times, and through the Friday afternoon and evening leading up to his sunrise set I was doing exactly what Desert Hearts intended: connecting with people in that community. All throughout the day and night, I was running into people, sharing laughs and ideas and thoughts about where we all were, soundtracked by Justin Campbell, Axel Boman, a surprise set by Justin Martin and more.
It would just so happen that as the solar rays began to reveal themselves and Rinzen took his place behind the decks I ran into Abi Getto on stage flashing a smile that rivaled the rising sun in terms of radiance. Abi was the DJ who played after me at my first ever DJ gig about a year ago, so I was more than happy to run into her, but she is also Rinzen's manager. When I asked her about her thoughts on her client playing sunrise at Desert Hearts it turns out this moment was historic for her and Michael which undoubtedly explained her smile:
"Mike and I became friends at Desert Hearts in 2016, and we first bonded over the Dance Spirit sunrise set – seeing him play his own only 3 years later is indescribable. We started working together a year ago and Mike was the first artist I picked up to manage on my own, so this project is really special to me. It's so exciting to see how things have manifested already and I can't wait to see what's to come."
With that newfound perspective on this set, my level of enjoyment ascended like the tides. I realized this event didn't just breed friendships and happy memories, it fosters lasting connections that grow and evolve before coming back, full-circle, to the place they began.
In that instant I felt compelled to document a segment of the set, filming the first of only three videos I would take throughout the weekend. After posting it to my Instagram story upon my return, none other than Rinzen himself reached out directly to express his gratitude for capturing the moment, and provided his own perspective on the set:
"I couldn't have asked for a better first Desert Hearts performance. It was an immense honor to do the sunrise, and a very emotional moment for me after having attended the festival for so many years."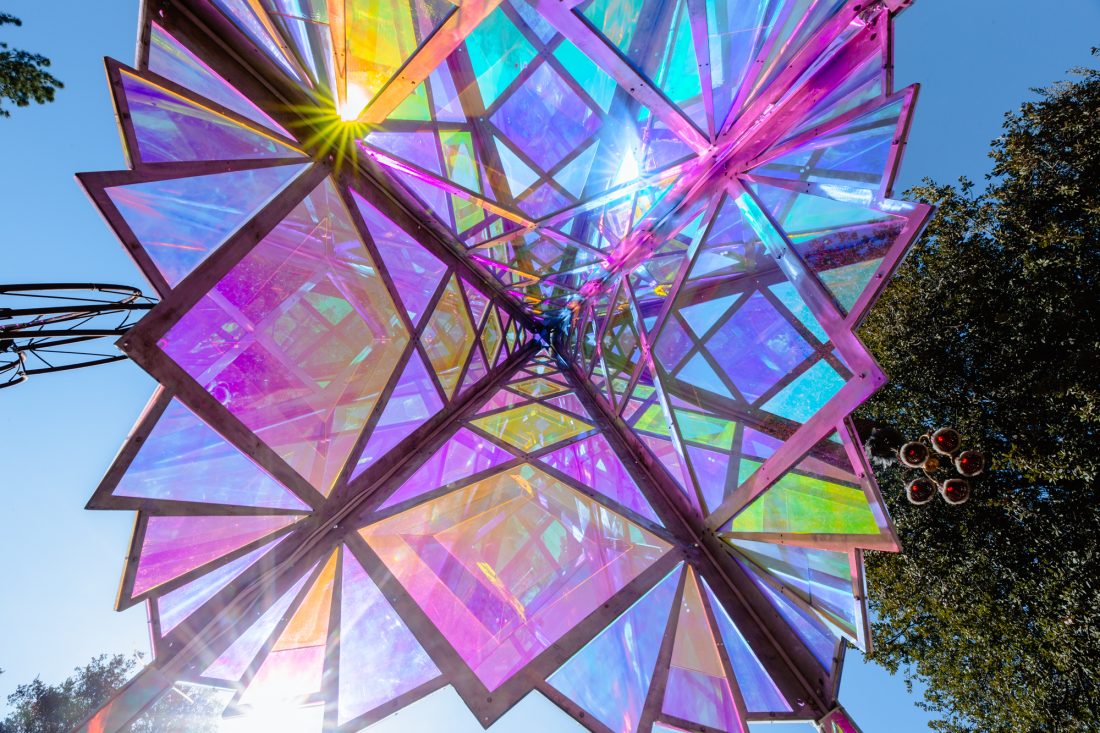 2. Saturday Night With The Crew
It's an undisputed fact that Saturday night features the best set times of a weekend festival. On Friday people are still slowly funneling in, and on Sunday a significant portion of people leave because they have work or other responsibilities to attend to on Monday. Saturday is when the festival is vibrating at the highest frequency, and at Desert Hearts the coveted Saturday night set times always go to the crew (that is Mikey Lion, Porky, Marbs and Lee Reynolds) instead of the international artists like DJ Tennis or Archie Hamilton or the ostensible crowd-draws like Will Clarke.
Being someone who holds music in the highest regard at festivals, the idea behind this decision was unclear to me initially. The festival was certainly not the first time I had witnessed sets from the crew. Before this, I had been to City Hearts in LA and multiple Desert Hearts takeovers at Oregon Eclipse, Lightning in a Bottle, Symbiosis and more, and across all those times I was never thoroughly impressed by any of their sets in terms of sheer musical output. It's not like I was bored or anything like that, but I was never really wowed.
Once I was inside the festival though, and really saw the backseat in which the music was placed (the number of people who said "it's not about the music" or some variation of that was astounding), the intentions of the Desert Hearts crew really clicked for me for the first time. I thought Friday was full of connection, but Saturday took it to another level. On Friday I was connecting with people I had already known whether it was for years or for days. On Saturday I was connecting with complete strangers.
A celebrated sight at Desert Hearts was a robotic Giraffe slowly trudging its way across the reservation. On Saturday through a series of handshakes and hellos, I ended up conversing with the man who designed and controlled this bionic animal, discussing its creation and hearing several stories about it. A few more interactions later, and I found myself sitting with a group of people on the dance floor who I had never met before in my life, and yet we were sharing stories of so many events we had all attended in the past and gushing over events we were excited to attend in the future. I wasn't paying any attention to the music. It was merely a foundation for the vibes that Desert Hearts had worked for years to curate.
A part of me wishes they would have gifted Popof or DJ Dan a slot during this epic hour, but the truth is the crew earned the right to play the best slots at their own festival.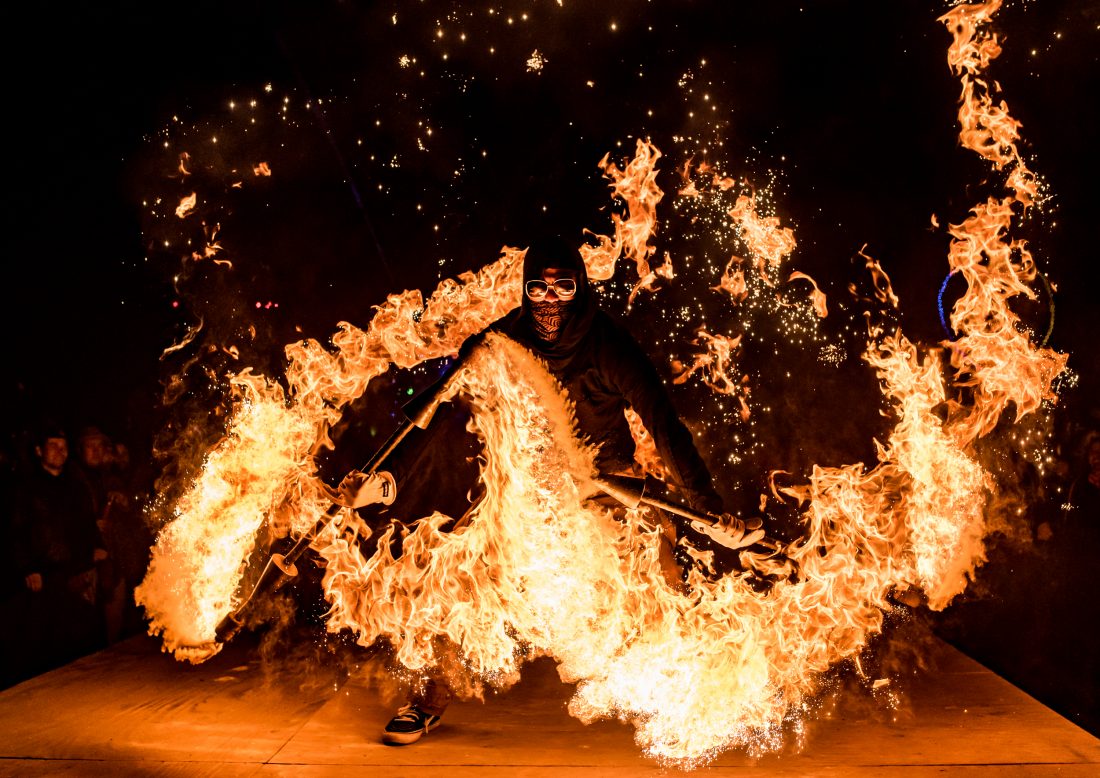 3. On Stage With Lubelski
I have had the pleasure of getting to know Lubelski, real name Jake Lubell, over the past year or so, and I've been thrilled to watch him become more and more a part of Desert Hearts during that time. What I didn't know until a few days before arriving on the reservation though were his thoughts on the festival itself:
"Desert Hearts is the best party on Earth."
Now, anyone who knows anything about DJing knows that how the DJ feels about their environment has a drastic effect on their set. If the DJ is playing what they consider to be the best party on Earth, that level of admiration will be felt by the crowd through the music, and that's exactly what happened during Lubelski's set.
Normally I don't like to be on stage during a DJ's set for more than a few minutes. It's a cool environment with a different energy than the dancefloor, but the real party is in the crowd; especially at Desert Hearts because that's where all the incredible interactions happen. (Sometimes there's a fashion show, too). During this set, however, all the irreplaceable aspects of Desert Hearts were happening on stage simultaneously and there was no way I was leaving.
Everyone I knew (and plenty of people I didn't know) who had love for Jake were on stage as well, celebrating what we all knew was a huge moment for our mutual friend as he gave everything he had to his set. Literally. Every track he played was his own production, and I knew this because his close friend and Percomaniacs labelmate, Wyatt Marshall, would tap me on the shoulder every time Jake played an original which we soon realized was going to be every single track.
"I usually just create a playlist for whatever event I'm playing then wing it when I get on stage. It just happened that about 75 percent of the playlist was original music or edits that I had made, and I ended up playing almost all of them," Jake told me after his set.
One after the other. One-upping himself every time. Original edits of Fleetwood Mac and Franz Ferdinand. His latest single on Gruuv. Closing with the only drum and bass track I heard throughout the entire weekend. Everyone on stage turning to each other, dumbfounded by the talent of our friend, passing around a giant cardboard cutout of his face.
"To get such an overwhelmingly positive reaction from the music that I've put countless hours of work into is so incredibly rewarding. It was just all that much better to have had my friends and family around me on my favorite stage to play."
That stage was a microcosm of House. Techno. Love. throughout those two hours. It was a set that reminds you why these festivals exist in the first place, and why you keep coming back to them. I was not surprised at all that after some humble self-disparaging Jake admitted:
"That was my favorite set I've ever played."
It was certainly my favorite set of the weekend, and everyone with whom I shared that stage has said the exact same thing as well.
Desert Hearts is not a music festival. It's a festival of connections and intentions; where the energy you put in is exactly what you get back. The music is simply an avenue towards those connections. It provides a certain kind of motivation to let go and be yourself, and once you do that, the festival takes care of the rest.
Photos provided by Juliana Bernstein, Jess Bernstein and Jamie Adam Rosenberg