Wow. Wow. Just….wow. This past weekend was absolutely phenomenal out on the Los Coyotes Indian Reservation celebrating Desert Hearts' 10th festival with Desert Hearts Festival 2018. This past weekend refreshed and replenished me in so many ways, I don't even know where to begin.  As the denizens of Desert Hearts decompress from all of the insanity that was just experienced, it's time to reflect on and appreciate the weekend we just had. From the moment I stepped foot on the reservation, I felt an immense amount of love and happiness radiating from the dance floor to the very farthest edges of the reservation. As I drove down the dirt road (at 5mph, so as to not kick up all the dust) I was greeted by the check-in crew, security, and greeters with big, shining smiles on their faces exclaiming, "Happy Desert Hearts!". Their welcoming and warm energy was a precursor for what was about to go down. This was my 2nd Desert Hearts and as magnificent as last year was, this year topped it. An unforgettable weekend filled with love, laughter, dancing, and memories that I will hold on to forever.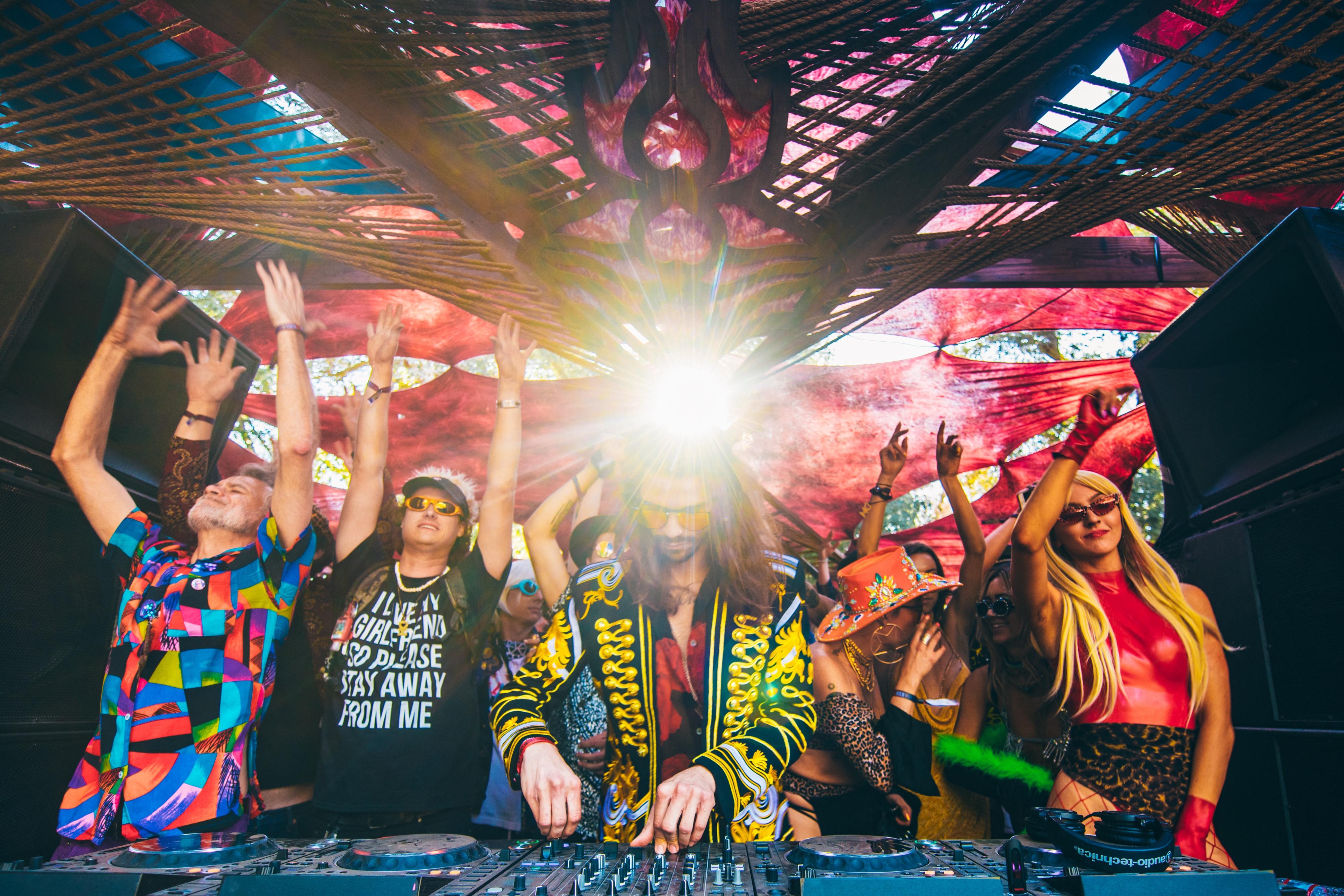 As I unpacked my car and set up my campsite (which was less than a 2 minute walk from the stage and dance floor), I ran into many different friends, new and old, who had also just arrived and were doing the same thing. The excitement began to set in as we put the finishing touches on our campsites and outfits and headed out to the dance floor to begin our 72 hour dancing marathon. We arrived just in time to catch the end of DINK!'s set and watch Lubelski take over the decks. Daytime at Desert Hearts is a special time – the warm, sunny weather brings the freaks out early and allows us to catch every glimpse of the beauty that surrounds us. Justin Campbell was next up, and he delivered the perfect vibes to keep us grooving, per usual. Atish took us into the sunset and as the setting changed from day to night (a truly spectacular thing to watch at Desert Hearts), the lights turned on and the freaks came out decked head to toe in their finest nighttime garb. After Atish was Matt Tolfrey – he kept us on a solid groove until Kenny Glasgow at 10:30 pm, who blew everyone away with his own special brand of techno. It was my first time seeing Kenny Glasgow since he left Art Department back in 2015, so excited was an understatement.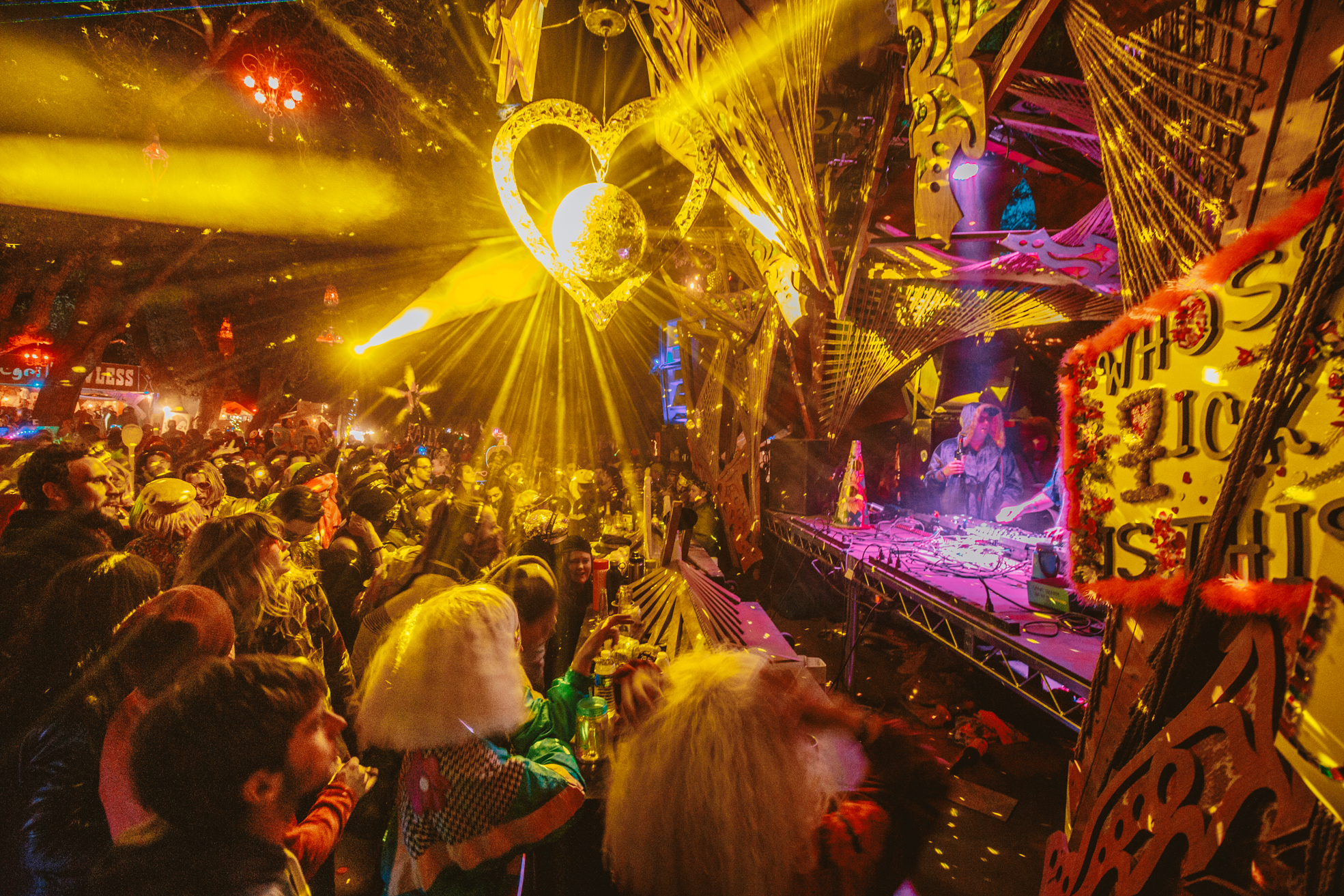 Sacha Robotti kept the party going when he took over a quarter past midnight, successfully transitioning us into the late night hours of Desert Hearts. Shaded took us on a journey with his live set and delivered a healthy dose of some original techno before I decided it was time to call it a night. As hard as I tried to stay awake, I knew I would want to stay up even later the next night, so I reluctantly hit the hay around 3 am to get some shut-eye. One of the best things about our camp (and about Desert Hearts) is the fact that we camped within such a short vicinity of the stage that even in bed I could hear everything….I fell asleep with my head bobbing and a smile on my face. I tried my best to make it til Andreas Hennenberg (who was supposed to play last year as the other ½ of The Glitz, but was not able to make it), but passed out before he went on. From what I heard, his set was out of this world and was well worth the wait. I woke up sometime in the early hours of the morning to use the bathroom and I heard who I knew was Tara Brooks ripping it. I contemplated stumbling over there half-asleep to have her revive me, but my zombie body decided to return to my tent to catch some more zzz's.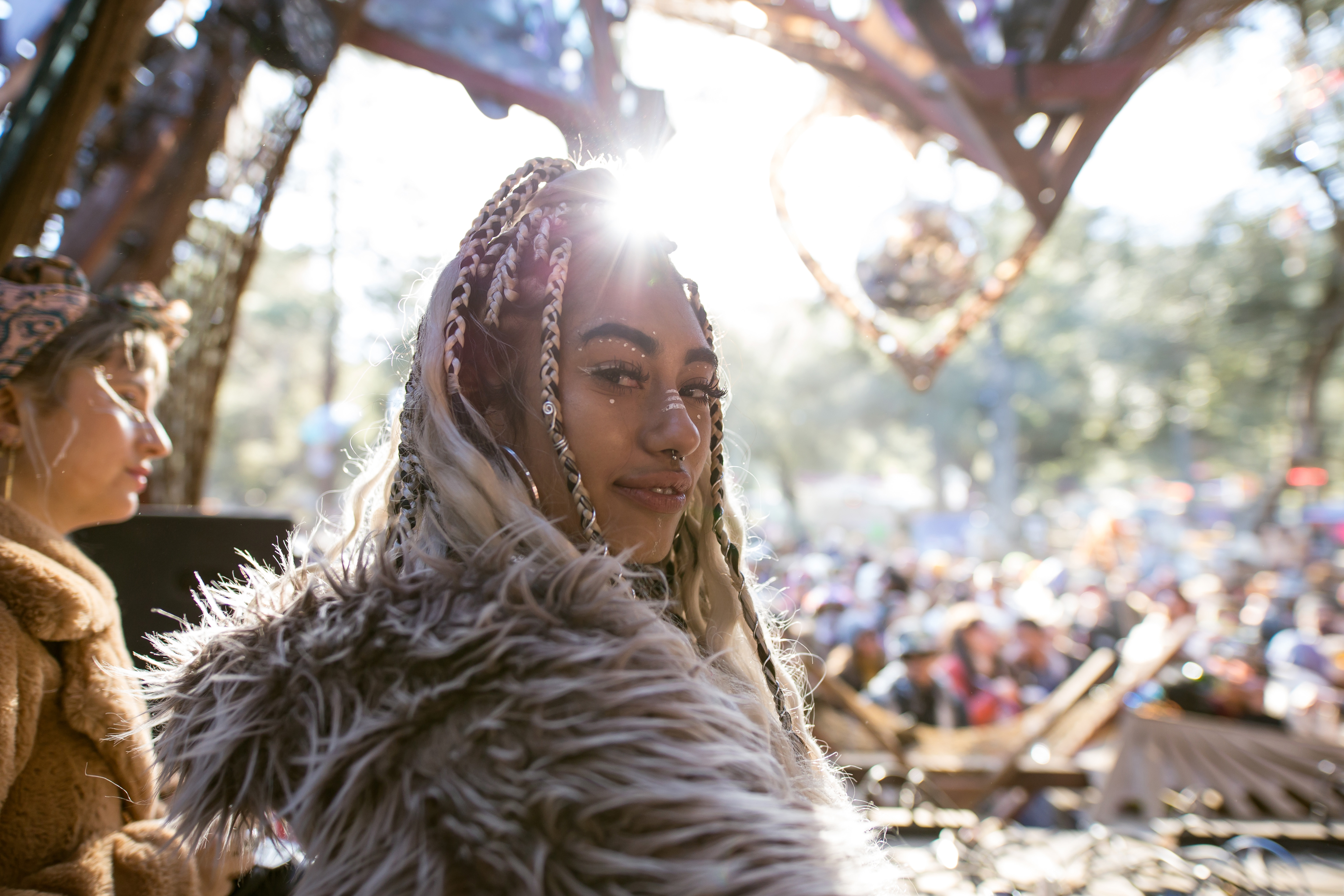 I woke up energized and ready to go Saturday morning. After throwing some glitter and face jewels onto myself and dressing in my finest afternoon regalia, I headed out with my friends to rejoin the pulsing dance floor. We got there at noon to experience Egyptian Lover live, and he did not disappoint. His style is akin to 90s break-beat and he brought a fresh energy and sound to the Desert Hearts stage. The man was mixing live, on vinyl, while free-styling over the beat, sampling the crowd's chant, and incorporating said sample into the track….all at the same time. For anyone else who was there…..you know how incredible it was when he got the crowd to chant "8-0-MOTHAFUCKIN' 8", sampled it, and looped it into his set. After that, I took some time to visit a friend's manifestation workshop in the healing village and came away with some very important knowledge to apply back in the default world. After that, I headed back to camp to nourish myself before we hit the dance floor for another marathon of moving and grooving. While I was at camp, I heard the loudest sonic boom I'd ever heard and thought that we were about to be hit by missiles, but I looked up and realized it was just a jet breaking the sound barrier right above the reservation – super casual. I could only imagine how everyone on the dance floor reacted! Doc Martin was on when we got back and got us hyped up and thirsty for more. Desert Hearts head honcho Mikey Lion took over after, and he kept the vibes flowing straight into the sunset with his eclectic taste in house music. wAFF was on after, and he turned that stage all the way up for those night time vibes. Then it was Porkchop's turn, who kept the party bumping until Lee Reynolds, the pro BMX rider whose slightly darker vibe entranced the entire crowd. Following him was Marbs, who took it an entire level darker with his set.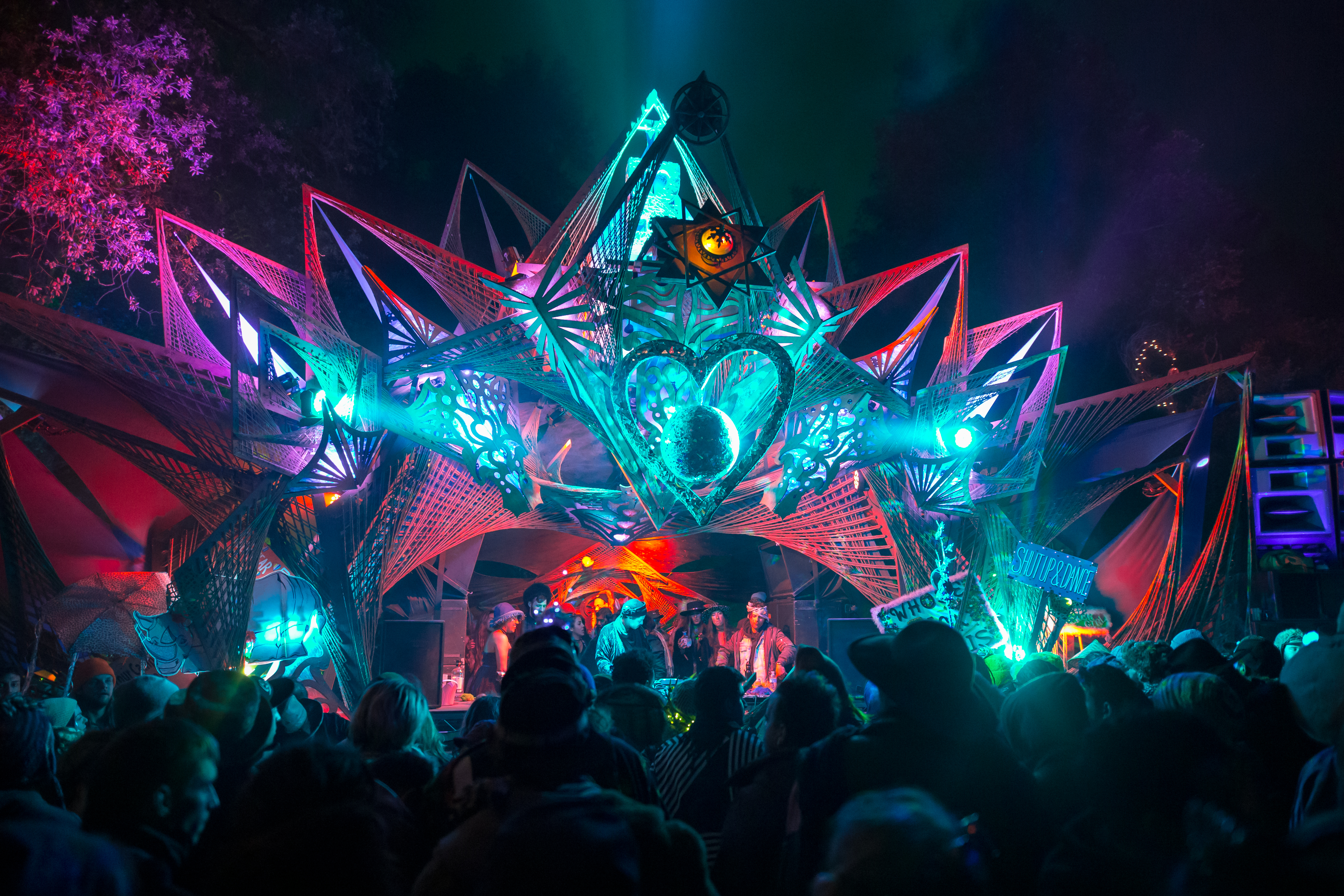 At 4 am, the desert wizard himself Damian Lazarus took the stage to bring us into the sunrise and beyond with his 4 hour set. What a magical set that was, surrounded by hundreds of friends-turned-family. We laughed, danced together, embraced each other, and soaked in every last moment of that beautiful experience together. At one point, Damian played this gorgeous remix of Enjoy the Silence by Depeche Mode, one I had never heard before, while the sun was breaking over the horizon. It was a moment I will never forget, and the emotions in the air were palpable. It was like everyone felt the same thing, all at once – a true feeling of unity. We kept it going all the way through his set, until Tim Englehardt took over at 8 am for his live set. His brand of beautiful, melodic house was the perfect fit for those daylight morning hours. I thought I was going to crash, but Tim's music lifted me higher and higher with each beat. As his set came to a close at 9:30 am, I thought okay, now I'm for sure going to crash. Then Dance Spirit came on to do their live set, and suddenly, I was refreshed, rejuvenated, and ready to go. Once they ended at 11 am, and as my body started to disintegrate, I headed back to camp to get a day nap in so I could be some semblance of a person later.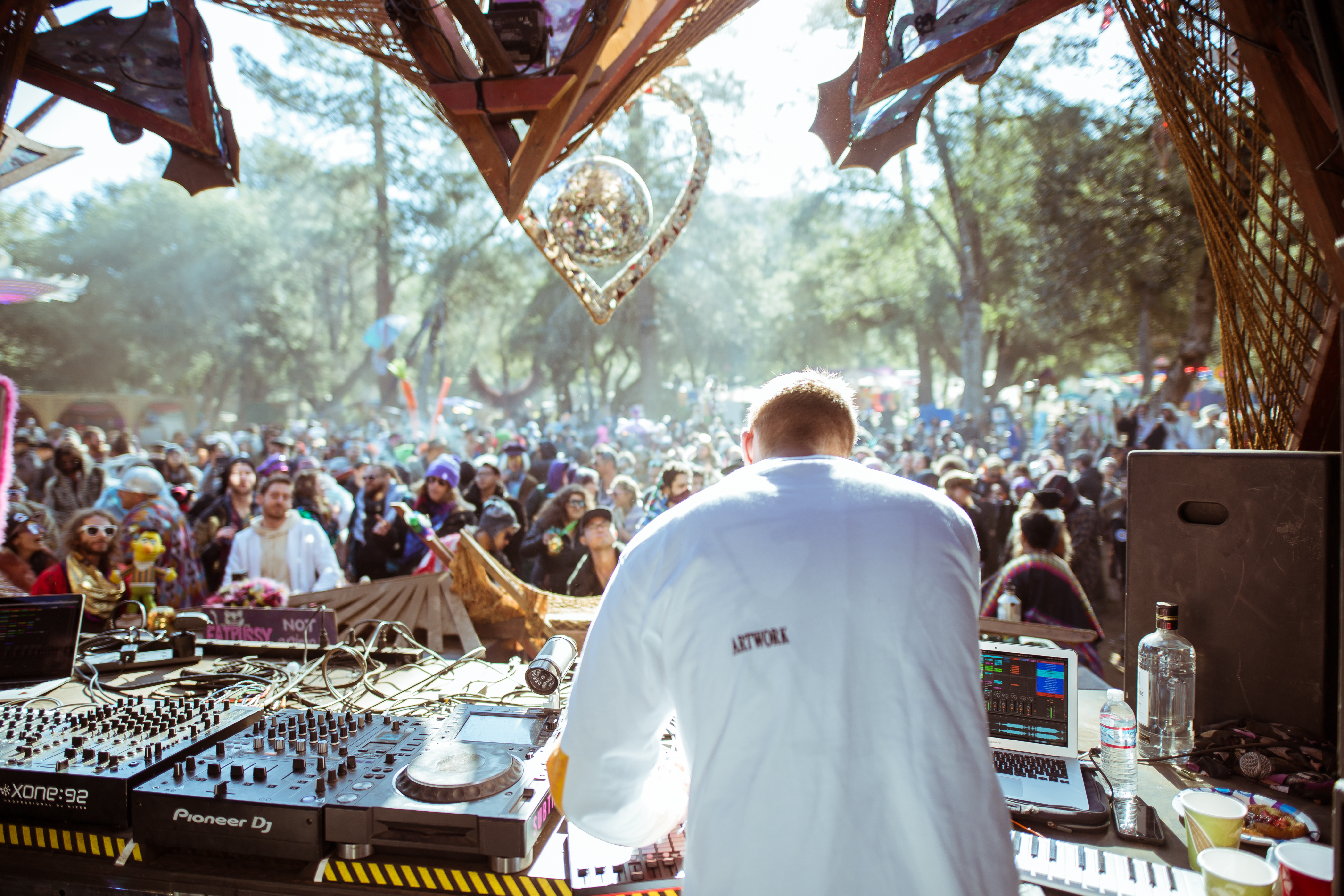 2 hours of sleep later – can you say power nap? – and I was up and getting ready to go. I ate as much food as I could fit into my shrunken stomach, threw on my Sunday best, and once again joined my fellow freaks. By the time I made my way back out to the dance floor, Rybo was taking the stage with Anabel Englund on live vocals. She sang some of her most popular tracks, including the Shadow Child remix of her iconic track Reverse Skydiving, which gave life to everyone in the crowd. Next up was Lauren Lane who turned up the heat as the weather chilled out and we headed into the night one last time. Following her was Nathan Barato and he brought the BANG to Sunday night. Serge Devant took the reigns and delivered us those peak mystic midnight vibes. Then at 2 am came Evan Casey, a personal favorite of mine who I could not contain my excitement for. I had been listening to his Desert Hearts 2016 mix on repeat since last summer, and last year at Desert Hearts 2017 his set was at 1 pm on Friday, which I promptly missed. Safe to say, I was over the moon – Evan definitely brought it, dark tech bumping through those beautiful Funktion One speakers and into my veins and soul. You'd think I would be tired by this point, but nope – I was in full form, dancing until my legs gave out from under me. After him came Britton Galland (someone I hadn't heard of yet but now I'm very glad I have) who brought the heavy techno to the 4 am hour. I should have collapsed from exhaustion, but as always, the music kept me on my feet. Treavor Moontribe was the very last set I caught before I had to get some rest and pack it up, and boy, what a treat to end on. He brought the psychedelic vibes to that Monday morning sunrise, and made me question if I could ever hate another Monday morning again. After that, I had to make the sad but responsible decision to go back to camp and get some much needed sleep before I hit the road. (Reminder – never drive tired! I've heard of and seen some gnarly accidents because of this.)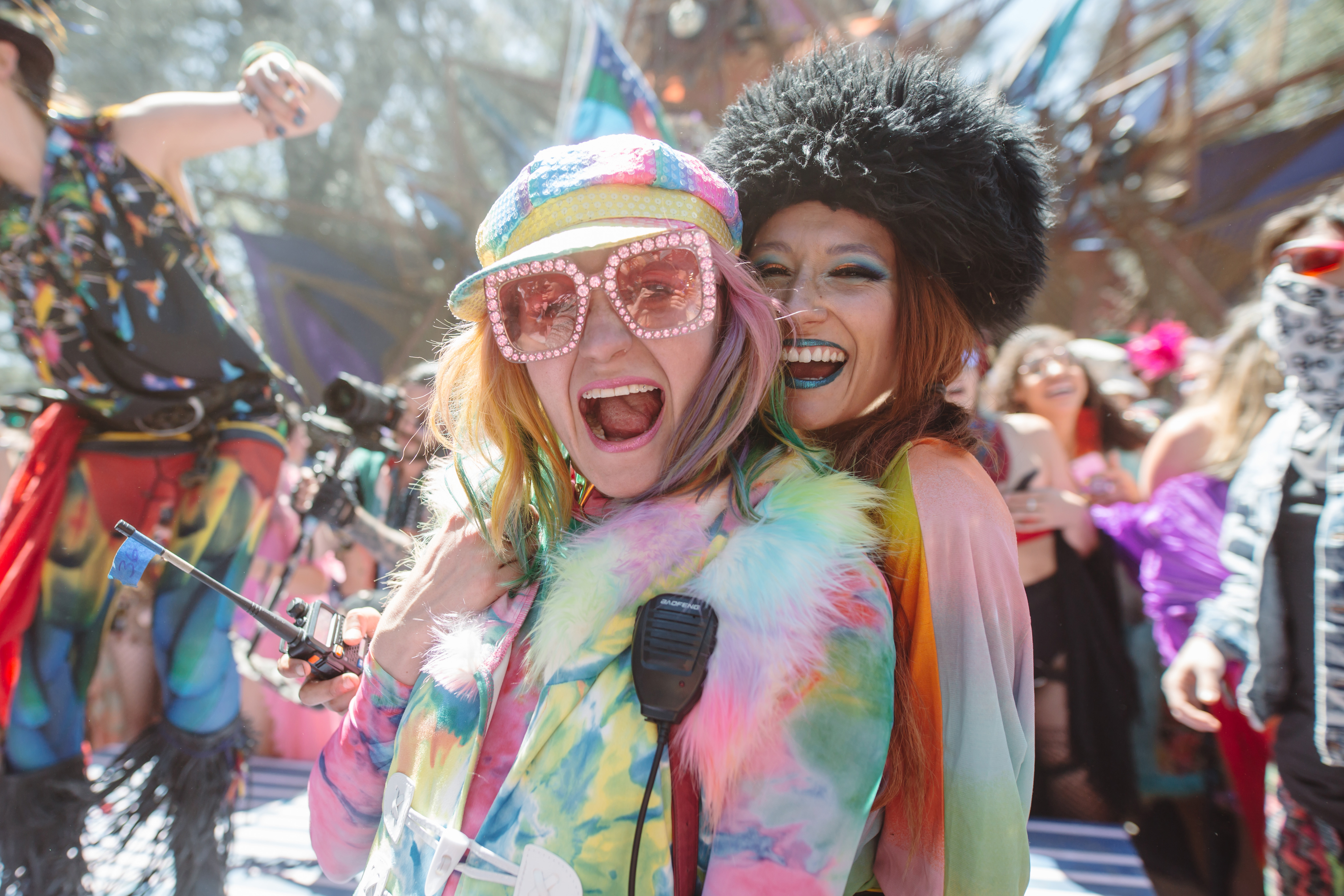 As I woke up, packed up camp, and headed off the reservation, I caught myself reminiscing on the beautiful madness that just took place. Was that even real? How did it go by so fast? Where are my marbles? I teared up as I made the journey home, reflecting on the entire experience – the music, the art, the energy, the hugs, the jokes, the smiles, the friends and family, new and old….all of that combined into an iridescent dream of a fabulous weekend spent off-the-grid. As anyone who has been can tell you, there is no party on earth like a Desert Hearts party. You'll never know….unless you go!
See you all on the reservation for Desert Hearts Festival 2019, next spring, for even more house, techno, and love!
FEATURED PHOTO BY JESS BERNSTEIN