As we become adults, life starts to change rapidly and inevitably. We take on responsibilities, become contemplative, dread making appointments, and simply get more stern. Somewhere in between all of that, we get disconnected from the small things that bring us joy.
At Dirtybird Campout, adults can leave behind those responsibilities and the everyday grind. A reconnection with playful energy ignites as you're welcomed by scouts who guide you down a dirt-filled road that leads you to camp. Or should I say, your home for the weekend. 
"When I was a little kid, I went to a summer camp that was amazing and we did all this stuff," said Claude Vonstroke, founder of the record label, event producer, and cultural force of dance music, Dirtybird. "I just really liked that idea, and I thought it would be cool to have this bartering patch culture and just have fun."
Claude Vonstroke, real name Barclay Crenshaw, has executed Campout since 2015, and through this summer-camp-turned-music-festival concept, people can bring back those small joys. 
Simply imagine a summer camp but for adults. A place where you can transport yourself back to the most carefree days of your childhood. Whereas many festivals in today's market focus solely on music, there are other activities at Dirtybird Campout besides dancing in front of a stage.
It's a festival where you get out what you put in. You can attend comedy shows, screen print t-shirts, or play tug of war and other camp games with random people without the thumping music in the background. Conversing with your campmates becomes easy without the background noise, and new friendships are destined to form through the shared desire to win or create.
"I don't think there's another place where adults can just run around, be stupid with people and throw shit at each other after 25 years old," shared Crenshaw.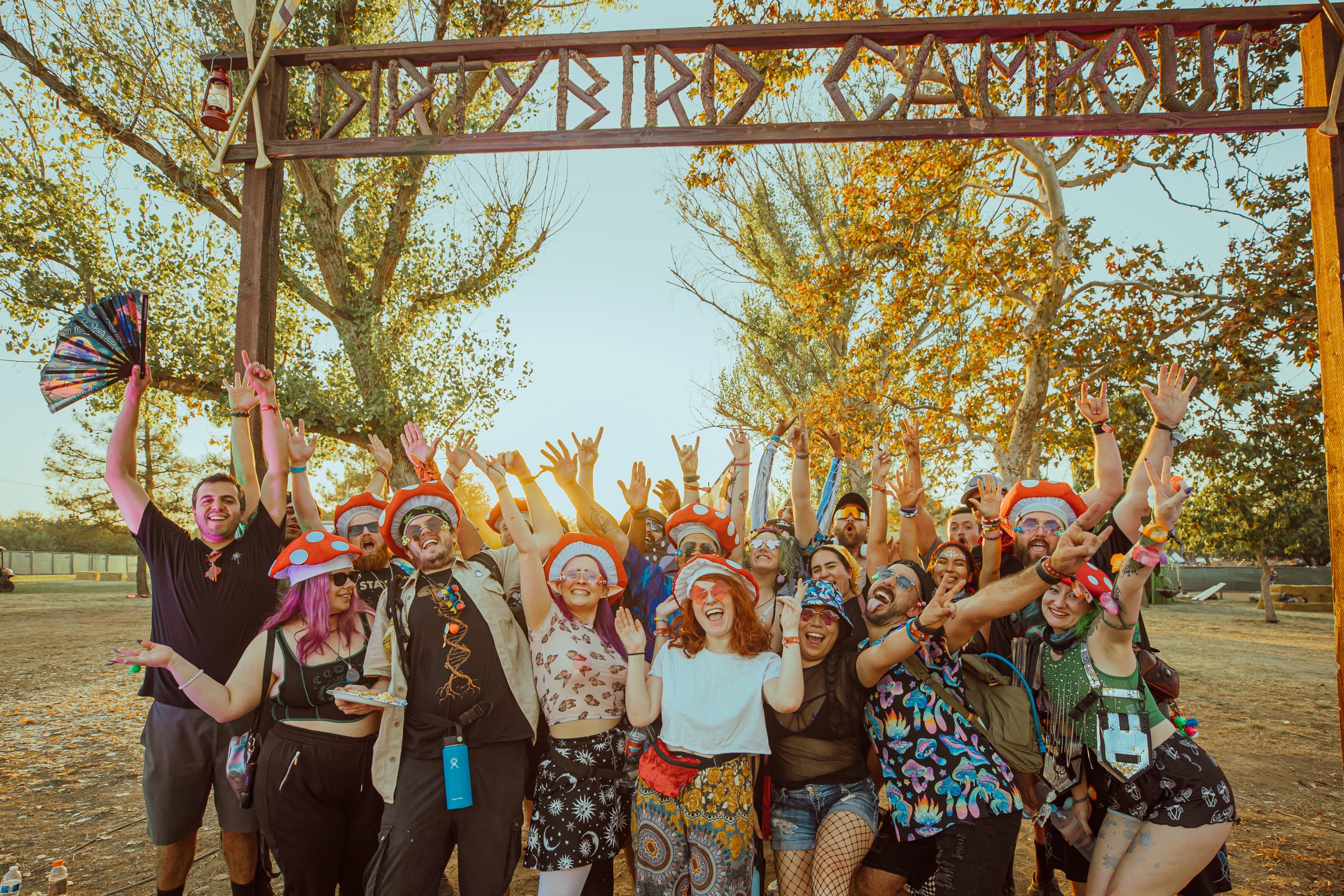 I eagerly attended Campout for the very first time in 2022 on a mission to connect with my inner child. Butterflies started to go berzerk within my stomach at the thought of befriending new campmates and playing competitive games led by Dirtybird-badged counselors, and sometimes, artists.
Similar to that end-of-the-year feeling you get as a kid in elementary; when you're excited about attending the last day of school to play the games teachers had laid out and exchange farewell notes with friends. 
As I pulled into the entrance of the Modesto Reservoir––where Campout has called home since 2018––I was graciously received by scouts who happily branded me as a Dirtybird attendee with an orange and white wristband.
Soon after, a scout guided me to my destination. As I made my way down a dirt trail along with my campmates, I saw various tents and trailers crafted with themed flags, hand-built totems, dangling lights, and other artsy decors. 
As soon as I was guided off the dusty trail and into my designated camping area, the carefree energy continued booming. I saw various campmates dressed to the T in khaki cargo shorts, vests full of patches, and baseball or sun hats. In other words, in scout uniform.
After setting up camp, I quickly made my way into the festival grounds to rekindle this said connection. I was welcomed by a big sign that read "Dirtybird Campout" confirming I'd officially arrived. Instantly, I was taken aback by all the attendees playing water balloon toss in the field and others creating friendship bracelets in the craft area, Craftopia.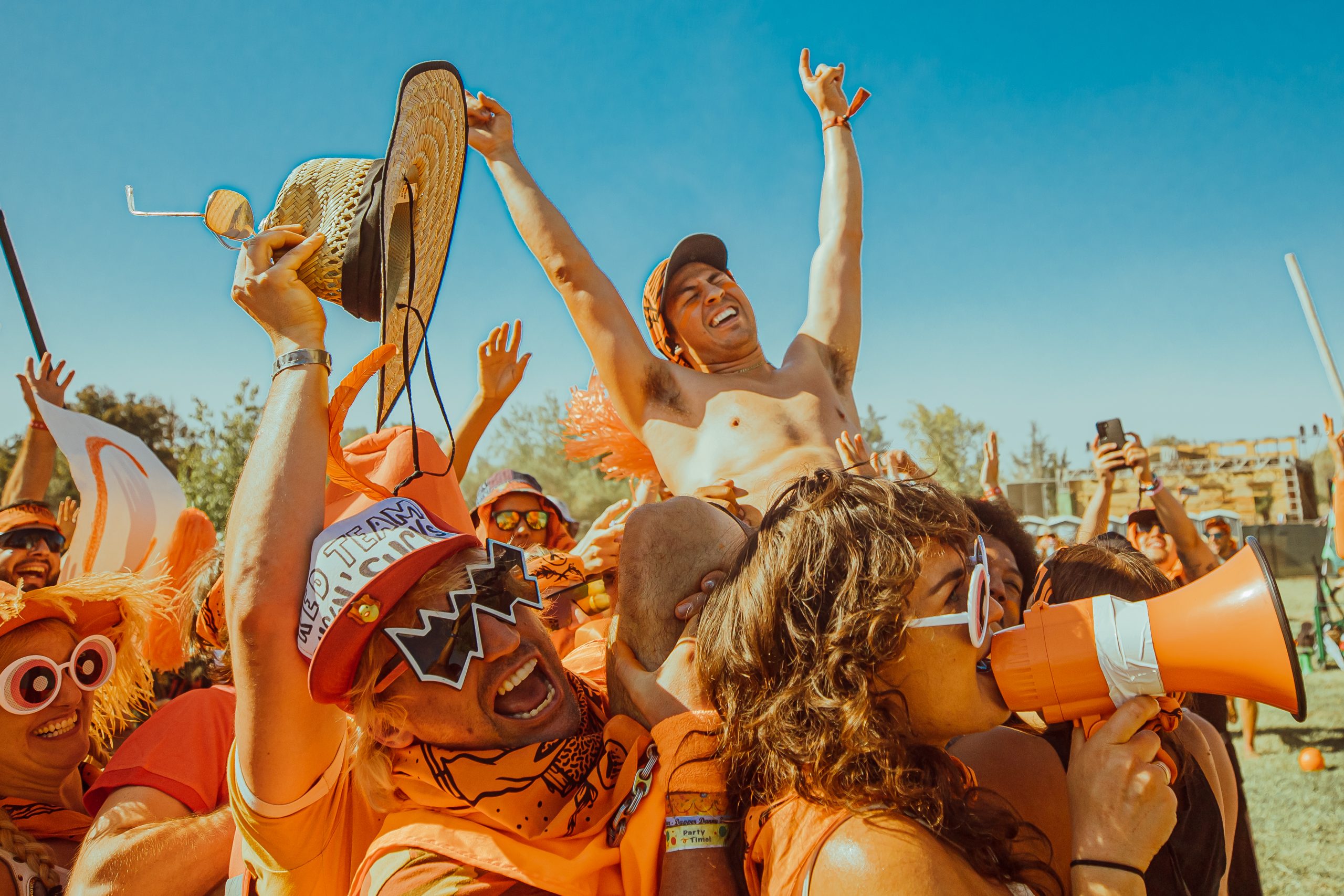 It almost seems like you revisit different lifetimes during your stay at Campout. Like, playing with water balloons as a kid, flag football as a pre-teen, or dodgeball as a teenager.
If you haven't noticed by now, Campout isn't your usual corporate music festival. 
A great example of this is the newly implemented "Not Your Mom's Prom" activity hosted by Cara Eser, popularly known as Baby Weight. When you leave high school, that period in time usually gets tucked into the back of your mind, or at least for me it has, but Eser executed a unique prom experience.
For someone who didn't attend their high school prom, I wasn't sure what to expect, and before I knew it, the activity had begun. I was in sync with others chanting "woo" as the show opened with people voguing and we couldn't seem to get enough. They had Hawaiian-inspired leis out on a table for us to collect and fruit punch on another.
"I was inspired to do Not Your Mom's Prom because of two things: One — the desire to create a space for queer members of the Dirtybird community by queer artists so we can become more acquainted with each other and celebrate who we are," shared Eser. "Two — to give some of us a second chance at living a fantasy version of what should be an integral part of the teen experience. Connecting with people on this level is always amazing because it allows us to share our humanity and create memories that feel personal."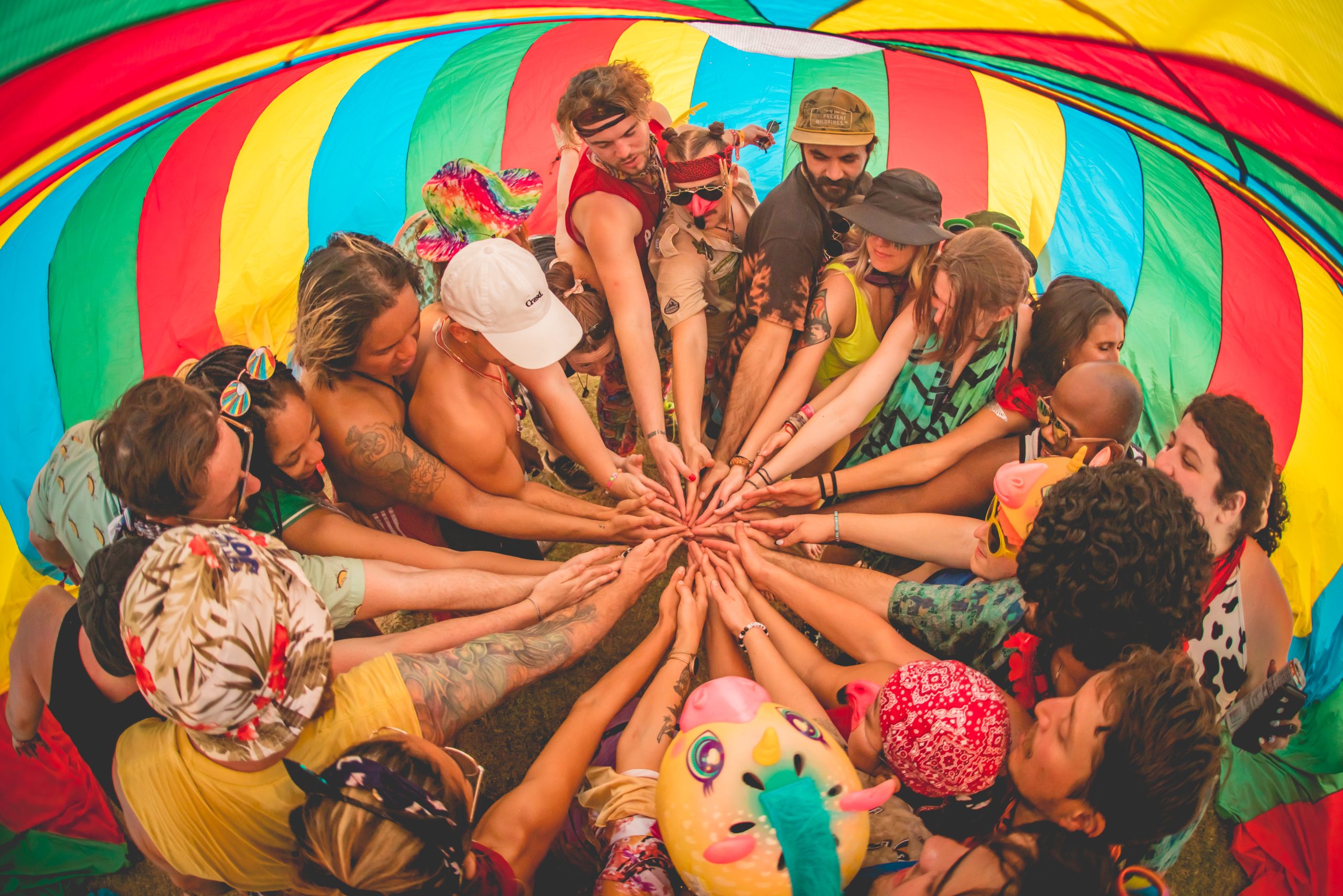 And my second chance at living a fantasy version of what should've been an integral part of my teen years was fulfilled. We unmindfully danced, voted for a prom queen and king, and took photos with props in our formal, scout attire.
"Campout specifically taps into that summertime teen vibe with the games and shows — I never got to go to a summer camp as a kid, so it's exciting to be able to do stuff like Bingo or the talent show or the roller rink from last year" stated Eser.
Campout not only holds space for said reconnection and letting your freak flag fly, but they're actively inclusive of the LGTBQ+ community and their experiences. Take Dirtybird OG artist, Kristy Williams, better known MZ Worthy, who felt a plethora of support from Claude Vonstroke and the Dirtybird family when she publicly came out as trans.
"I've been a part of [Dirtybird] since I was kind of like a kid," said Williams. "I started here when I was 22 or 23, and it's always been that space where we are free to be ourselves, play music, and connect with fans. That's something that has kept me super young."
Another aspect that makes Campout distinctive is the artists-led activities, which serve a sense of equality. It reminds us that were all here for one thing: to feel free.
"I always tell people to make sure they participate in the games. Connect with that inner child and compete with some random strangers, make new friends" shared Williams, who really enjoys the water balloon toss herself. 
As my adventures at Dirybird came to an end, there was one last activity I wanted to participate in: Screen Printing with the Los Angeles house music producer, Nala. I stood in a packed line with others as we eagerly awaited our turn––like a kid waiting to be in a game of Duck, Duck, Goose. 
Finally, I was it. I had made it to the very front where Nala graciously greeted fans and laid out their choice of clothing on a hot press machine to be screen printed. Some t-shirts read "I love Nala," while others had a cracked bird egg or a boombox.
I went for the cracked bird egg in forest green on the back of an oversized jean vest I now identify as my "scout vest." A rush of excitement came over me as I donned the freshly printed vest. I felt like an official Dirtybird scout, and I couldn't wait to get home to iron on the patches I was gifted throughout the weekend.
You leave this place with souvenirs without even trying. You receive patches from campmates or end up with a cool project to take home. Campout offers a vehicle to reexplore simple pleasures. Whether you're looking to tap into that childlike, playful energy, or have a unique camping experience, Dirtybird Campout welcomes you.
All featured photos by Ivan Meneses, Keiki Knudsen, and Don Idio.