During the COVID-19 pandemic, everyone in the world was collectively reminded that community is the backbone of society. We learned to lean on each other, and figure out new ways to stay connected with friends and family while adjusting to remote work and learning.
With so much time allocated to being online during the pandemic, social apps were evidently booming, and Discord was one of them.
Discord, originally created in 2015 for gamers and streamers to unite online, became widely sought out beyond the gaming community during the pandemic. The platform became a virtual hub to bring like-minded individuals together with its convenient features.
According to Wikipedia, Discord is an "instant messaging social platform [where] users have the ability to communicate with voice calls, video calls, text messaging, media and files in private chats or as part of communities called 'servers.'"
Dance music lovers, producers, creatives, and more flocked to Discord as it continued to gain popularity. Now, building community beyond the rave and Facebook groups is easier than ever. Along with many other festival promoters and record labels, EDM Maniac now has its own Discord server. 
"We really wanted to start a Discord server to bring the community together under one roof," says Devin Lezama, EDM Maniac founder. "Discord allows everyone to engage with one another, meet new friends, and discuss things that are important to them. It also allows us to share important information like festival tips, lineup announcements, and more."
Discord provides a space for people to come together, but it can be tricky to navigate as a beginner with all its features, settings, and servers to wade through. Here are a few how-to tips on where to begin:

1. How Do I Join Discord?
First and foremost, it's important to understand that one needs to set up an account to access Discord. You can begin that process here or by joining through an invitation link like this one (EDM Maniac's).
For a username, newbies can decide to use their real name, nickname, a made-up name, or simply whatever they want it to be. Get creative and have fun with it!
To make the most of Discord, you'll need to download the app to your gadget of choice, whether it's your cellphone or computer. Discord is browser-friendly, but, you'll want to download it directly to your phone or computer. 
It runs for free on Windows, macOS, Linux, Android, and iOS. 
2. Becoming Part Of A Server 
Once you have set up your account and downloaded the app, the next step would be to join one or more servers (you can join as many as you want). You need access to a server to fully participate in Discord. Begin with EDM Maniac's and venture off from there. 
You should treat servers as forums or small communities varying in rules, users, channels, and purpose. A place for you to go and chat about specific things like music, health, festivals, games, and more. 
Pooja Shah, who manages the EDM Maniac Discord suggests joining a few servers of your favorite brands or companies and simply clicking around to get familiar:
"Lurkers are also a big part of the discord community; it's okay to lurk and chatting isn't the only way to engage in the discord," says Shah. "There are polls, buttons, giveaways, and even discord-specific events that all offer engagement opportunities for users to get connected."
If you're not too sure about what server(s) you'd like to join, you can explore the many worlds Discord offers through its green Explore Public Servers icon (which looks like a compass!). 
3. Awareness is Key: Rules, Status, Communication
Within Discord, servers can either be private (invite-only) or public. Some will require new members to read through the rules before posting within the server. This is not something to take lightly, as each group has different policies, boundaries, and rules. 
Usually, rules are nested within the server under their own channel labeled under something like "welcome-rules" or "rules-information" so users can easily access them.
If you're starting your own server, you can make whatever rules you want. But, if you're joining an existing group, you'll want to take some time to figure out what sort of behaviors are prohibited.
Discord also displays your activity by default (think back to the old AOL or Yahoo messenger days where friends could see your status).
If you're deep in game mode or listening to music, Discord will display what you're playing within your status. One has the ability to control their status by tapping on their profile pic, where the status selection comes up, and then make their choice. 
In addition, there are three forms of communication on Discord: text, voice, and video. Text channels are usually marked with hashtags next to the channel's name and listed under categories. These are usually spaces for text conversations. 
Voice channels can be spotted by the little speaker icon next to their title instead of a hashtag. This is where you'll also have the option to host a video chat or just voice.
 (Tip: if a channel is in bold font, this means there are unread notifications).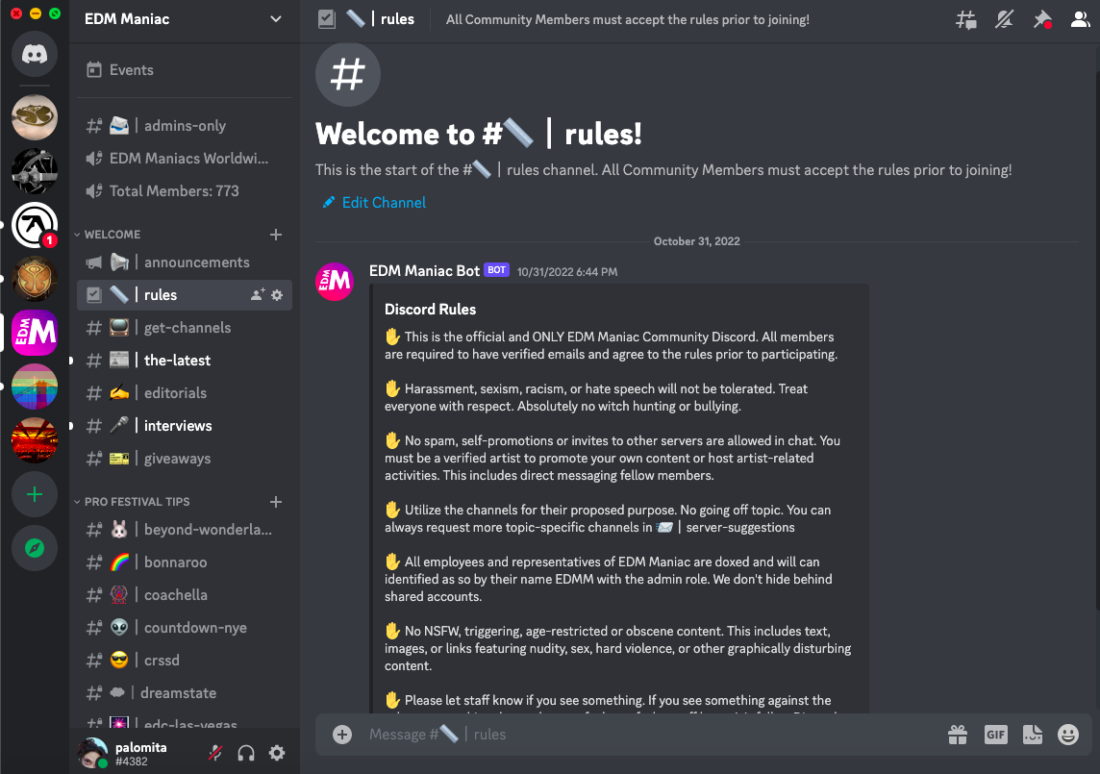 4. Different Dance Music Festival servers To Join 
Searching for servers to join can be overwhelming, especially if you're just now getting familiar with the platform. Here are a few channels we recommend to check out if you're into dance music or electronic music production: EDM Maniac, Tomorrowland, Electronic Music Production & Performance, Apex Twin Community, Industrial Techno Community, Hardstyle Freaks, Raptures Crib, Deep Tech Mag and Worldwide Radio.
These servers range from techno, hardstyle, music production,  intelligence dance music (IDM), and festivals.
5. Be Daring and Create Your Own
Just as one can join servers, one can also create their own. If you're looking to build a virtual space for yourself and your friends, challenge yourself to build a server.
Being part of a community provides stability and purpose for many; learn to better build community and stay informed on your favorite topics through Discord.