The bass artist Eptic unexpectedly had to pull from a few upcoming performances due to complications from his emergency wisdom teeth surgery earlier this week.
Eptic is not based in the US and stated on his Instagram stories he would be unable to fly into the States due to health issues. Therefore, he would have to miss his set at Escape Halloween in San Bernardino, California, and his performance supporting Slander in Sacramento.
He also said that he had to cancel a few shows last week due to food poisoning, a truly unfortunate double whammy of bad news for both the artist and his fans.
Eptic is a Belgian DJ and producer known for his high-profile collaborations such as "Hitta (feat. Juicy J)" with Marshmello and "Southside" with DJ Snake. He's also produced prominent records on Never Say Die and Monstercat and released his debut album The End of the World earlier this year.
Check out the full statement from Eptic below: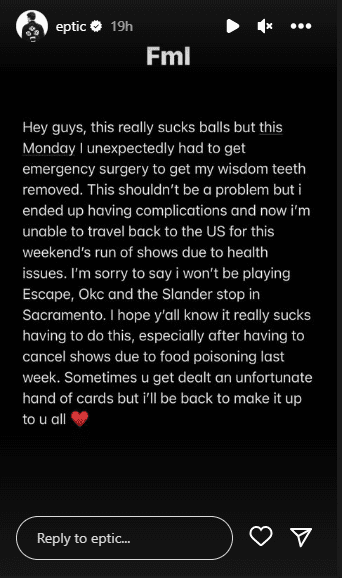 Featured image from Eptic photo credit JGR Photo, statement from Eptic