True to her name, VAMPA's music is certainly something you can sink your teeth into. VAMPA is the ultimate mix of bass and brains. She centers her artistry around her ever-changing understanding of the world and fully commits herself to every song she creates. The risks she takes in her production are fueled by the way she embraces her individuality. Much like with life, her wobbling frequencies and dubstep mixes are constantly evolving in new and exciting ways.
Her sultry vocals woven into her melodic frequencies creates a dark vibe you can lose yourself in. She has commanded the stage at festivals such as Dancefestopia, WAKAAN Music Festival, Lights All Night, Lost Lands, and Suwannee Hulaween. Even with her recent start, she is already releasing music on major labels such as BLACK TIGER SEX MACHINE's Kannibaleen Records, Boogie T's Drama Club Recordings, Big Beat Records, and Zeds Dead's Deadbeats. VAMPA is clearly one to keep an eye on.
EDM Maniac: In an interview, you mentioned that you weren't particularly interested in bass music until you went to a Zeds Dead show. Can you tell us what that experience was like for you? What about it was so special?
VAMPA: I'm telling you, once I went in that door, I was completely converted into an electronic music fan. I think it was seeing the whole performance, the sheer caliber of the stage production, and hearing the music blaring in a crowded, high-energy room that made me feel that dubstep was something else entirely than what I had previously thought. Listening on my phone before this experience, it seemed very one-dimensional, but that show proved to me how expansive and sensory the world of bass music truly is.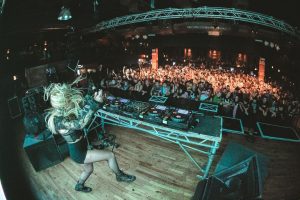 EDM Maniac: Once you realized that you wanted to start producing bass music, how did you get started? What are some lessons you learned from the beginning of your career?
VAMPA: I bought a tiny MacBook Air from a friend and downloaded Ableton and Massive. It was very overwhelming at first, and I watched tons of tutorials on YouTube to learn the basics. When it came to making my first tune, I spent months just touching different knobs, messing with modulations and automation. Honestly, that was the most experimental time because I had no clue what to expect. If it sounded good, I would work off of it further to develop something more concrete. The biggest lesson I learned was to try to look at the learning curve through the eyes of a child, as silly as that sounds. Kids are not worried about being perfect at everything right off the bat; they are constantly in a state of wonder and curiosity, and that's why they pick things up so easily. Do your best to let yourself experiment and have fun, whether or not something "good" comes out of it!
EDM Maniac: Your signature sound is low wobbling frequencies; can you tell us where that came from? How did you find your niche?
VAMPA: I have to shout out Zeds Dead again for this influence. They have perfected this middle ground between deep and harder dubstep, and I think a lot of it comes down to their signature sound design. I went through a period of playing strictly deep dubstep and deep medi when I was getting started. I loved the way you could feel the sub vibrate through your whole body. But, over time I came to realize that I wanted my music to slap a little bit harder, to really get people moving at shows. I'd say underground UK dubstep has influenced my taste a lot and stuck with me in my current production, yet I always strive to find that middle ground.
EDM Maniac: What does your music mean to you and what do you hope it gives to your fans?
VAMPA: There are SO MANY messages I'm hoping to convey with this project. The general basis of my brand and the motivations behind my lyrics are derived from spiritual lessons I've learned along the way, both in pursuing this career and in my personal life. My music speaks to everyone who feels like their mind gets in the way of enjoying everything the present has to offer, and how we're often our own biggest enemy and critic. It takes a certain level of recognizing our thought patterns and witnessing how these limiting beliefs hold us back from feeling like we are destined for greatness. I hope that throughout my career I am able to convey to others that there are crazy things happening everywhere, so there's no logical reason why it couldn't also happen to them, too.
EDM Maniac: In previous interviews, you've mentioned that you are particularly interested in the study of dark matter. Can you give us some background about what that means? How has that influenced your style and life?
VAMPA: Ever since I took an Astronomy class in college, I've been hooked on the topics of parallel universes and dark matter. My mind naturally works in a very abstract way, so the study of cosmology struck a chord with trippy and otherworldly concepts. For my last EP, I researched a lot on dark matter's presence and role in the universe. Dark matter is essentially a certain type of matter that is unseen and undetectable, playing a primary role in influencing what we experience as light-matter (detectable material). Without the contrast between light and dark matter, nothing would exist. This theory has influenced the way I look at my spiritual journey, in that I know I cannot experience happier times without the darker times in life. Uncertainty, though scary, should be embraced as it is a vital aspect of this, allowing beautiful things to come into fruition in their own time. I like to illustrate this contrast musically, including melodic sections met with heavier drops.
EDM Maniac: We can tell that you are incredibly insightful, and we'd love to hear more about how you view the world of dance music. Can you give us some perspective on how you think the industry is changing? What is a change you're particularly excited about?
VAMPA: With technology advancing, the world of dance music is no longer just about the artist putting out good music but creating an entire world around them, coupled with a social media persona fans can relate to and love. The industry has shifted in the sense that the artists rising to the top have a massive visual component that elevates everything from their live shows to their music videos and fans can recognize it a mile away. Social media, visuals, and adapting to new platforms creates a whole different kind of connection between fans and artists, while also setting the stage for highly conceptual branding. I love to see artists diving into the story behind their persona.
EDM Maniac: We hope, and believe, that inspirational female artists like yourself will be moving into the limelight of the dance music scene. What has it been like for you as a woman in the industry? Have you had to deal with any extra hurdles? 
VAMPA: In a male-dominated industry, people pin a lot of competition on female artists and like to compare everything we do. I feel like gender is brought up in most discussions with people making comments like "you're my favorite female DJ!" The support is always appreciated, and it is really cool to see that there's a lot more of us coming out of the woodwork. The challenge has really been establishing a career where I am recognized for making music people enjoy, gender aside. I feel like we are at the early stages of women holding a key place in the electronic scene, but I am excited for what the future holds. It's important for every artist to feel like they are an individual, rather than categorized into a group based on gender.
EDM Maniac: For other women trying to make it in the industry, what do you hope they can learn from your journey? What advice do you have?
VAMPA: My biggest piece of advice is to try your best not to compare yourself to anyone else. No matter how many times people put you on a ranked list, remember that everyone has their own path. It may seem competitive at times being the minority, but with more talented women making a name for themselves, there is room for everyone to succeed. Your art will speak for itself!
EDM Maniac: While the pandemic has been rough, it has given people the chance to slow down. What have you been doing with your free time?
VAMPA: Quarantine has been a huge wake-up call for me to focus. I was losing touch with taking care of myself mentally and physically while touring, so I am really grateful for the time to reconnect with my peace and quiet. When I'm not making music, I'll meditate, journal, listen to podcasts – anything to draw in inspiration and ground myself so that my head is in the game when things get hectic again. I think this has been a huge awakening period for all of us.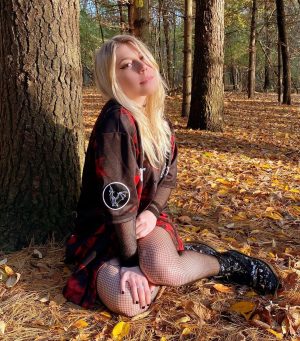 EDM Maniac: When the world opens up again and live shows are back, what are you most excited for? Is there a particular festival that is your dream to play?
VAMPA: I'm most excited for the festival season! Between meeting fans, playing to massive crowds, and connecting with other artists, I find these events to be my most motivating times. I always leave a festival feeling rejuvenated and ready to get to work. The whole environment is mind-blowing on such a massive scale, which makes me feel like truly anything is possible. My dream festival to play is EDC… the stage production is unlike any other.
EDM Maniac: Do you have any projects in the works you're especially excited about?
VAMPA: I'm particularly ecstatic about one of my newly finished tracks that will be releasing soon. These lyrics bring me to tears every time I listen. They really hit home for a lesson I'm currently learning in my life about believing in yourself when it seems like no one else understands your vision. I've been working on some special extra pieces for this release to bring something really special and near to my heart. I'm hoping it helps convey my message and brand in a way I haven't been able to before.
If you love the feeling of bass vibrating you to your core, you've found the right artist. There's nothing like the feeling of listening to music and feeling it pulse through your bones. It's truly exhilarating and can send you to another dimension. Luckily for us, that's exactly VAMPA's goal. We can't wait to see another one of her sets, but in the meantime, we will just keep blasting her music.
Featured photo by VAMPA