Over the past 21 years, Shambhala Music Festival has thrived on Salmo River Ranch in Southern British Columbia, Canada. I was shocked and delighted to find out that during the festival, Shambhala Music Festival becomes the largest city in the West Kootenay Region. With close to 19,000 attendees last year, the 22nd annual Shambhala Music Festival is shaping up to be the best year yet.
Getting There
Getting to Shambhala is quite a journey, since it is located in such a remote region, which only adds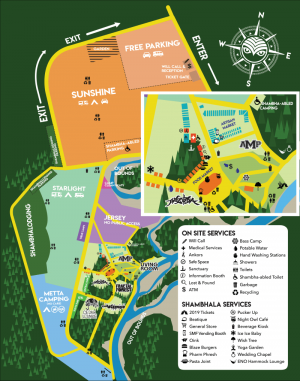 to its majesty. According to their website, here are your options for air travel to SMF this year. Remember, a passport is required to enter Canada.
• Trail, BC – Flights available through Pacific Coastal Airlines – 43 km, approx 50 minutes drive to festival site – Regional Airport (flights from Vancouver South Terminal Only)
• Castlegar, BC – 44 km, approx 50 minutes drive to festival site – Regional Airport – Flights available through Air Canada
• Cranbrook, BC – 197 km, approx 2.5 hr drive to festival site – Int'l Airport (plus time change)
• Spokane, WA, USA – 169 mi, approx 3.5 hr drive to festival site – Int'l Airport (plus Border Crossing time, recommended route via Paterson shown, 24 hr crossing)
Another fact you may not know about this festival is that it is alcohol free. The creators have concluded that not allowing alcohol has contributed to the vibe of the festival in an overall positive way. There are less incidents that way, and attendees are safer.
Shambhalove
Shambhala is unique from other festivals because of its ability to bring cutting edge production to such a remote area, while not accepting any corporate sponsorships.
"This allows the festival to retain a true reflection of the people on the dance floor and their vision of what their community looks like. This mission is important to hold down as electronic dance music culture has moved into the mainstream where opportunistic corporations have threatened to water it down. In this respect, this festival's community is like no other. You will not see one advertisement or corporate logo on the farm."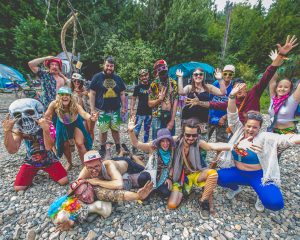 Stages
You will be able to find your home here, as Shambhala boasts SIX stages. That's right. They've got AMP, Fractal Forest, The Grove, Living Room, The Village, and Pagoda, each with their own exciting genres of underground dance music to pump out into your awaiting ears.
"Throughout the evolution of the festival, one clear value has remained constant; to continue to be the backdrop for an unparalleled experience. Believing in the power of nature, synchronicity, and the moments in between, Shambhala can promise that what is felt on the Ranch is not within the realm of ordinary."
Art, Workshops, Yoga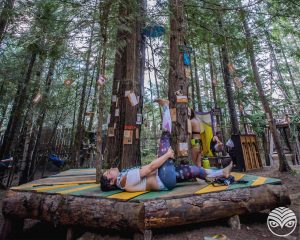 To explore the many realms of Shambhala, stepping away from the stages momentarily is necessary, and that won't be hard to do with BASScamp, Shambhala's art hub, a geo-dome displaying influential art pieces created by artists from all over the world.
Frolic over to the Cedar Lounge to feed your mind to the sweet melodies of the Grove in the background with the workshops that will be featured here. You never know what you may learn that you can take with you for the rest of your life. Knowledge is power.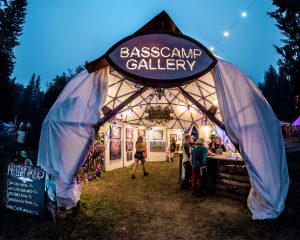 And of course, before losing yourself in front of the stage, discover the Yoga Garden and find yourself. "With nature as your yoga studio, allow the stillness to overcome you and embody the feeling of pure relaxation before the nighttime can begin." Shambhala has something for everyone, and continuous exploration is so necessary on your other-worldly journey through this dream festival.
Attractions
If you've ever dreamed of getting married at a music festival, now is your chance. Shambhala provides a wedding chapel for you and your loved ones and friends to gather to witness the sweet ceremony of matrimony with the comforting sounds of music drifting through the Kootenay Mountains.
Don't forget to spin the Spirit Animal wheel to figure out which animal embodies your soul, and don your costumes on Friday to participate in the Shambhala Parade.
Sustenance
Treat your body with Salmo River Ranch raised beef, pork, and veggies grown right on the property.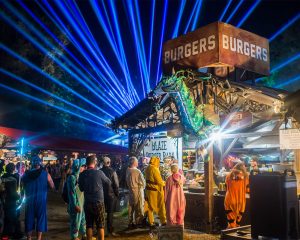 Last year, the festival devoured the likes of Blaze Burgers, Nightowl Café, Farm Phresh Smoothies, Oink BBQ, Lemon Hut, and Pasta Joint. These locally sourced and sustainable options are sure to keep your body going throughout the entire weekend. Food you can feel good about, that's what I call contributing to Shambhalove.
Shambhala is a superior music & arts festival that's bursting with culture. You will never know the depth of the impact that this festival can have on your entire being until you experience it yourself. Buy your tickets HERE for one of the most life-changing events in the world happening August 9-12, 2019, and be ready to immerse yourselves in two of our favorite aspects of life: nature & bass. This event is 19+.