This past March, Ultra Music Festival made its way back to Miami, Florida. After two long years without one of the most international events in dance music, the long wait was well worth it. Returning for three days in Bayfront Park, Ultra Miami brought a competitive lineup of all genres and surprise guests for fans to enjoy. EDM Maniac had the pleasure of attending Ultra Miami 2022, read our full review below.
Vibes:
Ultra Miami brings in a TON of people from all over the world creating such a unique international crowd. It was awesome to party and enjoy the music with people from all over. Besides that part, the festival felt extremely crowded which led to a LOT of pushing and not a lot of "excuse me's". Although we didn't let it ruin our vibe, we definitely felt that people were often discourteous.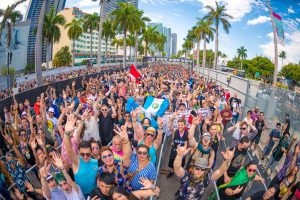 Production:
There were a total of 7 stages spread out across Bayfront Park! Our biggest complaint would be the overall sound– although this is part of the agreement that Ultra must follow in order to hold the festival at this location. Besides that, the Carl Cox Megastructure and the Worldwide stage blew us away! The main stage was way better at night with the wrap-around LED screens. It was not as aesthetically pleasing during the day, although the pyro added a great touch. The live stage was a vibe and always had lots of space plus places to sit. The rest of the stages were really small, often too small for the crowd they were attracting.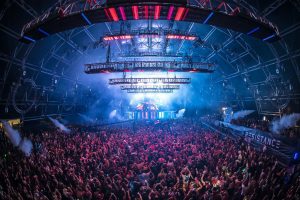 Music:
Ultra Miami brought in some of the best headliners and undercards in dance music. Hitting just about every genre- we saw amazing sets from some of our favorite DJs. The festival closed with "surprise" guest Hardwell, who ended day 3 with a BANG! We saw special guests on the main stage such as 50 Cent, Joe Jonas, and Kodak Black. For the first time ever we saw a Hardstyle takeover by Dirty Workz at the UMF Radio Stage. A State of Trance celebrated its 10 years anniversary at the UMF Worldwide Stage.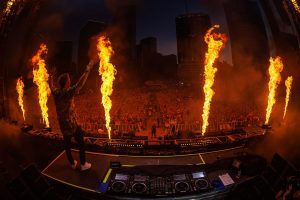 Venue:
Ultra Miami has taken place at Bayfront Park for years, and while it has beautiful views of the skyline and fantastic weather- the logistics behind the setup need improvement. There is only one entryway causing an extreme delay of entry on day 1. Some festival-goers waited in line for TWO hours! There was also a lack of bathrooms and water stations. The layout was a bit confusing and was hard to navigate when crowded. Lines for bathroom, water, food, and alcohol were always super long. It's also important to mention there was no ADA, making it extremely difficult to nearly impossible for attendees with disabilities.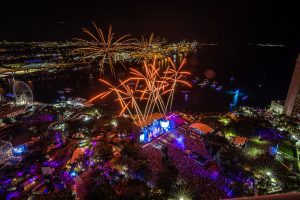 Overall:
Overall, the best parts of Ultra Miami come down to its competitive lineup and international audience. The special guests at the main stage kept things exciting for the crowd. The long lines and lack of bathrooms and water make it extremely difficult for GA attendees. Watching Hardwell close out the festival will be a performance we never forget. In the future, we hope there are some changes to the overall logistics of the festival but in return, it will still be an experience we'll never forget!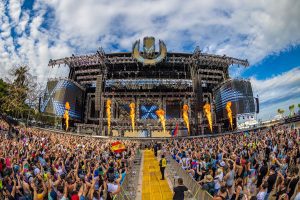 It is important to note that this review is based on our experience and readers should be reminded that different people have varying experiences. We look forward to seeing any improvements that Ultra may make in the coming months and seeing the festival continue to grow. Ultra Music Festival returns in 2023 to Bayfront Park on March 24+25+26.